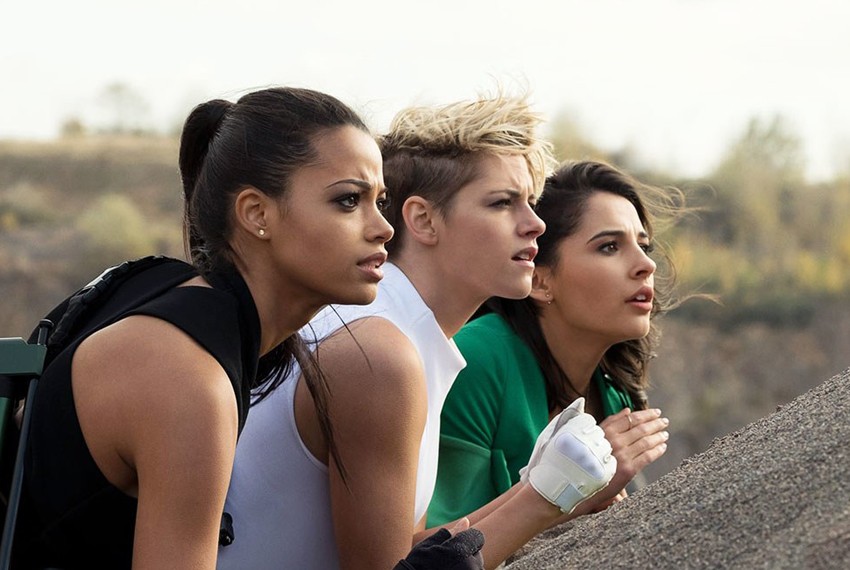 As we saw yesterday with Mouse Guard, it doesn't matter how good your idea is, sometimes you just can't get a break in Hollywood. And then you get other ideas that Tinsel Town just won't let go of, no matter what. One such perennial franchise is Charlie's Angels.
Starting life first as a cheesy TV series that ran from the late 1970s to early 1980s and followed three kickass ladies working for a private detective agency, Charlie's Angels was revived again as a pair of very popular movies in the early 2000s starring the girl power trio of Cameron Diaz, Lucy Liu, and Drew Barrymore. Less than a decade later, Hollywood was back to feeling angelic again with an attempt at a new Charlie's Angels TV series. I say "attempt" because audiences didn't much care for it and it was cancelled shortly thereafter.
Hollywood needs its Angels to fly through, and so here we are with a brand new movie reboot. This time around it's Elizabeth Banks who masterminds this effort as she wrote, directed and stars as Bosley, the handler for the lady ass-kickers working for the mysterious Charlie. Or rather she stars as one of the Bosleys as this new film posits that there are actually many Bosleys around the world – including one played by Patrick Stewart – all running their own team of Angels.
As we see in the first trailer that got released last night though, the angels that headline this latest film appear to be a member short. Twilight alum Kirsten Stewart leads the affair, and is partnered up with British actress Ella Balinska. However, when the duo has to protect a brilliant engineer played by Aladdin breakout Naomi Scott, they may just find the third member of this team. Check it out below.
Well, that looks… okay? The 2000 and 2003 films were such guilty pleasures because director McG gave it all an over-the-top, almost cartoonish spin. It didn't itself too seriously and the end result was a fun romp. By dialling back the silliness here, Banks seems to give us a film that looks like so many other action-comedy features that crowd cinema screens every year. Nothing really stands out other than the stars.
If the names attached to this one – and that star-packed soundtrack apparently – are enough for you though, then you can look forward to watching Charlie's Angels when it debuts on 15 November.
Last Updated: June 28, 2019