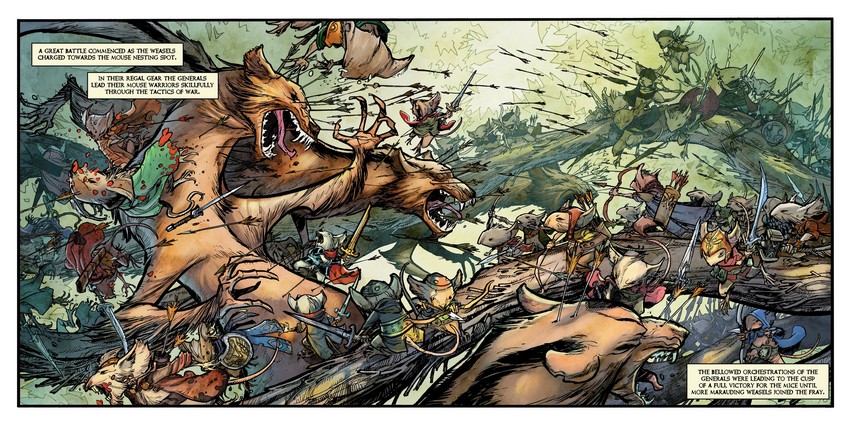 We've spoken a lot about the various X-Men/Deadpool related comic book projects that have been shelved now that Fox has been taken over by Disney, but there was another adaptation that the erstwhile studio had in the works. Mouse Guard was the planned animated film adaptation of David Petersen's two-time Eisner Award-winning indie comic of the same name, which had already signed on director Wes Ball (Maze Runner series) and the voice talents of Andy Serkis, Idris Elba, and Thomas Brodie-Sangster.
However it seemed that there's only enough room for one rodent over at Disney, as just a few weeks after the Fox acquisition in March, the studio halted the movie and removed it from its lineup. This was literally two weeks before production was scheduled to begin. All was not lost as Petersen, Ball and co were allowed to shop the production around to other studios but it seems this didn't go down very well as Ball took to social media yesterday to confirm that the film is now very much "dead".
As can be seen by all the images in Ball's video up top, here had been a fair bit of early work done on the film. Now some of that work is being released to the public thanks to Ball and concept artist Darek Zabrocki. The pair shared a number of amazing concept art pieces as well as an early animated concept video (which was done before WETA Digital would go in and seriously punch it up). This is early work, but it's undeniable that it looks gorgeous and definitely appears to capture the emotion and feel of Petersen's original comic.
Mouse Guard is set in a human-less world inhabited by animals who have advanced to a medieval times analogue. The story follows the exploits of the titular honour guard, elite mouse warrior assigned with the crucial task of defending and escorting their compatriots in a world in which mice are at the bottom of the food chain. Two volumes of Mouse Guard, and a prequel series has been released by Boom! Studios since its debut in 2006.
Last Updated: June 27, 2019