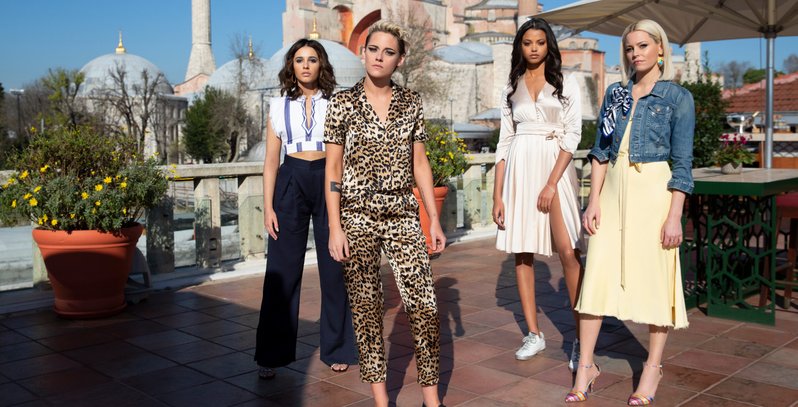 If you follow me on Twitter, you'll know I've had a week from hell, so I don't have much to say here other than I'm glad it's finally the weekend and there are new movies in cinemas to give me a much-needed distraction.
---
Charlie's Angels
Age Restriction: 13 L V
Director Elizabeth Banks takes the helm as the next generation of fearless Charlie's Angels take flight. In Banks' bold vision, Kristen Stewart, Naomi Scott, and Ella Balinska are working for the mysterious Charles Townsend, whose security and investigative agency has expanded internationally. With the world's smartest, bravest, and most highly trained women all over the globe, there are now teams of Angels guided by multiple Bosleys taking on the toughest jobs everywhere. The screenplay is by Elizabeth Banks from a story by Evan Spiliotopoulos and David Auburn.
With its strong female empowerment message, this 2019 revival of Charlie's Angels is very much a product of its time, even if the execution of those contemporary sensibilities is a bit uneven. But an overall energetic tone and a solid showing from its cast – led by a scene-stealing Kristen Stewart – help to keep this a moderately fun but flawed watch.
– 6.5/10
Rotten Tomatoes: 59% (Rotten)
Metacritic: 51 (Mixed or Average Reviews)
---
Motherless Brooklyn
Age Restriction: 16 D L P SV V
Set against the backdrop of 1950s New York, "Motherless Brooklyn" follows Lionel Essrog (Edward Norton), a lonely private detective living with Tourette Syndrome, as he ventures to solve the murder of his mentor and only friend, Frank Minna (Bruce Willis). Armed only with a few clues and the engine of his obsessive mind, Lionel unravels closely-guarded secrets that hold the fate of the whole city in the balance. In a mystery that carries him from gin-soaked jazz clubs in Harlem to the hard-edged slums of Brooklyn and, finally, into the gilded halls of New York's power brokers, Lionel contends with thugs, corruption and the most dangerous man in the city to honor his friend and save the woman who might be his own salvation.
Rotten Tomatoes: 61% (Fresh)
Metacritic: 60 (Mixed or Average Reviews)
---
Countdown
Age Restriction: 16 D H IAT L SV V
When a young nurse (Elizabeth Lail) downloads an app that claims to predict exactly when a person is going to die, it tells her she only has three days to live. With time ticking away and death closing in, she must find a way to save her life before time runs out.
Rotten Tomatoes: 25% (Rotten)
Metacritic: 31 (Generally Unfavourable Reviews)
---
Swift
Age Restriction: PG V
MANOU grows up believing he is a seagull like his parents. He strives to swim, fish and fly like them but seems not very gifted. At Summer race he discovers Why. To his great shock he finds out he was adopted as an offspring of the much-hated Swifts. His family still stands by him, claiming he is a bird like them. Especially his seagull brother Luc admires him wildly. One night MANOU fails to guard the eggs and surrenders one to the rats. The seagulls are outraged and MANOU is expelled from home. Utterly disappointed he retreats and stumbles across Parcival, a funny Guinea Fowl who cannot fly but turns out to be a deep-rooted pal. MANOU checks out the swifts' way with his new buddies Yusuf and Poncho when he bumps into Kalifa, a stunning lady swift. Suddenly he is struck by an entangling flirt on top of all other troubles. Stakes are high as Rats hijack Swift eggs and a big Storm threatens the Seagulls. MANOU is committed to save them both – courageous like a seagull and inventive like a swift.
Rotten Tomatoes: Tomatometer not yet available
Metacritic: Not found
---
For more information about the age restrictions, click here.
Last Updated: November 15, 2019