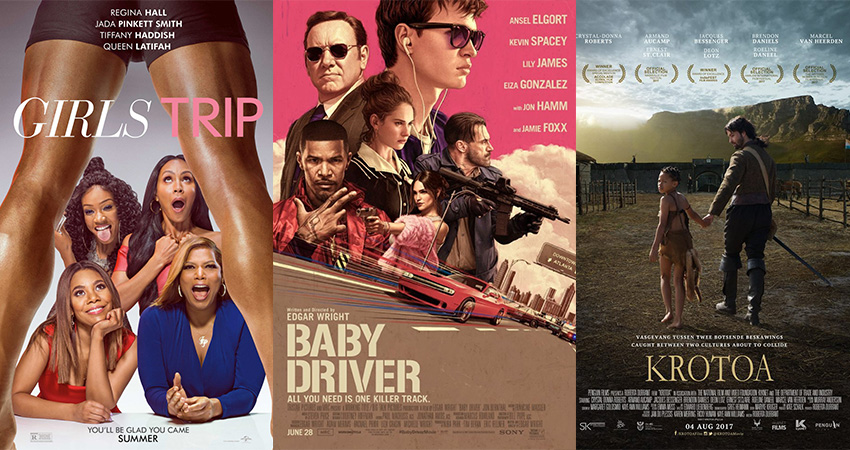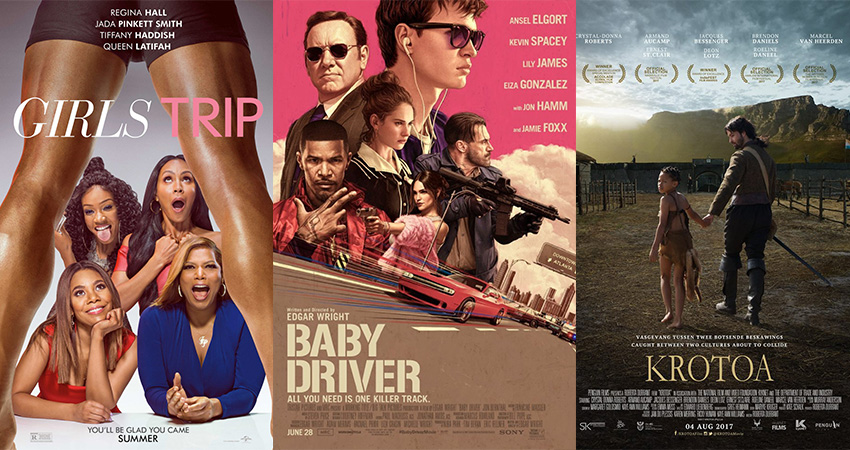 I've been waiting with bated breath for the cinematic wonder that is Baby Driver to hit our screens. Though I absolutely loved it, if it isn't your thing, there are two other highly rated movies opening today as well.
Baby Driver
Age Restriction: 16 L V
A talented, young getaway driver (Ansel Elgort) relies on the beat of his personal soundtrack to be the best in the game. When he meets the girl of his dreams (Lily James), Baby sees a chance to ditch his criminal life and make a clean getaway. But after being coerced into working for a crime boss (Kevin Spacey), he must face the music when a doomed heist threatens his life, love and freedom.
Take a kick-ass soundtrack, add a genius director and cinematographer, mix in a hot-shot young actor with a star on the rise alongside a terrific supporting cast and boom, you have a recipe for one incredible movie. I can't recommend Baby Driver enough! It's innovative and exciting and a wholly different cinema experience. Help Edgar Wright get the attention he deserves and see this one as many times as you can.
Critical Hit: 9.5/10
Rotten Tomatoes: 95%
Metacritic: 86
Book at Nu Metro or Ster Kinekor (2D)
Book at Nu Metro (4DX)
Girls Trip
Age Restriction: 16 D L S
When four lifelong friends – Regina Hall, Queen Latifah, Jada Pinkett Smith and Tiffany Haddish – travel to New Orleans for the annual Essence Festival, sisterhoods are rekindled, wild sides are rediscovered, and there's enough dancing, drinking, brawling and romancing to make the Big Easy blush.
Girls Trip is a raunchy, no-holds-barred comedy, a black woman's version of Bridesmaids or The Hangover. Unlike those, however, Girls Trip is far more grounded. With the likeable cast and appealing vision of female friendship, Girls Trip is the perfect choice for Women's Month in South Africa. Just don't take your conservative mom along, keep this one for a girl's night out with your open-minded friends!
Critical Hit: 7.5/10
Rotten Tomatoes: 87%
Metacritic: 71
Book at Nu Metro or Ster Kinekor (2D)
Brimstone
Age Restriction: 18 S V
Wrongly accused of a crime she didn't commit, a frontier woman (Dakota Fanning) turned fugitive is hunted by a vengeful preacher (Guy Pearce) in the menacing inferno of the old American West.
Ostensibly setting out to expose the subjugation of women, Brimstone spends too much time delighting in the sadistic treatment of its characters. You'll feel every minute of the weighty 148-minute runtime while being subjected to a pretentious, overly brutal and exhausting film.
Rotten Tomatoes: 37%
Metacritic: 44
Book at Nu Metro or Ster Kinekor (2D)
Krotoa
Age Restriction: 13 S V
Krotoa, a feisty, bright, young 11-year-old girl, is removed from her close-knit Khoi tribe to serve Jan van Riebeeck, her uncle's trading partner. She is brought into the first Fort established by the Dutch East India Company in 1652. There, she grows into a visionary young woman who assimilates into the Dutch language and culture so well that she rises to become an influential interpreter for van Riebeeck. While van Reibeeck became the first Governor of the Cape Colony, Krotoa was both rejected by her own Khoi people and destroyed by the Dutch when she tried to find the middle road between the two cultures.
So far, local production Krotoa has been making waves on the international film circuit, winning some coveted awards. A thoughtful study of the life of a woman caught between two cultures, and as a novel change, one that is actually focused on her perspective. Krotoa is a mix of Afrikaans and Khoisan.
Book at Nu Metro or Ster Kinekor (2D)
All aggregate scores accurate as of date of print. For more information about the age restrictions, click here.
Last Updated: August 4, 2017