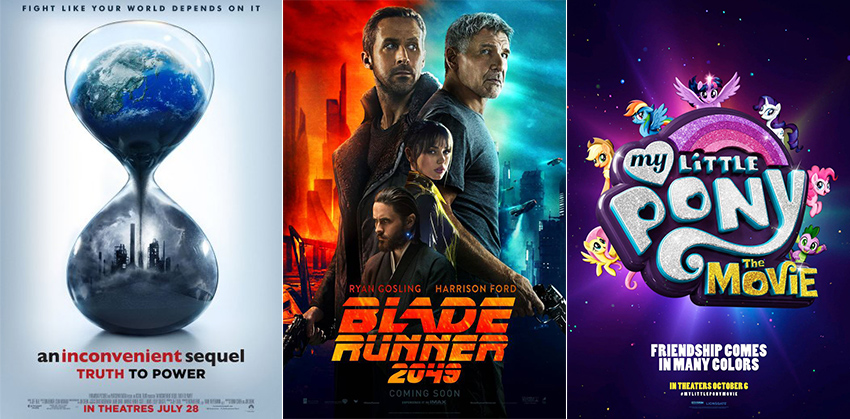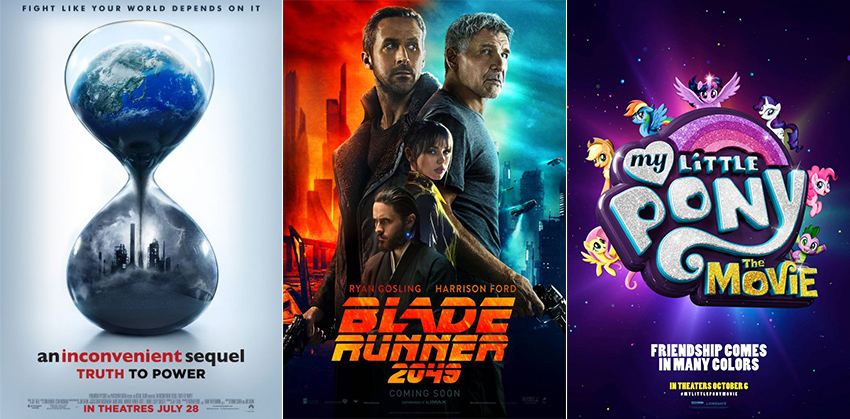 Our new movies this week include a sequel that, shockingly, lives up to the original, a sequel that is pretty much the same as the original, and a movie version of a TV show that's going to be the same as just watching the TV show. Does that count as a sequel as well?
Blade Runner 2049
Age Restriction: 16 L V
Thirty years after the events of the first film, a new blade runner, LAPD Officer K (Ryan Gosling), unearths a long-buried secret that has the potential to plunge what's left of society into chaos. K's discovery leads him on a quest to find Rick Deckard (Harrison Ford), a former LAPD blade runner who has been missing for 30 years.
Love it or loathe it (depending on which one of the seven different versions you watched), there's no denying that the original Blade Runner is a cult classic. As such, it's risky making a sequel to such an important piece of cinematic history, but luckily the risk has paid off. Blade Runner 2049 is a worthy continuation, paying homage to the original story while building on and further expanding the Blade Runner universe in grand new directions. Moody, atmospheric and visually sublime, this may be the first sequel to stand equal next to its iconic predecessor.
Rotten Tomatoes: 94%
Metacritic: 82
Book at Nu Metro or Ster Kinekor (2D)
Book at Nu Metro or Ster Kinekor (3D)
Book at Nu Metro (4DX)
Book at Ster Kinekor (IMAX 3D)
An Inconvenient Sequel: Truth to Power
Age Restriction: PG
A decade after An Inconvenient Truth brought climate change into the heart of popular culture comes the riveting and rousing follow-up that shows just how close we are to a real energy revolution. Vice President Al Gore continues his tireless fight, traveling around the world training an army of climate champions and influencing international climate policy. Cameras follow him behind the scenes-in moments private and public, funny and poignant-as he pursues the empowering notion that while the stakes have never been higher, the perils of climate change can be overcome with human ingenuity and passion.
Though Al Gore is tirelessly working to educate the world on the dangers of global warming, there's little new information to be gleaned from An Inconvenient Sequel that wasn't presented in the same manner in An Inconvenient Truth. Yes, global warming is still a massive issue. Yes, we're still on a slippery slope to living in a disaster movie. Yes, we need to do something, and we need to do it now. Hopefully, An Inconvenient Sequel sways some fence-sitters, and inspires everyone to do more.
Rotten Tomatoes: 77%
Metacritic: 68
Book at Nu Metro or Ster Kinekor (2D)
My Little Pony: The Movie
Age Restriction: PG V
A dark force threatens Ponyville, and the Mane 6 – Twilight Sparkle, Applejack, Rainbow Dash, Pinkie Pie, Fluttershy, and Rarity – embark on an unforgettable journey beyond Equestria where they meet new friends and exciting challenges on a quest to use the magic of friendship to save their home.
At the time of writing this, there are no reviews up for My Little Pony: The Movie. So, I'm just going to run with the assumption that it's pretty much a feature length version of the TV show. Ponies will do pony things, evil will be vanquished and the kids will love it. Have fun!
Rotten Tomatoes: TBD
Metacritic: TBD
Book at Nu Metro or Ster Kinekor (2D)
Wish Upon
Age Restriction: 16 H L V
17-year-old Clare Shannon (Joey King) is barely surviving the hell that is high school, along with her friends Meredith (Sydney Park) and June (Shannon Purser). So when her dad (Ryan Phillippe) gifts her an old music box with an inscription that promises to grant the owner's wishes, she thinks there is nothing to lose. Clare makes her first wish and, to her surprise, it comes true. Before long, she finally has it all: money, popularity and her dream boy. Everything seems perfect – until the people closest to her begin dying in gruesome and twisted ways. Now, with blood on her hands, Clare has to get rid of the box, before it costs her and everyone she loves the ultimate price.
A messy, unappealing mash-up between Final Destination and Mean Girls, Wish Upon seems to be the answer to a question that no one asked, mainly, "How many horror clichés can be packed into one movie?" Apparently, the answer is all of them. Oh, and while you're at it, make it derivative, funny for all the wrong reasons and not scary in the slightest.
Rotten Tomatoes: 18%
Metacritic: 32
Book at Nu Metro or Ster Kinekor (2D)
The Big Sick
Age Restriction: 16 L
Based on the real-life courtship between Kumail Nanjiani and Emily V. Gordon, THE BIG SICK tells the story of Pakistan-born aspiring comedian Kumail (Kumail Nanjiani), who connects with grad student Emily (Zoe Kazan) after one of his standup sets. However, what they thought would be just a one-night stand blossoms into the real thing, which complicates the life that is expected of Kumail by his traditional Muslim parents. When Emily is beset with a mystery illness, it forces Kumail to navigate the medical crisis with her parents, Beth and Terry (Holly Hunter and Ray Romano) who he's never met, while dealing with the emotional tug-of-war between his family and his heart.
A charming film about the ups and downs that cultural differences bring to relationships, The Big Sick isn't without a serious, dramatic undertone. Thankfully, it sidesteps most of the clichés that come with this kind of genre, and ends up hilarious, witty and heart-warming.
Rotten Tomatoes: 98%
Metacritic: 86
Book at Nu Metro or Ster Kinekor (2D)
Good Time
Age Restriction:
After a botched bank robbery lands his younger brother in prison, Constantine Nikas (Robert Pattinson) embarks on a twisted odyssey through New York City's underworld in an increasingly desperate-and dangerous-attempt to get his brother out of jail. Over the course of one adrenalized night, Constantine finds himself on a mad descent into violence and mayhem as he races against the clock to save his brother and himself, knowing their lives hang in the balance.
If you had any lingering doubts about Robert Pattinson's acting prowess, his powerful performance in Good Time will surely dispel them. Often perplexing and incredibly uncomfortable to watch, this is a feverish head trip of a film that grabs you by the throat and refuses to let go. It may not be a "good time" as the title suggests, but it's definitely an interesting one.
Rotten Tomatoes: 89%
Metacritic: 80
Book Ster Kinekor (Cinema Nouveau)
For more information about the age restrictions, click here.
Last Updated: October 6, 2017