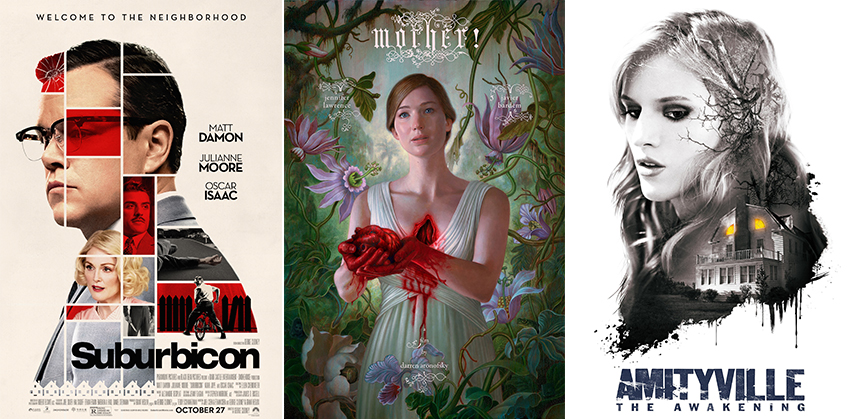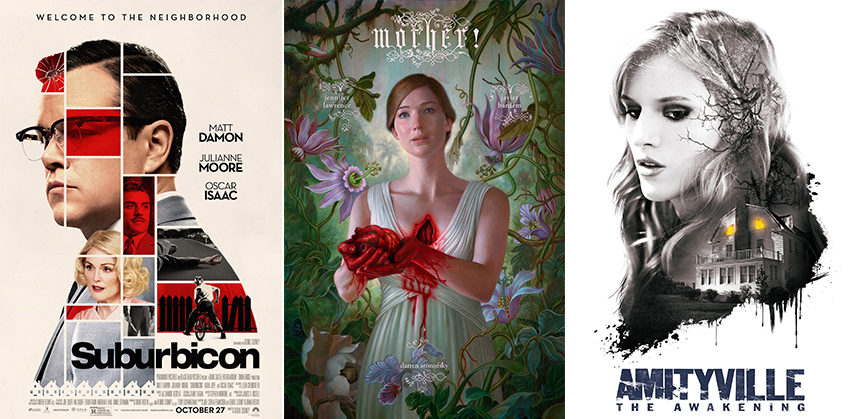 Of all the new movies opening in cinemas this week, I'm most curious about Darren Aronofsky's mother!. Besides for the bizarre and annoying naming convention, those of our team that have seen it have been so cryptic in their discussions that it's driven me completely mad with curiosity! If you're not interested in this unconventional and somewhat crazy film, here are the rest of the new cinema releases to keep you entertained this weekend.
mother!
Age Restriction: 16 H L V
A couple's relationship is tested when uninvited guests arrive at their home, disrupting their tranquil existence. From filmmaker Darren Aronofsky (Black Swan, Requiem for a Dream), mother! stars Jennifer Lawrence, Javier Bardem, Ed Harris and Michelle Pfeiffer in this riveting psychological thriller about love, devotion and sacrifice.
Bold and unconventional, Darren Aronofsky's mother! Is confusing, shocking, and sometimes horrifying to watch. It's also unflinchingly ambitious, audacious and praiseworthy for its complete disregard of cinematic norms. As Kervyn said in his review, you may not end up liking what mother! has to say, but it will definitely leave you with a lot to say about it.
Critical Hit: 8/10
Rotten Tomatoes: 69%
Metacritic: 74
Book at Nu Metro or Ster Kinekor (2D)
Suburbicon
Age Restriction: 18 D IAT L P S V
Suburbicon is a peaceful, idyllic suburban community with affordable homes and manicured lawns…the perfect place to raise a family, and in the summer of 1959, the Lodge family is doing just that. But the tranquil surface masks a disturbing reality, as husband and father Gardner Lodge (Matt Damon) must navigate the town's dark underbelly of betrayal, deceit, and violence. This is a tale of very flawed people making very bad choices. This is Suburbicon.
Torn between murder-mystery, dark satire and racial commentary, Suburbicon doesn't manage to find the balance. Instead, director George Clooney has produced a mess of a movie that is tonally at war with itself and misses the mark on what it's trying to say by a wide margin.
Rotten Tomatoes: 26%
Metacritic: 42
Book at Nu Metro or Ster Kinekor (2D)
Amityville: The Awakening
Age Restriction: 13 H L V
Belle (Bella Thorne), her little sister, and her comatose twin brother move into a new house with their single mother Joan in order to save money to help pay for her brother's expensive healthcare. But when strange phenomena begin to occur in the house including the miraculous recovery of her brother, Belle begins to suspect her Mother isn't telling her everything and soon realizes they just moved into the infamous Amityville house.
Everything about Amityville: The Awakening is lazy. The script, the acting, even the scares, they're all completely bland and routine. This might be how the Amityville franchise might die, not with a bang but with a snore.
Rotten Tomatoes: 20%
Metacritic: 42
Book at Nu Metro or Ster Kinekor (2D)
Tulip Fever
Age Restriction: 16 N S
In 17th century Amsterdam, a married woman (Alicia Vikander) begins a passionate affair with an artist (Dane DeHaan) hired to paint her portrait. The lovers gamble on the booming market for tulip bulbs as a way to raise money to run away together.
Tulip Fever falls into the same trap that many other complex novels crammed into a 100-minute run time have fallen into before. It's a mess of subplots crammed in willy-nilly, all awkwardly condensed and fighting for screen time. The impact of the sumptuous sets is also completely undone with the uninspired dialogue and ton-deaf plots.
Rotten Tomatoes: 8%
Metacritic: 38
Book at Nu Metro or Ster Kinekor (2D)
All Saints
Age Restriction: PG
When salesman-turned-pastor Michael Spurlock (John Corbett) is ordered to shut down a tiny church, a group of refugees from Southeast Asia appear at the right moment in Spurlock's life, and together they risk everything to plant seeds of hope for the future. Based on a true story.
By all accounts, All Saints feels is an actual miracle. It's an inspired-by-a-true-story faith-based movie that doesn't rely on heavy-handed melodrama to get its point across. Instead, All Saints focuses on the humanity of the characters and brings its message across in a genuinely upbeat, inspirational way.
Rotten Tomatoes: 93%
Metacritic: 63
Book at Nu Metro or Ster Kinekor (2D)
Wolf Warrior 2
Age Restriction:
The Wolf Warrior is back, bigger and badder than ever, in this action-packed sequel to the 2015 blockbuster hit. With his career in tatters, China's deadliest Special Forces operative has settled into a quiet life on the sea. But when he crosses paths with a sadistic band of mercenaries terrorizing innocent civilians, he must reaffirm his duty as a soldier and save the day once again.
Wolf Warrior 2 is apparently bigger and bolder than its predecessor, which I didn't even know existed. As a modern-day 80's action film, Wolf Warrior 2 doesn't exactly break out of B-movie status, but genre fans will certainly get a kick out of the over-the-top action and elaborate set pieces.
Rotten Tomatoes: 70%
Metacritic: 44
Book at Ster Kinekor (2D)
For more information about the age restrictions, click here.
Last Updated: November 10, 2017