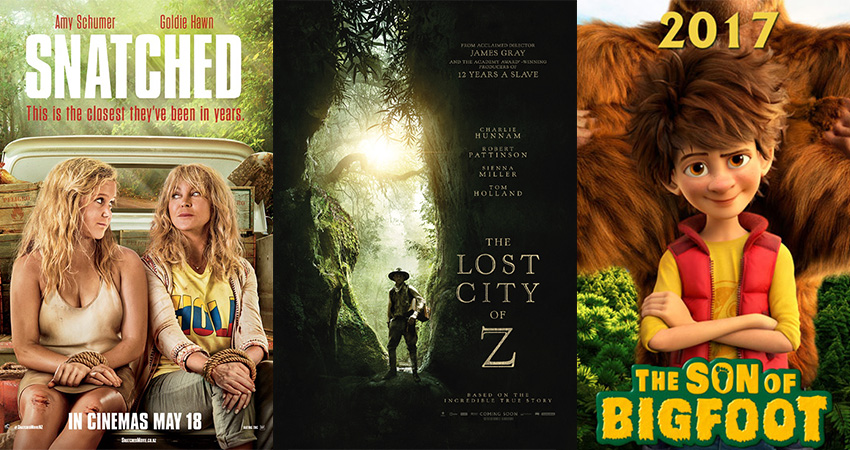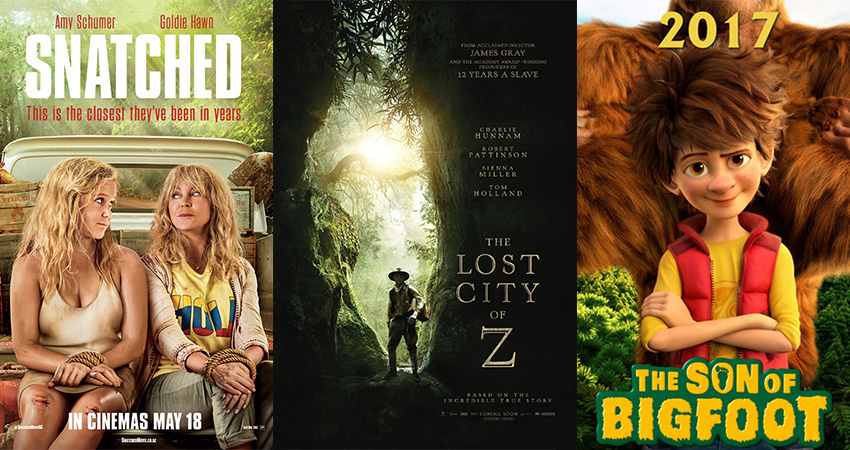 This week's theme is all about adventure. We have a classic British explorer, a teenager on a quest, a mother-daughter team on an unwitting journey and an exploration into undiscovered sexuality.
The Lost City of Z
Age Restriction: 13 V
The incredible true story of British explorer Percy Fawcett, who journeys into the Amazon at the dawn of the 20th century and discovers evidence of a previously unknown, advanced civilisation that may have once inhabited the region. Despite being ridiculed by the scientific establishment, who regard indigenous populations as "savages," the determined Fawcett—supported by his devoted wife, son, and aide-de-camp—returns time and again to his beloved jungle in an attempt to prove his case, culminating in his mysterious disappearance in 1925.
A classic adventure movie with biographical overtones, The Lost City of Z is a beautiful journey, led by Charlie Hunnam. Hunnam is stretching his acting muscles more and more these days, and pulling off better performances each time. As for the film itself, much like the protagonist of Fawcett, it's equally mysterious, bold, resilient, and a little bit nuts.
Rotten Tomatoes: 87%
Metacritic: 78
Book at Nu Metro or Ster Kinekor (2D)
The Son of Bigfoot
Age Restriction: 7-9 PG L V
Teenage outsider Adam sets out on an epic and daring quest to uncover the mystery behind his long-lost dad, only to find out that his dad is none other than the legendary "Bigfoot!" Dad has been hiding deep in the forest for years to protect himself and the rest of his family from HairCo., a giant corporation eager to run scientific experiments with special Bigfoot DNA. As father and son start making up for lost time, Adam soon discovers that he, too, is gifted with superpowers beyond his imagination.
It's one thing to have movie critics absolutely hate on your new film. It's another thing entirely when they don't even bother to review it. Looking at The Son of Bigfoot trailer, I can see exactly why. It's another sub-par animation effort with a banal story and trite lessons to be learned. I gave this one a skip, and so should you.
Rotten Tomatoes: TBD
Metacritic: not found
Book at Nu Metro or Ster Kinekor (2D)
Book at Ster Kinekor (3D)
Snatched
Age Restriction: 16 L V
After her boyfriend dumps her on the eve of an exotic vacation, impetuous dreamer Emily persuades her ultra-cautious mother, Linda to travel with her to paradise. Polar opposites, Emily and Linda realise that working through their differences as mother and daughter—in an unpredictable, hilarious fashion—is the only way to escape the wildly outrageous jungle adventure they've fallen into.
With a flimsy premise and even flimsier jokes, this tired, formulaic comedy traps its two leads in a rut. Despite Amy Schumer and Goldie Hawn's game attempt, and their natural chemistry, Snatched is a waste of their talents as it stumbles from farce to cliché.
Rotten Tomatoes: 35%
Metacritic: 45
Book at Nu Metro or Ster Kinekor (2D)
Below Her Mouth
Age Restriction: 18 L N S
Jasmine (Natalie Krill) is a successful fashion editor living with her fiancé, Rile (Sebastian Pigott). On a night out in the city with her best friend, she meets Dallas (Erika Linder), a roofer recently out of a relationship. Surprised by the confidence with which Dallas pursues her, Jasmine turns Dallas down – but can't get her out of her head. When Jasmine finally succumbs, the two women embark on a steamy affair that forces them both to re-evaluate their lives
Sexually frank but narratively flimsy, Below Her Mouth is a thin excuse to have erotica on the big screen. Where it lacks in plot, character development and anything resembling thematic depth, it makes up for in cringe-worthy dialogue and gratuitous amounts of soft-core sex.
Rotten Tomatoes: 22%
Metacritic: 42
Book at Nu Metro or Ster Kinekor (2D)
My Cousin Rachel
Age Restriction: 13 L V S
A young Englishman plots revenge against his mysterious, beautiful cousin, believing that she murdered his guardian. But his feelings become complicated as he finds himself falling under the beguiling spell of her charms.
My Cousin Rachel is a moody, gothic thriller, all black lace and whispered secrets. But underneath that burns the strong feminist message about money, power and the fear men hold of what would happen if a woman obtained both. Lead by a powerful performance by Rachel Weisz, My Cousin Rachel is a dark, brooding but beautiful period piece drama.
Rotten Tomatoes: 76%
Metacritic: 63
Book at Ster Kinekor (Cinema Nouveau)
Aggregate scores accurate as o the date of print. For more information about the age restrictions, click here.
Last Updated: August 11, 2017