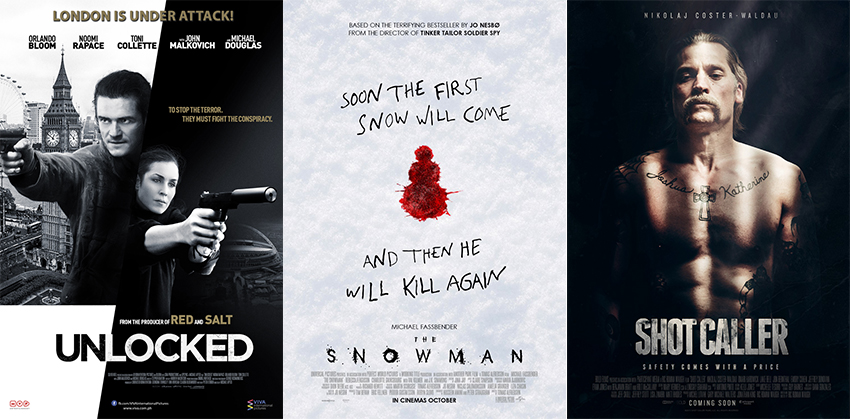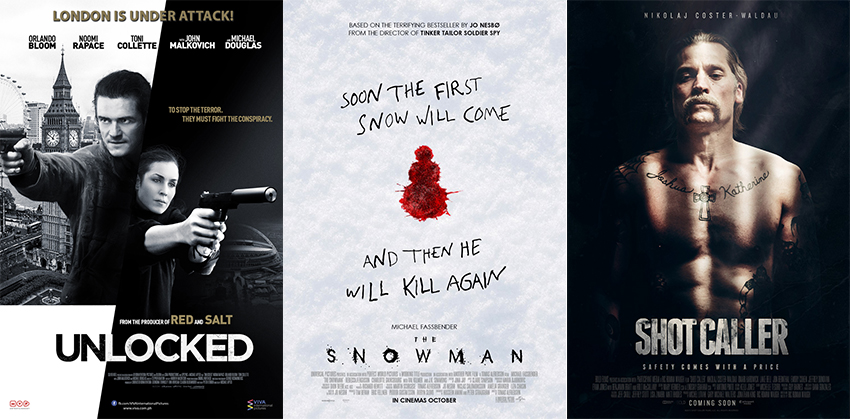 It's Friday the 13th and all our new cinema releases are horrors. No, hang on, I didn't get that right. It's just scary how bad they all are.
The Snowman
Age Restriction: 16 V
When an elite crime squad's lead detective (Michael Fassbender) investigates the disappearance of a victim on the first snow of winter, he fears an elusive serial killer may be active again. With the help of a brilliant recruit (Rebecca Ferguson), the cop must connect decades-old cold cases to the brutal new one if he hopes to outwit this unthinkable evil before the next snowfall.
Based on one of the Harry Hole novels by Jo Nesbø, The Snowman is a frustrating film that shows you just how good it could have been. Unfortunately, thanks to obvious production troubles, poor editing and a slap-dash approach to pacing, The Snowman ends up being both underwhelming and sloppy.
Critical Hit: 5.5/10
Rotten Tomatoes: 20%
Metacritic: 34
Book at Nu Metro or Ster Kinekor (2D)
Unlocked
Age Restriction: 16 L V
After failing to apprehend the terrorist behind a Paris attack that claimed dozens of lives, CIA agent Alice Racine (Noomi Rapace) is forced to live in London as a caseworker. Unexpectedly, she is called back into action by her mentor, Eric Lasch (Michael Douglas), when the CIA discovers intel of another imminent attack. While "unlocking" the suspect, Alice discovers that the classified information she has uncovered has been compromised. Running for her life, Alice turns to ex-soldier Jack (Orlando Bloom) to prevent a lethal biological attack on the citizens of London
Despite its judicious subject matter and mostly effective performances, Unlocked completely fails to build up the necessary tension to make it a worthwhile political thriller. Unlocked is bogged down by terrible genre clichés, indistinguishable action sequences and mind-bogglingly stupid conspiracy theories.
Rotten Tomatoes: 24%
Metacritic: 46
Book at Nu Metro or Ster Kinekor (2D)
Shot Caller
Age Restriction: 18 L V
SHOT CALLER follows the harrowing, often heart-rending journey of successful businessman Jacob Harlon (Nikolaj Coster-Waldau) who is transformed into Money, a stoic, ruthless prison gangster after a DUI sends him down the rabbit hole of the American prison system. As he navigates the brutality of his new home, adapting to its violent codes of ethics and rites of passage that will ensure his survival, he slowly loses his previous identity and his relationship to his former life, including his wife and son. The grip of his new family, the prison gang, extends beyond the prison walls. Upon his release, chased by the law enforcement, threatened by his incarcerated "protectors," Money must orchestrate one last dangerous crime. All is not what it seems. The ruthless process of fulfilling his obligations also becomes his path to sacrifice, retribution and self-definition.
Previously, we haven't really had the opportunity to see Nikolaj Coster-Waldau flexing his acting muscles, but Shot Caller gives us a glimpse of what he can do. It's a serious and methodical film with a substantial amount of emotional weight, one that will leave a lasting, and unsettling, impression.
Rotten Tomatoes: 74%
Metacritic: 59
Book at Nu Metro or Ster Kinekor (2D)
The Last Word
Age Restriction: 13 L
Shirley MacLaine is Harriet Lauler, a once successful businesswoman in tight control of every aspect of her life. As she reflects upon her accomplishments, she's suddenly inspired to engage a young local writer, Anne Sherman (Amanda Seyfried), to pen her life's story. When the initial result doesn't meet Harriet's high expectations, she sets out to reshape the way she is remembered, with Anne dragged along as an unwilling accomplice. As the journey unfolds, the two women develop a unique bond which alters not only Harriet's legacy, but also Anne's future.
Thanks to its contrived, clunky and gimmick filled plot, you will struggle to connect with the characters in The Last Word. By the time the film expects you to actually care about any of them, the sympathy has long since vanished in a cloud of formulaic narrative and eye-rollingly clichéd moments.
Rotten Tomatoes: 38%
Metacritic: 40
Book at Nu Metro or Ster Kinekor (2D)
The Whale Caller
Age Restriction: 13 D L
Set against the backdrop of the stunningly beautiful Hermanus, on the west coast of South Africa, the story follows the Whale Caller, a man who has long turned his back on humanity. It's a heart-warming story about his journey from misanthropic alienation to human connection, driven by a unique love triangle between him and Saluni, the wispy sexy town drunk who harbours ideas of grandeur and Sharisha, a Southern Right whale.
Based on the novel by Zakes Mda, The Whale Caller won the Best African Film at the Joburg Film Festival in 2016. Though it's a flawed film that would have benefitted from better casting and performance directing, it has its charms.
Book at Nu Metro or Ster Kinekor (2D)
For more information about the age restrictions, click here.
Last Updated: October 13, 2017