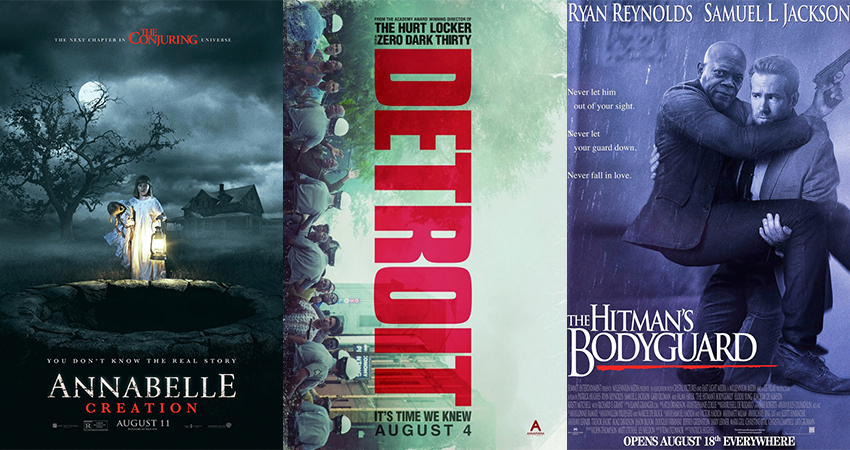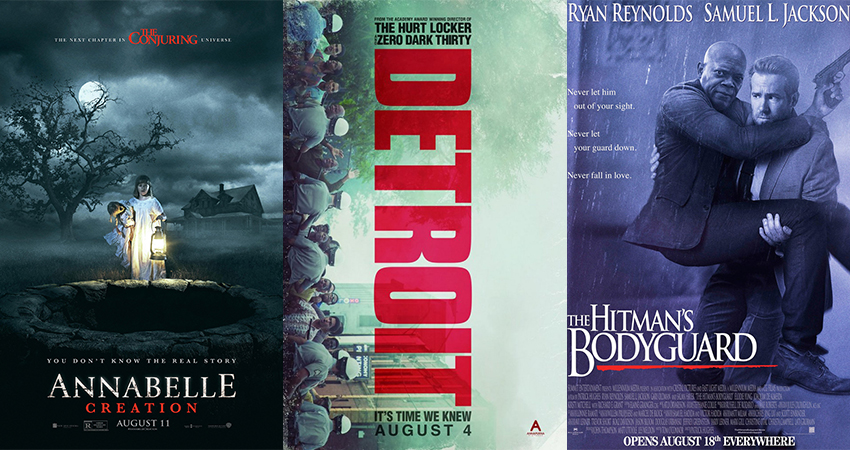 It's a violent week for our new movie releases. Brutal race riots, possessed dolls on a rampage, and Samuel L. Jackson being, well, Samuel L. Jackson. Also, Atomic Blonde is on limited release in IMAX theatres only this week, for general release next week, so have a look at Noelle's review in the meantime.
Detroit
Age Restriction: 16 L V P
From the Academy Award winning director of THE HURT LOCKER and ZERO DARK THIRTY, DETROIT tells the gripping story of one of the darkest moments during the civil unrest that rocked Detroit in the summer of '67.
Detroit is another powerfully emotive and hard-hitting movie from Kathryn Bigelow. While it may suffer from some tonal and structural disparities, the cast delivers some devastatingly effective performances. Detroit is not an easy watch. It's brutal and harrowing, but also a timely and pertinent movie that deserves to be seen. Kervyn's full review of Detroit will be up later this afternoon [it's up now!].
Critical Hit: 7.5/10
Rotten Tomatoes: 83%
Metacritic: 78
Book at Nu Metro or Ster Kinekor (2D)
Annabelle: Creation
Age Restriction: 13 H V
Several years after the tragic death of their little girl, a dollmaker and his wife welcome a nun and several girls from a shuttered orphanage into their home, soon becoming the target of the dollmaker's possessed creation, Annabelle.
Along with some of our lucky readers, the team and I watched Annabelle: Creation last night. We'll have a full review of our (and your!) thoughts next week, but in the meantime, I can let you know that Annabelle: Creation certainly delivers on the scares. If you're looking to stay awake tonight, I recommend Annabelle: Creation as the perfect cure for a good night's sleep. Horror fans will love it.
Rotten Tomatoes: 68%
Metacritic: 62
Book at Nu Metro or Ster Kinekor (2D)
The Hitman's Bodyguard
Age Restriction: 16 L V
The world's top protection agent (Ryan Reynolds) is called upon to guard the life of his mortal enemy, one of the world's most notorious hitmen (Samuel L. Jackson). The relentless bodyguard and manipulative assassin have been on the opposite end of the bullet for years and are thrown together for a wildly outrageous 24 hours. During their raucous and hilarious adventure from England to the Hague, they encounter high-speed car chases, outlandish boat escapades and a merciless Eastern European dictator (Gary Oldman) who is out for blood.
There wasn't a lot of effort that went into The Hitman's Bodyguard, and it shows. Instead, this film relies on the witty banter between the naturally charismatic Samuel L. Jackson and the smoothly hilarious Ryan Reynolds, and coasts through on everything else. The Hitman's Bodyguard could have done better, even by mindless summer blockbuster entertainment standards.
Rotten Tomatoes: 35%
Metacritic: 49
Book at Nu Metro or Ster Kinekor (2D)
A Family Man
Age Restriction: 16 L
A headhunter whose life revolves around closing deals in a survival-of-the-fittest boiler room, battles his top rival for control of their job placement company — his dream of owning the company clashing with the needs of his family.
Middling and forgettable, A Family Man is stuffed so full of sentimental clichés and melodrama that it leaves no space to include anything like fully rounded, or even likeable, characters. There are some thought-provoking moments, but they're so buried in the mawkish, predictable plot, they're basically useless.
Rotten Tomatoes: 13%
Metacritic: 21
Book at Nu Metro or Ster Kinekor (2D)
Finders Keepers
Age Restriction: 13 L S V
A strip joint janitor and a club patron strike up an unlikely friendship as they evade gangsters and Russian mobsters, and try to secure the release of a kidnapped stripper, by trading her for a lucky fish they had stolen.
This local… um… comedy (I assume) features unlikely friendships, madcap adventure and terrible Russian accents. Based on how much I cringed during the trailer, I doubt the full runtime would be survivable. Then again, I did get through Annabelle: Creation, so I could theoretically survive anything at this point.
Book at Nu Metro or Ster Kinekor (2D)
For more information about the age restrictions, click here.
Last Updated: August 18, 2017