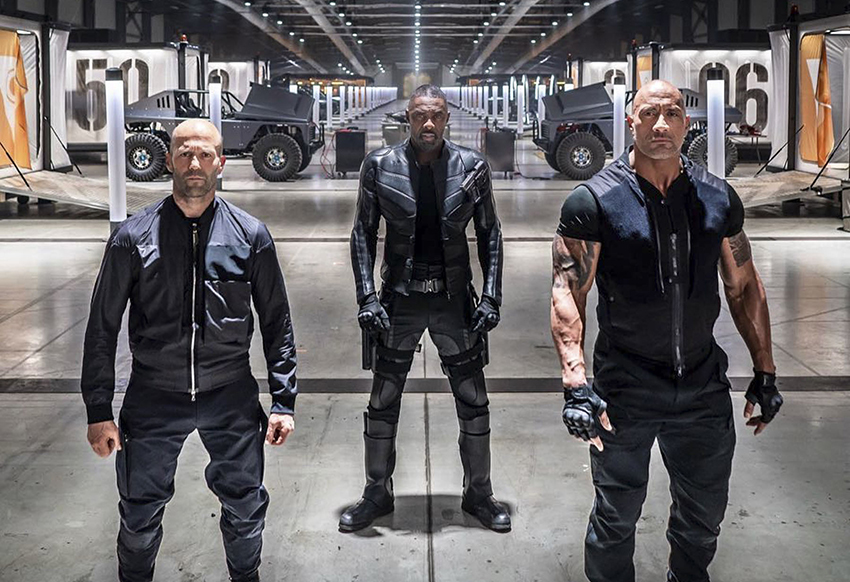 This weekend's new movie releases are all about dynamic duos. The offerings could not be more diverse as there's something for everybody, but there are two hulking action stars – and their ridiculously awesome antics – that tower over everybody else though.
---
Fast & Furious Presents: Hobbs & Shaw
Age Restriction: 13 L V
Ever since hulking lawman Hobbs (Johnson), a loyal agent of America's Diplomatic Security Service, and lawless outcast Shaw (Statham), a former British military elite operative, first faced off in 2015's Furious 7, the duo have swapped smack talk and body blows as they've tried to take each other down.

But when cyber-genetically enhanced anarchist Brixton (Idris Elba) gains control of an insidious bio-threat that could alter humanity forever — and bests a brilliant and fearless rogue MI6 agent (The Crown's Vanessa Kirby), who just happens to be Shaw's sister — these two sworn enemies will have to partner up to bring down the only guy who might be badder than themselves.
What do you get if you combine the high-octane, globetrotting Fast & Furious action with the cartoon sci-fi ridiculousness of G.I. Joe, and then add in a non-stop barrage of back and forth banter? You get seriously entertained, that's what! Hobbs & Shaw may have its faults, but it shows there's still plenty of pop left in this action franchise. – 7.510
Rotten Tomatoes: 71% (Certified Fresh)
Metacritic: 61 (Generally Favourable Reviews)
---
Stan & Ollie
Age Restriction: PG D
Laurel & Hardy, one of the world's great comedy teams, set out on a variety hall tour of Britain in 1953. Diminished by age and with their golden era as the kings of Hollywood comedy now behind them, they face an uncertain future. As the charm and beauty of their performances shines through, they re-connect with their adoring fans.

The tour becomes a hit, but Stan & Ollie can't quite shake the specter of Laurel and Hardy's past; the long-buried ghosts, coupled with Oliver's failing health, start to threaten their precious partnership. A portrait of the most tender and poignant of creative marriages, they are aware that they may be approaching their swan song, trying to rediscover just how much they mean to each other.
Rotten Tomatoes: 93% (Certified Fresh)
Metacritic: 75 (Generally Favourable Reviews)
---
Terra Willy
Age Restriction: PG V
From 6 years old, following the destruction of their ship, the young Willy is separated from his parents with whom he traveled in space. His spare capsule lands on a wild and unexplored planet. With the help of Buck, a survival robot, he will have to hold until the arrival of a rescue mission. In the meantime, Willy, Buck and Flash, an alien creature with whom they befriended, set out to discover the planet, its fauna, its flora … but also its dangers.
Rotten Tomatoes: No consensus yet
Metacritic: No consensus yet
---
For more information about the age restrictions, click here.
Last Updated: August 2, 2019