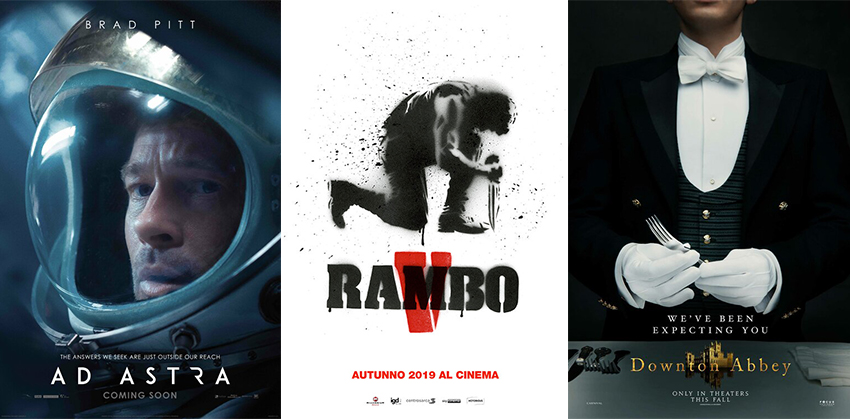 I was really hoping that Brad Pitt's adventures in space to find his father would end up with him rescuing Matt Damon, but alas, from Ad Astra's trailer it looks like I got my hopes up for nothing.
---
Ad Astra
Age Restriction: 16 L V
Astronaut Roy McBride (Brad Pitt) travels to the outer edges of the solar system to find his missing father and unravel a mystery that threatens the survival of our planet. His journey will uncover secrets that challenge the nature of human existence and our place in the cosmos.
It's ambition outstrips its execution at times as Ad Astra tries to be a sci-fi thriller, introspective character study, epic space travel film and more all at once. Despite its stumbles though, it gets enough right to still be worth a watch… as long as you know what you're in for. – 7.5/10
Rotten Tomatoes: 82% (Certified Fresh)
Metacritic: 78 (Generally Favourable Reviews)
---
Downton Abbey
Age Restriction: 13 P
The Crawleys and their intrepid staff prepare for the most important moment of their lives. A royal visit from the King and Queen of England will unleash scandal, romance and intrigue that will leave the future of Downton hanging in the balance.
Fans of Downton Abbey should enjoy this new addition to the story while those unfamiliar with it might be better off first watching the series. – 7.5/10
Rotten Tomatoes: 81% (Certified Fresh)
Metacritic: 61 (Generally Favourable Reviews)
---
Rambo: Last Blood
Age Restriction: 18 D L V
Almost four decades after he drew first blood, Sylvester Stallone is back as one of the greatest action heroes of all time, John Rambo. Now, Rambo must confront his past and unearth his ruthless combat skills to exact revenge in a final mission. A deadly journey of vengeance, RAMBO: LAST BLOOD marks the last chapter of the legendary series.
Rotten Tomatoes: 47% (Rotten)
Metacritic: 30 (Generally Unfavourable Reviews)
---
The Angry Birds Movie 2
The flightless angry birds and the scheming green piggies take their beef to the next level in The Angry Birds Movie 2! When a new threat emerges that puts both Bird and Pig Island in danger, Red (Jason Sudeikis), Chuck (Josh Gad), Bomb (Danny McBride), and Mighty Eagle (Peter Dinklage) recruit Chuck's sister Silver (Rachel Bloom) and team up with pigs Leonard (Bill Hader), his assistant Courtney (Awkwafina), and techpig Garry (Sterling K. Brown) to forge an unsteady truce and form an unlikely superteam to save their homes.
Rotten Tomatoes: 72% (Fresh)
Metacritic: 60 (Mixed or Average Reviews)
---
Knuckle City
Age Restriction: TBA
There are 3 ways out of Knuckle City: Through the ring. In the back of a cop car. Or in a Pine Box.

A slice of street life in South Africa's Mdantsane township, known as the boxing mecca of South Africa, Knuckle City follows the journey of Dudu Nyakama, a down and out ageing boxer as he struggles to attain the one fight that he believes will uplift his fractured family. Contending that the underbelly of the boxing world is rife with criminality, Dudu unwittingly enlists the help of his reckless but resourceful, gangster brother who's coming out of jail. Haunted by the ghost of their father, Dudu soon finds that the fight at home is far more challenging than any opponent he can possibly face in the ring.
South Africa's official Oscars submission for the 2020 Academy Awards, Knuckle City will have a very limited qualifying run for just the next week in Baywest Mall in Port Elizabeth. It will reopen in wide release on 27 December 2019.
---
Moffie
Age Restriction: TBA
The year is 1981 and South Africa's white minority government is embroiled in a conflict on the southern Angolan border. Like all white boys over the age of 16, Nicholas Van der Swart (Kai Luke Brummer) must complete two years of compulsory military service to defend the Apartheid regime. The threat of communism and "die swart gevaar" (the black danger) is at an all-time high. But that's not the only danger Nicholas faces. He must survive the brutality of the army – something that becomes even more difficult when a connection is sparked between him and a fellow recruit.
Another local film releasing in cinemas for its Oscar-qualifying run, Moffie will see a wider release in 2020, but for now, you can catch it in … one Ster-Kinekor in the entire country. That's Tygervalley in Cape Town.
---
For more information about the age restrictions, click here.
Last Updated: September 20, 2019