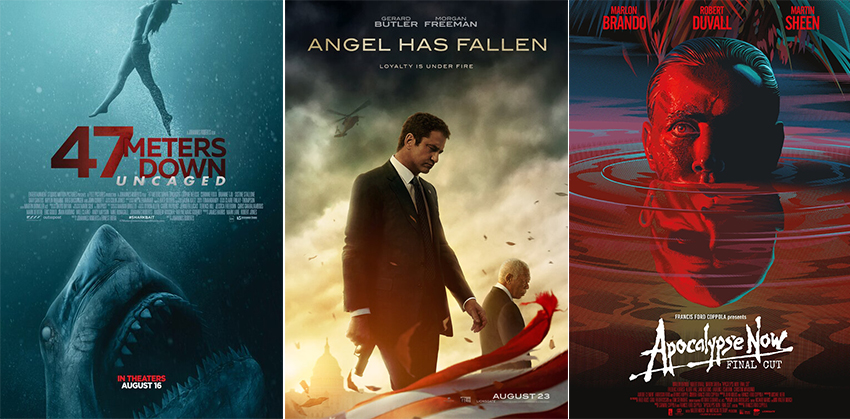 Today's new movies include Angel has Fallen, the rare third film in a franchise that has actually managed to improve on both of its predecessors (albeit only slightly), and the third version of Francis Ford Coppola's Apocalypse Now, which the director has labelled as his favourite.
---
Angel Has Fallen
Age Restriction: 16 L V
When there is an assassination attempt on U.S. President Allan Trumbull (Morgan Freeman), his trusted confidant, Secret Service Agent Mike Banning (Gerard Butler), is wrongfully accused and taken into custody. After escaping from capture, he becomes a man on the run and must evade his own agency and outsmart the FBI in order to find the real threat to the President. Desperate to uncover the truth, Banning turns to unlikely allies to help clear his name, keep his family from harm and save the country from imminent danger.
Rotten Tomatoes: 49% (Rotten)
Metacritic: 45 (Mixed or Average Reviews)
---
47 Meters Down: Uncaged
Age Restriction: 13 H V
47 Meters Down: Uncaged follows the diving adventure of four teenage girls (Corinne Foxx, Sistine Stallone, Sophie Nélisse, and Brianne Tju) exploring a submerged Mayan City. Once inside, their rush of excitement turns into a jolt of terror as they discover the sunken ruins are a hunting ground for deadly Great White Sharks. With their air supply steadily dwindling, the friends must navigate the underwater labyrinth of claustrophobic caves and eerie tunnels in search of a way out of their watery hell.
Rotten Tomatoes: 48% (Rotten)
Metacritic: 43 (Mixed or Average Reviews)
---
Apocalypse Now: Final Cut
Age Restriction: 16 D L N V
Restored from the original negative for the first time ever, Apocalypse Now Final Cut is Coppola's most realized version of the film, which was nominated for eight Academy Awards (R), won three Golden Globes (R) (Best Original Score, Best Director, and Best Supporting Actor – Motion Picture, 1980), and is one of AFI's top 100 films. Coppola's visually dazzling masterpiece is a surreal, hallucinatory, epic tragedy about the horror of the Vietnam War. A U.S. Army Intelligence officer is sent on a bizarre river journey deep into the jungle to assassinate Colonel Kurtz, a renegade Green Beret who uses primitive tribesmen to wage his own war.
Rotten Tomatoes: 100% (Fresh)
Metacritic: 92 (Universal Acclaim)
---
Ander Mens
Age restriction: 16 L V N
Daniel Niemand is the kind of dumpy little sad-sack that even flies wouldn't care to buzz around—and that's on a good day. But that all changes when his wife leaves him for their marriage counsellor and he unknowingly becomes integral in a high-level police ploy to capture a local crime syndicate. Welcome to the worst week in Daniel Niemand's life.
---
For more information about the age restrictions, click here.
Last Updated: August 23, 2019