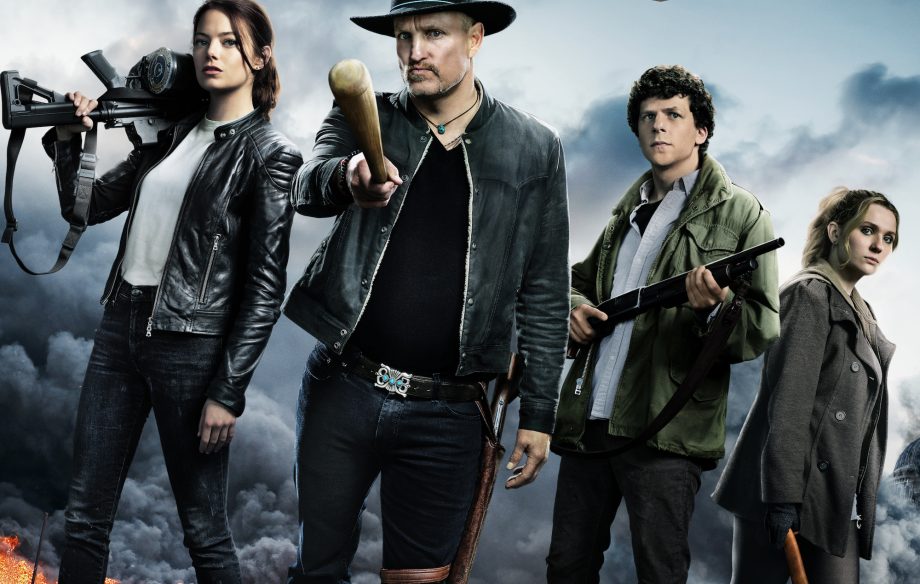 Wondering what to do with that payday money burning a hole in your pocket? You've got options with this week's new cinema releases.
---
Zombieland: Double Tap
Age Restriction: 18 D H L V
A decade after Zombieland became a hit film and a cult classic, the lead cast (Woody Harrelson, Jesse Eisenberg, Abigail Breslin, and Emma Stone) have reunited with director Ruben Fleischer (Venom) and the original writers Rhett Reese & Paul Wernick (Deadpool) for Zombieland: Double Tap. In the sequel, written by Rhett Reese & Paul Wernick and Dave Callaham, through comic mayhem that stretches from the White House and through the heartland, these four slayers must face off against the many new kinds of zombies that have evolved since the first movie, as well as some new human survivors. But most of all, they have to face the growing pains of their own snarky, makeshift family.
Rotten Tomatoes: 66% (Fresh)
Metacritic: 56 (Mixed or Average Reviews)
---
The Extractors: Escape Plan
Age Restriction: 16 L V
After security expert Ray Breslin is hired to rescue the kidnapped daughter of a Hong Kong tech mogul from a formidable Latvian prison, Breslin's girlfriend is also captured. Now, he and his team, must pull off a deadly rescue mission to confront their sadistic foe and save the hostages before time runs out.
Rotten Tomatoes: 30% (Rotten)
Metacritic: n/a
---
A Rainy Day in New York
Age Restriction: 13 D L
College sweethearts Gatsby and Ashleigh's plans for a romantic weekend together in New York City are dashed as quickly as the sunlight turns into showers. The two are soon parted, and each has a series of chance meetings and comical adventures while on their own. When Ashleigh gets an assignment from the school paper to interview celebrated film director Roland Pollard in Manhattan, Gatsby seizes the opportunity to show Arizona-bred Ashleigh his favorite haunts in his hometown. An old soul, Gatsby loves vintage New York, and he puts together a jam-packed itinerary of classic haunts like the Bemelman's Bar at Café Carlyle. Gatsby's well-laid plans are quickly sidetracked when Pollard invites Ashleigh to watch a work-in-progress screening of his new film. Ashleigh is soon off on a head-spinning series of encounters that lead her from Pollard to screenwriter Ted Davidoff to movie star Francisco Vega. Left to his own devices in the city, Gatsby ends up spending the day with Chan, the sharp-witted younger sister of his ex-girlfriend. He also goes to a party thrown by his wealthy parents, where he has a life-changing conversation with his mother. Over the course of a dreamy and drizzly day in New York, Ashleigh discovers she might not be who she thought she was and Gatsby learns that while you only live once, once is enough if you find the right person.
Rotten Tomatoes: 65% (Fresh)
Metacritic: 44% (Mixed or Average Reviews)
---
Blessers
Age Restriction: 18 D L S
Jacob Mofokeng is a middle-aged businessman who's become accustomed to his routine – a life that includes his wife, Michelle, his daughter, Natasha, his work, and his fun. As a powerful CEO with a big house, a successful spouse, a family, and expensive recreational habits, Jacob feels like life will always be this easy. Little does he know the blessing he's about to receive.
---
Salvation
Age Restriction: 16 D L S V
Chance encounters on the streets of Johannesburg connect Ezra – a young man on the run from the law, Roxy – a dejected stripper, and Father Benjamin – a despairing priest, in their search of answers, acceptance and faith. Charged to revive a struggling church in a depressed inner city community, Father Benjamin is forced to learn about forgiveness. Ezra's escape from his small town leads him to embark on a journey of self-discovery, while Roxy finally confronts a past she buried deep in the recesses of her mind. When their paths cross, they form an unlikely bond that forces them to venture out of their comfort zones and find freedom and salvation in truth and forgiveness.
---
For more information about the age restrictions, click here.
Last Updated: October 25, 2019