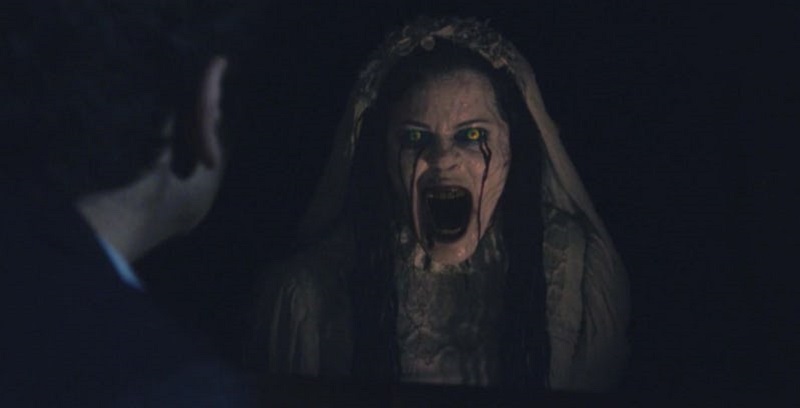 This weekend's releases are headlined by a pair of monsters, one fictional and the other very real. Not in the mood for wicked creatures though? Not to worry as there's something for everybody.
The Curse of La Llorona
La Llorona. The Weeping Woman. A horrifying apparition, caught between Heaven and Hell, trapped in a terrible fate sealed by her own hand. The mere mention of her name has struck terror around the world for generations.

In life, she drowned her children in a jealous rage, throwing herself in the churning river after them as she wept in pain. Now her tears are eternal. They are lethal, and those who hear her death call in the night are doomed. La Llorona creeps in the shadows and preys on the children, desperate to replace her own. As the centuries have passed, her desire has grown more voracious … and her methods more terrifying.

In 1970s Los Angeles, La Llorona is stalking the night—and the children. Ignoring the eerie warning of a troubled mother suspected of child endangerment, a social worker and her own small kids are soon drawn into a frightening supernatural realm. Their only hope to survive La Llorona's deadly wrath may be a disillusioned priest and the mysticism he practices to keep evil at bay, on the fringes where fear and faith collide.


Beware of her chilling wail…she will stop at nothing to lure you into the gloom. Because there is no peace for her anguish. There is no mercy for her soul. And there is no escape from the curse of La Llorona.
The latest addition the James Wan-produced Conjuring universe, The Curse of La Llorona is not utterly terrible as it boasts solid performances and some creepy atmosphere. However, it is also riddled with annoyingly cliched jump scares and stale storytelling.
Rotten Tomatoes: 30% (Rotten)
Metacritic: 40 (Mixed or Average Reviews)
---
Extremely Wicked, Shockingly Evil and Vile
Ted (Zac Efron) is crazy-handsome, smart, charismatic, affectionate. And cautious single mother Liz Kloepfer (Lily Collins) ultimately cannot resist his charms. For her, Ted is a match made in heaven, and she soon falls head over heels in love with the dashing young man. A picture of domestic bliss, the happy couple seems to have it all figured out … until, out of nowhere, their perfect life is shattered. Ted is arrested and charged with a series of increasingly grisly murders. Concern soon turns to paranoia—and, as evidence piles up, Liz is forced to consider that the man with whom she shares her life could actually be a psychopath.
The true story of Ted Bundy, one of the most notorious serial killers of all time, Extremely Wicked, Shocking Evil and Vile has divided critics. Criticisms have been leveled at its botched narrative approach of telling the story from the perspective of Lily Collins Liz, Bundy's girlfriend, however all are in agreement that Efron puts in a seriously killer performance here as Bundy himself.
Rotten Tomatoes: 60% (Certified Fresh)
Metacritic: 51 (Mixed or Average Reviews)
---
Miss Bala
Gloria (Gina Rodriguez) finds a power she never knew she had when she is drawn into a dangerous world of cross-border crime. Surviving will require all of her cunning, inventiveness, and strength.
Based on the far superior 2011 Mexican thriller of the same name, this new version of Miss Bala may prove that Jane the Virgin star Gina Rodriguez has potential as an action heroine, but it fails in just about every other aspect.
Rotten Tomatoes: 22% (Rotten)
Metacritic: 41 (Mixed or Average Reviews)
---
UglyDolls
In the adorably different town of Uglyville, weird is celebrated, strange is special and beauty is embraced as more than simply meets the eye. Here, the free-spirited Moxy and her UglyDolls friends live every day in a whirlwind of bliss, letting their freak flags fly in a celebration of life and its endless possibilities, occasionally looking to the sky, where a new UglyDoll will appear and be embraced by the community.

Moxy (Kelly Clarkson) loves her square-peg life in this round-hole town, but her curiosity about all things leads her to wonder if there's something – anything – on the other side of the mountain which nestles Uglyville. Moxy gathers a group of her closest friends and sets off to find what's on the other side. They discover another world – Perfection – a town where more conventional dolls are trained in protocols before they graduate and are sent to the "real" world to find the love of a child.

In Perfection, Moxy and her crew are subject to the manipulations of Lou (Nick Jonas), the perfect doll in charge of training recruits. Here, the UglyDolls will confront what it means to be different, struggle with their desire to be loved, and ultimately discover that you don't have to be perfect to be amazing because who you truly are is what matters most.
That's an incredibly lengthy synopsis for a film which really offers nothing new or special in terms of story and presentation – and which is just based on a toy line. Really young viewers or fans of the original toys may get some fleeting diversionary enjoyment out of this though.
Rotten Tomatoes: 31% (Rotten)
Metacritic: 39 (Generally Unfavorable Reviews)
---
Skemerson
Inspired by true events. A young man decides to take his own life. On his way to the Bloukrans bridge, he spends one last night at the family holiday home.

He stands on the bridge, about to meet his fate, when he hears her laugh.

This is the beginning of a weekend that changes three lives forever. A young woman (Anneke Weidemann), her frail mother (Elize Cawood) and the young man (Pietie Beyers) meet serendipitously.
At the time of writing, I was only able to find two reviews for this local production. Written and starred in by Pietie Beyers, Skemerson is a haunting and melancholic drama that tackles its heavy subject matter of depression and suicide head-on without feeling like its preaching to you. It's pacing may be too measured for some though.
Rotten Tomatoes: N/A
Metacritic: N/A
---
Blank
A live bomb. A blank mind. Will terrorism win this time?
What you see in the trailer and very brief synopsis above is nearly all I could find on this Indian thriller. That and a couple of brief impressions that while it may start good, Blank devolves into cliched middling territory rather quickly.
Rotten Tomatoes: N/A
Metacritic: N/A
Last Updated: May 3, 2019