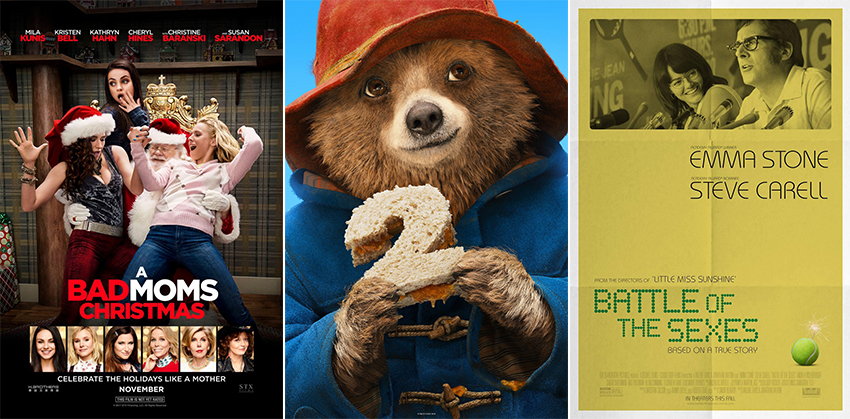 Merry Christmas month! Along with getting to open the first square in your advent calendar, the festive movies are starting to flood the cinemas. Here are your new movies out in cinemas today.
Paddington 2
Age Restriction: PG
Paddington, now happily settled with the Brown family and a popular member of the local community, picks up a series of odd jobs to buy the perfect present for his Aunt Lucy's 100th birthday, only for the gift to be stolen.
Even though it's not set at Christmas time, Paddington 2 might just become one of your Christmas favourites. Warm, heartfelt and utterly charming, Paddington 2 is unpretentious, innocent children's entertainment at its finest.
Rotten Tomatoes: 100%
Metacritic: 90
Book at Nu Metro or Ster Kinekor (2D)
Book at Ster Kinekor (IMAX)
Battle of the Sexes
Age Restriction: 10-12 PG P
The electrifying 1973 tennis match between World number one Billie Jean King (Emma Stone) and ex-champ and serial hustler Bobby Riggs (Steve Carell) was billed as The Battle of the Sexes and became one of the most watched televised sports events of all time. The match caught the zeitgeist and sparked a global conversation on gender equality, spurring on the feminist movement. Trapped in the media glare, King and Riggs were on opposite sides of a binary argument, but off-court each was fighting more personal and complex battles. With a supportive husband urging her to fight the Establishment for equal pay, the fiercely private King was also struggling to come to terms with her own sexuality, while Riggs gambled his legacy and reputation in a bid to relive the glories of his past. Together, Billie and Bobby served up a cultural spectacle that resonated far beyond the tennis courts and animated the discussions between men and women in bedrooms and boardrooms around the world.
Battle of the Sexes is based on real-life events surrounding a ground-breaking moment in history that sadly, 44 years later, are still as relevant as ever.  Emma Stone is once again a tour de force in this dramedy that might lack subtlety, but still delivers a grand slam.
Rotten Tomatoes: 86%
Metacritic: 73
Book at Nu Metro or Ster Kinekor (2D)
A Bad Moms Christmas
Age Restriction: 16 D L S
Amy, Carla and Kiki rebel against the challenges and expectations of the Super Bowl for moms: Christmas. And if creating a more perfect holiday for their families wasn't hard enough, they have to do all of that while hosting and entertaining their own mothers. By the end of the journey, our moms will redefine how to make the holidays special for all and discover a closer relationship with their mothers.
A cheerless holiday themed sequel/cash-in on the mildly successful original Bad Moms, A Bad Moms Christmas takes an idea that's been done to death and gussies it up with Christmas lights. Like reheated leftovers of the food no one wanted to eat at Christmas dinner, it's a pale rehash of what we've already seen and didn't particularly go wild over the first time.
Rotten Tomatoes: 27%
Metacritic: 42
Book at Nu Metro or Ster Kinekor (2D)
Accident
Age Restriction: 16 L V
When a foursome "borrows" a car for one night of fun, what starts as a wild joy ride turns into a nightmare. After a violent crash, they discover that being stuck at the bottom of a ravine in an overturned car is the least of their problems. The psychotic owner of the car that they stole has them in his crosshairs and will stop at nothing to get both the car and its contents back.
Besides for the fact that this is an indie film, and the directorial debut for Dan Tondowski (a name I have never heard of before), there is precious little information about Accident. After a fair amount of digging (read: three minutes on Google before my patience ran out), all I managed to find out is that Tondowski acted in The Da Vinci code and is credited as "Student". And that's pretty much it.
Book at Nu Metro or Ster Kinekor (2D)
Overdrive
Age Restriction: TBA
Legendary car thieves Andrew (Scott Eastwood) and Garrett (Freddie Thorp) are caught in the act of stealing from notorious crime boss Jacomo Morier. In order to win back their freedom they're put to the ultimate test – the theft of a priceless car from Morier's sworn enemy. While putting together a crew to pull off the daring heist they're joined by two beautiful women (Ana de Armas & Gaia Weiss) who are more dangerous than they look. The team has one week to put the plan in motion, steal the car, and make their escape or lose everything, including their lives.
Overdrive is basically the regretful result of a drunken one night stand between The Fast and The Furious and Gone in Sixty Seconds. Mindless, witless, and not particularly thrilling, it's only memorable for how laughably clichéd the whole affair turned out.
Rotten Tomatoes: 17%
Metacritic: TBD
Book at Nu Metro or Ster Kinekor (2D)
Book at Nu Metro (4DX)
She is King
Age Restriction: 13 D
Khanyisile is a talented Singer/Dancer/Actor who wants to be a star. She travels from her home in Nongoma to audition for a new musical to be staged at the Joburg Theatre, based on the life of Zulu Queen Mkabayi ka Jama. After a couple of detours, Khanyi lands a role in the chorus and catches the eye of the best-looking dancer in the show, charming soap star Luyanda. Will she be able to keep up with her more seasoned fellow performers, avoid the jealous machinations of the ageing leading lady and survive the punishing rehearsal schedule to make it to opening night?
As much as celebration of Zulu culture as it is a celebration of female empowerment and sisterhood, She is King is a star-studded local film. Filled with nuanced, engaging performances and a kick-ass soundtrack, She is King is a powerful, feel-good production that shows the beautiful side of Jozi.
Book at Nu Metro or Ster Kinekor (2D)
For more information about the age restrictions, click here.
Last Updated: December 1, 2017