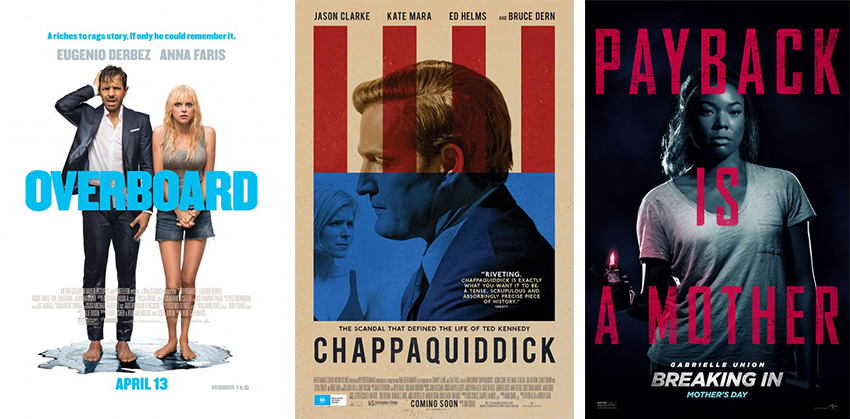 After three weeks' worth of massive blockbuster movies opening on circuit, it's actually kind of nice to have a chilled weekend for a little downtime before the next round of blockbusters open in South Africa.
Chappaquiddick
Age Restriction: 13 D L
In the riveting suspense drama, CHAPPAQUIDDICK, the scandal and mysterious events surrounding the tragic drowning of a young woman, as Ted Kennedy drove his car off the infamous bridge, are revealed in the new movie starring Jason Clarke as Ted Kennedy and Kate Mara as Mary Jo Kopechne. Not only did this event take the life of an aspiring political strategist and Kennedy insider, but it ultimately changed the course of presidential history forever. Through true accounts, documented in the inquest from the investigation in 1969, director John Curran and writers Andrew Logan and Taylor Allen, intimately expose the broad reach of political power, the influence of America's most celebrated family; and the vulnerability of Ted Kennedy, the youngest son, in the shadow of his family legacy.
A study of power, arrogance and influence, Chappaquiddick sadly leaves some of the true story's most intriguing questions unanswered. It does more than simply rehash a dark time in American history though, and is bolstered by outstanding work from Jason Clarke in the central role.
Rotten Tomatoes: 79% (Certified Fresh)
Metacritic: 67 (Generally Favourable Reviews)
Nommer 37
Age Restriction: 16 L D V
Randall and Pam play a cat and mouse game blackmailing a powerful criminal whilst evading a sadistic loan shark.
A local homage to films like Rear Window, Nommer 37 is a story not about gangsters, but about people. Originally a short film that was released in 2015, the feature film version of Nommer 37 has scored an international release, to be screened in New York and Los Angeles later this year.
Breaking In
Age Restriction: 16 L V
Shaun Russell (Gabrielle Union) will stop at nothing to rescue her two children being held hostage in a house designed with impenetrable security. No trap, no trick and especially no man inside can match a mother with a mission when she is determined.
If Breaking In is good for anything, it's proof that Gabrielle Union deserves more leading roles. Especially if those lead roles offer more than this routine, forgettable action thriller.
Rotten Tomatoes: 25% (Rotten)
Metacritic: 42 (Mixed or Average Reviews)
Overboard
Age Restriction: 13 D L S
In a splashy new twist, Overboard focuses on Leonardo (Eugenio Derbez), a selfish, spoiled, rich playboy from Mexico's richest family and Kate (Anna Faris), a working-class single mom of three hired to clean Leonardo's luxury yacht. After unjustly firing Kate and refusing to pay her, Leonardo falls overboard when partying too hard and wakes up on the Oregon coast with amnesia. Kate shows up at the hospital and, to get payback, convinces Leonardo he is her husband and puts him to work — for the first time in his life. At first miserable and inept, Leonardo slowly settles in. Eventually, he earns the respect of his new "family" and co-workers. But, with Leonardo's billionaire family hot on their trail and the possibility of his memory returning at any moment, will their new family last or will Leonardo finally put the clues together and leave them for good?
Criminally underusing the ever-charming Anna Faris, Overboard chooses some questionable source material to offer an unnecessary remake that fails to clear the incredibly low bar set by 1987 Goldie Hawn/Kurt Russel original.
Rotten Tomatoes: 28% (Rotten)
Metacritic: 42 (Mixed or Average Reviews)
For more information about the age restrictions, click here.
Last Updated: June 1, 2018