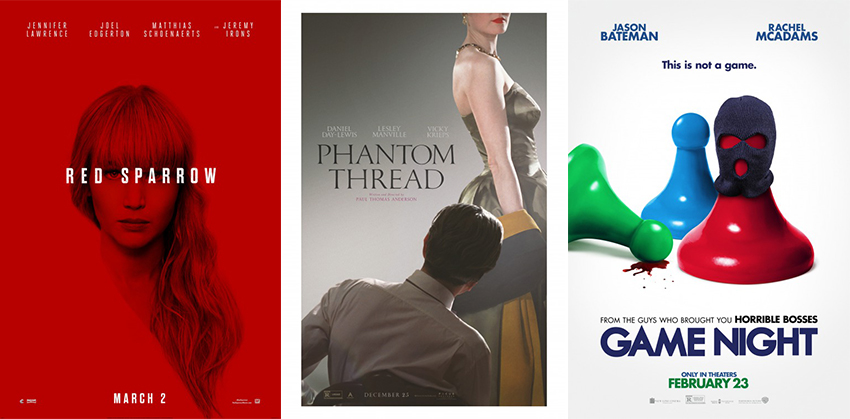 The last of the big Oscar contenders opens in theatres this week, just in time the awards ceremony this coming weekend. Along with the artsy offering of Phantom Thread, we also have the mildly controversial Red Sparrow, the surprisingly good Game Night, and the please-ignore-it-and-hope-it-goes-away Gnome Alone.
Red Sparrow
Age Restriction:  18 N S SV V
Dominika Egorova is many things. A devoted daughter determined to protect her mother at all costs. A prima ballerina whose ferocity has pushed her body and mind to the absolute limit. A master of seductive and manipulative combat. When she suffers a career-ending injury, Dominika and her mother are facing a bleak and uncertain future. That is why she finds herself manipulated into becoming the newest recruit for Sparrow School, a secret intelligence service that trains exceptional young people like her to use their bodies and minds as weapons. After enduring the perverse and sadistic training process, she emerges as the most dangerous Sparrow the program has ever produced. Dominika must now reconcile the person she was with the power she now commands, with her own life and everyone she cares about at risk, including an American CIA agent who tries to convince her he is the only person she can trust.
Red Sparrow could have been a good movie, great even. Unfortunately, the pace is incredibly slow, the filmmaking is merely competent and unforgivably, it's marred by its proclivity towards using sexual violence as a motivator. As Kervyn mentions in his review, in a post #MeToo world, that's just icky.
Critical Hit: 6.5/10
Rotten Tomatoes: 62% (Fresh)
Metacritic: 54 (Mixed or Average Reviews)
Phantom Thread
Age Restriction: 16 L V
Set in the glamour of 1950s post-war London, renowned dressmaker Reynolds Woodcock (Daniel Day-Lewis) and his sister Cyril (Lesley Manville) are at the center of British fashion, dressing royalty, movie stars, heiresses, socialites, debutantes and dames with the distinct style of The House of Woodcock. Women come and go through Woodcock's life, providing the confirmed bachelor with inspiration and companionship, until he comes across a young, strong-willed woman, Alma (Vicky Krieps), who soon becomes a fixture in his life as his muse and lover. Once controlled and planned, he finds his carefully tailored life disrupted by love.
With its soft colours, impeccable attention to detail and breathtaking production design, Phantom Thread tells an impressive, strange and beautiful love story. Obviously, Daniel Day-Lewis puts in an outstanding performance as he always does, but the surprise hit of Phantom Thread is undoubtedly Vicky Krieps. Keep an eye out for Kervyn's full review dropping later today.
Critical Hit: Review coming soon.
Rotten Tomatoes: 91% (Certified Fresh)
Metacritic: 90 (Universal Acclaim)
Game Night
Age Restriction: 16 L V
Max (Jason Bateman) and Annie's (Rachel McAdams) weekly couples game night gets kicked up a notch when Max's charismatic brother, Brooks (Kyle Chandler), arranges a murder mystery party, complete with fake thugs and faux federal agents. So when Brooks gets kidnapped, it's all part of the game…right? But as the six uber-competitive gamers set out to solve the case and win, they begin to discover that neither this "game"—nor Brooks—are what they seem to be. Over the course of one chaotic night, the friends find themselves increasingly in over their heads as each twist leads to another unexpected turn. With no rules, no points, and no idea who all the players are, this could turn out to be the most fun they've ever had…or game over.
After reading the synopsis and watching the trailer, I'm pleasantly surprised at how positive the reviews for Game Night have been. With a sharp script with tons of black humour and an incredibly talented cast to carry the whole thing off, Game Night is stylish and disarming in just how funny, and absurd, it gets.
Rotten Tomatoes: 80% (Certified Fresh)
Metacritic: 66 (Generally Favourable Reviews)
Gnome Alone
Age Restriction: PG V
After moving to a new city with her mother, Chloe (Becky G) finds herself in a new house that creaks, a new school with creeps, and mysterious garden gnomes that are kind of freaky. No sooner has Chloe tried to fit in, but aliens from another dimension descend upon her house and threaten everything! To top it all off, the gnomes in her house come to life and ask for help to save the world. Now, the only thing standing between Chloe and the end of life as we know it are her new gnome-tastic friends, her neighbor Liam (Josh Peck) and the strength within. It's up to Chloe and Liam to become the champions they've always been inside, and in the process discover that no matter where you are, you're never Gnome Alone!
Looking and sounding like every third-rate knock-off animation that doesn't come from Pixar or Dreamworks, Gnome Alone is a cheesy, stilted children's movie, lacking in humour, credible animation or anything that would make it worthwhile. And that reaction was just based on the trailer.
Rotten Tomatoes: Tomatometer Not Available
Metacritic: No Score Yet
For more information about the age restrictions, click here.
Last Updated: March 2, 2018