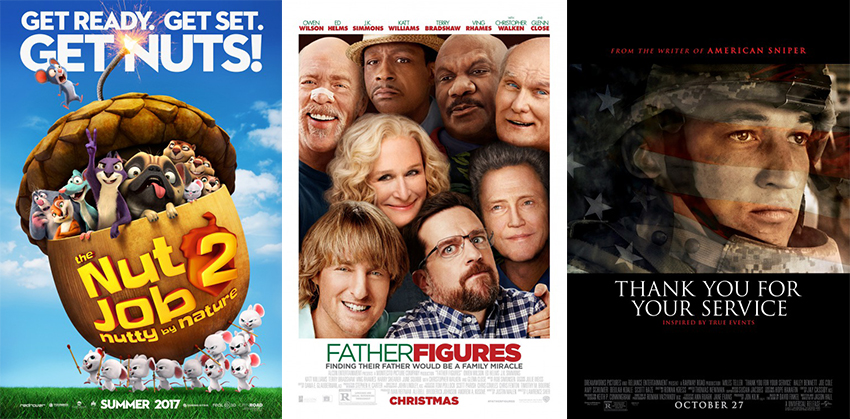 It looks like the actors in most of this week's new movies felt same way as we all feel at the beginning of January: desperate for a pay check. There's one lone exception (read: one decent movie), everything else is as bad as a New Year's Day hangover.
The Nut Job 2
Age Restriction: PG V
Surly Squirrel (Will Arnett) and the gang are back. We are once again in Oakton where the evil mayor has decided to bulldoze Liberty Park and build a dangerous amusement park in its place. Surly and his ragtag group of animal friends band together to save their home, defeat the mayor, and take back the park.
A lacklustre sequel to a film that wasn't terribly great in the first place, The Nut Job 2 is a slight improvement over its predecessor. However, that's not enough to forgive (or excuse) the terrible animation, painfully corny jokes and clichéd stereotypes.
Rotten Tomatoes: 9%
Metacritic: 36
Book at Nu Metro or Ster Kinekor (2D)
Book at Nu Metro or Ster Kinekor (3D)
Father Figures
Age Restriction: 16
Kyle and Peter Reynolds (Owen Wilson and Ed Helms) are brothers whose eccentric mother raised them to believe their father had died when they were young. When they discover this to be a lie, they set out together to find their real father, and end up learning more about their mother than they probably ever wanted to know.
What happens when you take a qualified comedic cast and throw them into a movie that doesn't elicit a single laugh? Well, you get Father Figures. A movie torn between trying to be an uplifting story of brotherly love and a gross-out comedy, it accomplishes neither while wasting its cast and your time.
Rotten Tomatoes: 25%
Metacritic: 23
Book at Ster Kinekor (2D)
Thank You for Your Service
Age Restriction: 16 L V S
A group of U.S. soldiers returning from Iraq struggle to integrate back into family and civilian life, while living with the memory of a war that threatens to destroy them long after they've left the battlefield.
Covering the unsaid collateral of war, Thank You for Your Service is a well-intentioned film lead by stellar performances. It's earnest and heartfelt, and while it would have benefitted from more subtle storytelling, it still packs a heavy punch.
Rotten Tomatoes: 77%
Metacritic: 68
Book at Ster Kinekor (Cinema Nouveau)
For more information about the age restrictions, click here.
Last Updated: January 5, 2018