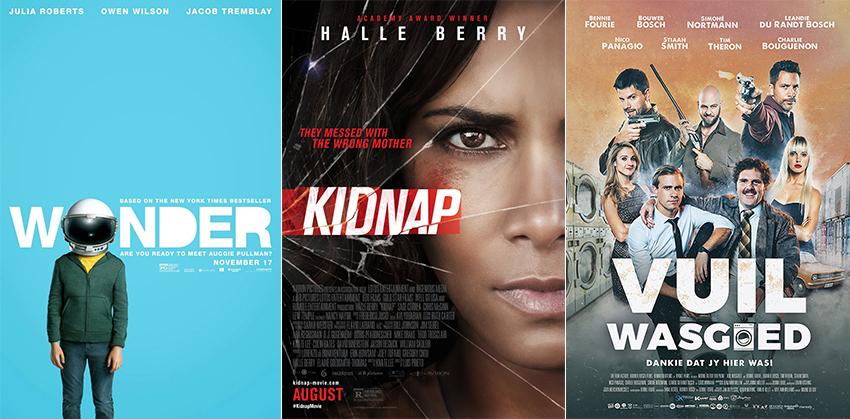 For some reason, there's usually a very quiet week for new movies at the beginning of December, while we gear up for the big holiday releases. True to form, this week is a dud week for new movies opening in cinemas today.
Kidnap
Age Restriction: 13 V
A typical afternoon in the park turns into a nightmare for single mom Karla Dyson (Halle Berry) when her son suddenly disappears. Without a cell phone and knowing she has no time to wait for police help, Karla jumps in her own car and sets off in pursuit of the kidnappers. A relentless, edge-of-your seat chase ensues, where Karla must risk everything to not lose sight of her son
As predictable as they come, Kidnap is no more absurd than Taken. It's poorly plotted and schlocky entertainment that's generally held together by Halle Berry's mostly commendable lead performance.
Rotten Tomatoes: 38%
Metacritic: 44
Book at Nu Metro or Ster Kinekor (2D)
Wonder
Age Restriction: 7-9 PG
Born with facial differences that, up until now, have prevented him from going to a mainstream school, Auggie Pullman (Jacob Tremblay) becomes the most unlikely of heroes when he enters the local fifth grade. As his family, his new classmates, and the larger community all struggle to find their compassion and acceptance, Auggie's extraordinary journey will unite them all and prove you can't blend in when you were born to stand out.
Based on the bestselling novel by Raquel Jaramillo, Wonder captures the heartfelt sentiment of its source material. Well-acted and winsome, this drama works hard to earn its emotions. Wonder is a guaranteed tear-jerker.
Rotten Tomatoes: 85%
Metacritic: 68
Book at Nu Metro or Ster Kinekor (2D)
Vuil Wasgoed
Age Restriction: 16 L V
Wim en Kevin werk by 'n wassery. Dinge is vervelig deur die dag, totdat die son sak en hulle partytjie hou in hulle kliënte se klere. Tydens so 'n geleentheid ontdek hulle 'n afgesnyde vinger in 'n aandpak se baadjie. Die onderduimse eienaar van die vinger, sy seuns en 'n ongenaakbare verraaier is op Wim en Kevin se spoor en nie besorg oor hul welsyn nie.
I happened to catch the trailer for Vuil Wasgoed while I was in the cinema last week and, much to my surprise, I actually had a good laugh. A silly South African crime caper, Vuil Wasgoed looks to have elevated itself above most of the cringe-worthy comedy to produce something slick, stylish, and genuinely funny.
Book at Nu Metro or Ster Kinekor (2D)
Barbie: Dolphin Magic
Age Restriction: A
In this fun, underwater adventure, Barbie and her sisters visit Ken at his summer internship where he works at a coral reef researching dolphins. While diving and exploring the reef, the sisters discover rare, rainbow-colored dolphins who only visit once a year. This amazing find encourages them to learn more about preserving the coral and all the sea life that lives there.
I could not actually care less about Barbie: Dolphin Magic if you paid me money to. Move along.
Rotten Tomatoes: TBD
Book at Nu Metro or Ster Kinekor (2D)
The Fall
Age Restriction:
The story of Mary Decker and Zola Budd and their lives building up to the infamous 1984 Olympics 3000M race in which both of them collide.
A documentary packed with archival footage, The Fall is a mix of the personal journeys of runners Mary Decker and Zola Budd and the broader political contexts of the time that led up to the now infamous 1984 Olympics event.
Book at Ster Kinekor (Cinema Nouveau)
Beauty and the Dogs
Age Restriction: 13 P SV V
At a student party, Mariam, a young Tunisian woman, catches the eye of Youssef. A few hours later, she wanders the streets in a state of shock. It's the beginning of a long night during which she will have to fight for her rights and dignity to be respected. But how can justice be done when the perpetrators themselves are the arbiters of justice?
Filmed in nine consecutive shots, Beauty and the Dogs is a hard watch, but a necessary one. It's exceedingly arthouse cinema, and on an even more exceedingly limited release.
Rotten Tomatoes: 60%
Book at Ster Kinekor (Cinema Nouveau)
For more information about the age restrictions, click here.
Last Updated: December 8, 2017