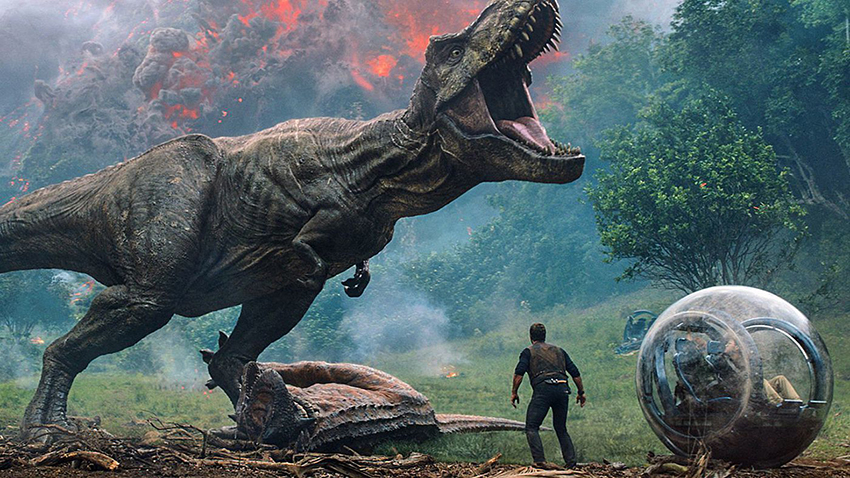 Besides for the latest entry in the Jurassic Park/World/Universe film franchise, there is literally nothing else worth noting this week. Seriously.
Jurassic World: Fallen Kingdom
Age Restriction: 13 L V
It's been three years since theme park and luxury resort Jurassic World was destroyed by dinosaurs out of containment. Isla Nublar now sits abandoned by humans while the surviving dinosaurs fend for themselves in the jungles. When the island's dormant volcano begins roaring to life, Owen (Chris Pratt) and Claire (Bryce Dallas Howard) mount a campaign to rescue the remaining dinosaurs from this extinction-level event. Owen is driven to find Blue, his lead raptor who's still missing in the wild, and Claire has grown a respect for these creatures she now makes her mission. Arriving on the unstable island as lava begins raining down, their expedition uncovers a conspiracy that could return our entire planet to a perilous order not seen since prehistoric times.
Jurassic World: Fallen Kingdom is everything you've come to love about the Jurassic World franchise. It's got thrills, it's got scares and it's got high-octane action sequences. Unfortunately, it also still has the same kind of flaws that previous entries have had as well. But that doesn't mean it's not still a thoroughly enjoyable and effective thrill ride.
Critical Hit: 7.5/10
Rotten Tomatoes: 64% (Fresh)
Metacritic: 52 (Mixed or Average Reviews)
Samson
Age Restriction: 13
When his youthful ambition leads to a tragic marriage, the all-powerful Samson embarks on a quest for vengeance that brings him into direct conflict with the Philistine army. As his brother mounts a tribal rebellion, Samson's relationship with a Philistine temptress and his final surrender to God will help turn imprisonment into a final victory.
Despite all the mass murder, Samson is dreadfully dull and incredibly slow. It's a bargain-bin attempt at a Zack Snyder-eque epic that fails horribly.
Rotten Tomatoes: 25% (Rotten)
Metacritic: 17 (Overwhelming Dislike)
Based on a True Story
Age Restriction: 13 L
Delphine is the author of a highly personal novel about her mother, which has become a bestseller. Already exhausted by the endless demands for interviews and made vulnerable by her memories, Delphine is soon tormented by anonymous letters accusing her of having turned her family into a source of gossip. The novelist has stalled, paralyzed by the idea of having to start writing again. She then crosses paths with Elle, a young and attractive woman, who is also intelligent and intuitive. Elle understands Delphine better than anyone. Delphine becomes attached to her, she confides in her, lets herself go. How far will Elle go, now that she has moved into Delphine's place? Has she come to fill a void or create one? Give Delphine a new breath of life or steal her life from her?
Elegantly put together but ultimately mediocre, Based on a True Story is the ultimate example of style over substance. What should have been a fascinating psychological thriller is lost to uneven dialogue and too many plot holes.
Rotten Tomatoes: 52% (Rotten)
Metacritic: 43 (Mixed or Average Reviews)
For more information about the age restrictions, click here.
Last Updated: June 8, 2018