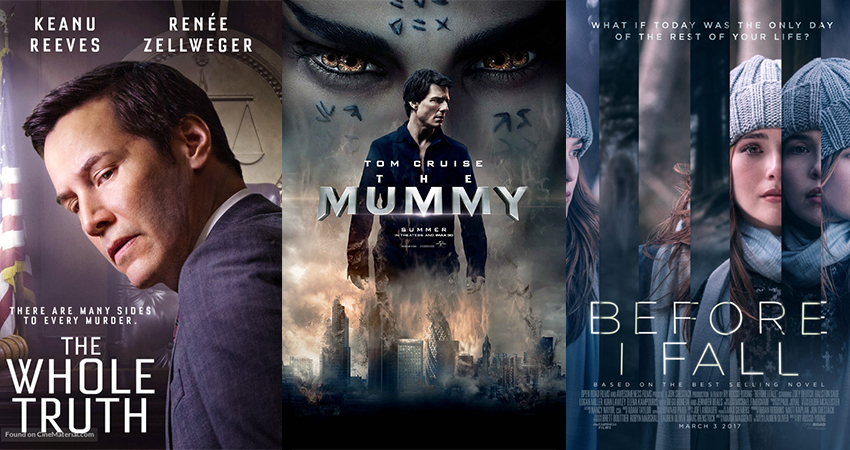 After two major blockbusters last weekend, this week's new releases seem tepid by comparison. The only "anticipated" release, The Mummy, is a serious letdown. And the rest of the movies are average at best. Oh well, guess I'll be watching Wonder Woman, again. I'm okay with that.
The Mummy
Age Restriction: 13 H V
Thought safely entombed in a crypt deep beneath the unforgiving desert, an ancient queen (Sofia Boutella) whose destiny was unjustly taken from her is awakened in our current day, bringing with her malevolence grown over millennia and terrors that defy human comprehension.
There is unfortunately a lot wrong with Universal's first effort in their classic monster franchise. The Mummy is intended to kick off the new, shared universe. Instead, it should be kicked out of the cinemas. There is some fun to be had, and the horror is decent. But, thanks to the muddled plot, poor world-building and terrible leap backwards for the female characters, The Mummy is a great disappointment.
Critical Hit: 5/10
Rotten Tomatoes: 21%
Metacritic: 35
Book at Nu Metro or Ster Kinekor (2D)
Book at Nu Metro (4DX)
Book at Ster Kinekor (IMAX)
The Whole Truth
Age Restriction: 16 L V
Defense attorney Richard Ramsay (Keanu Reeves) takes on a personal case when he swears to his widowed friend, Loretta Lassiter (Renée Zellweger), that he will keep her son Mike (Gabriel Basso) out of prison. Charged with murdering his father, Mike initially confesses to the crime. But as the trial proceeds, chilling evidence about the kind of man that Boone Lassiter (Jim Belushi) really was comes to light. While Ramsay uses the evidence to get his client acquitted, his new colleague Janelle (Gugu Mbatha-Raw) tries to dig deeper – and begins to realize that the whole truth is something she alone can uncover.
Drab and generic, The Whole Truth aspires to be a hard-boiled courtroom drama but falls woefully short of the mark. Instead, the drama is lacklustre, the plot covers its holes with lazy narrative devices and while the acting is good, the script lets the actors down.
Rotten Tomatoes: 29%
Metacritic: 46
Book at Nu Metro or Ster Kinekor (2D)
Gifted
Age Restriction: 7-9 PG
Frank Adler (Chris Evans) is a single man raising a child prodigy – his spirited young niece Mary (Mckenna Grace) – in a coastal town in Florida. Frank's plans for a normal school life for Mary are foiled when the seven-year-old's mathematical abilities come to the attention of Frank's formidable mother Evelyn (Lindsay Duncan) whose plans for her granddaughter threaten to separate Frank and Mary.
Predictable to the core but engaging enough, Gifted is a charming comedy-drama that will get the tears flowing. It's a straightforward, heartfelt film, and those that enjoy family dramas will no doubt enjoy Gifted.
Rotten Tomatoes: 66%
Metacritic: 60
Book at Nu Metro or Ster Kinekor (2D)
Before I Fall
Age Restriction: 13 L V
What if you had only one day to change absolutely everything? Samantha Kingston (Zoey Deutch) has everything: the perfect friends, the perfect guy, and a seemingly perfect future. Then, everything changes. After one fateful night, Sam wakes up with no future at all. Trapped reliving the same day over and over, she begins to question just how perfect her life really was. As she begins to untangle the mystery of a life suddenly derailed, she must also unwind the secrets of the people closest to her, and discover the power of a single day to make a difference, not just in her own life, but in the lives of those around her—before she runs out of time for good.
Before I Fall has all the hallmarks of a YA novel adaptation, and adults might roll their eyes so hard at how preposterous it all gets. That being said, it's a solid story that's competently told, and it's not afraid to get dark in places. Zoey Deutch's natural performance keeps Before I Fall on the right side of ridiculous.
Rotten Tomatoes: 67%
Metacritic: 58
Book at Nu Metro or Ster Kinekor (2D)
Toni Erdmann
Age Restriction: 16 L N S
A practical joking father tries to reconnect with his hard working daughter by creating an outrageous alter ego and posing as her CEO's life coach.
One of the nominees in the Best Foreign Language Movie category of this year's Academy Awards, Toni Erdmann is a complex and multi-layered story woven out of what seems to be a simple premise. At times spirited and at others philosophical, at its heart, it's a comedy. But, it's also smart, surreal and somewhat of a tragedy.
Rotten Tomatoes: 92%
Metacritic: 93
Book at Ster Kinekor (Cinema Nouveau)
For more information about the age restrictions, click here.
Last Updated: June 9, 2017