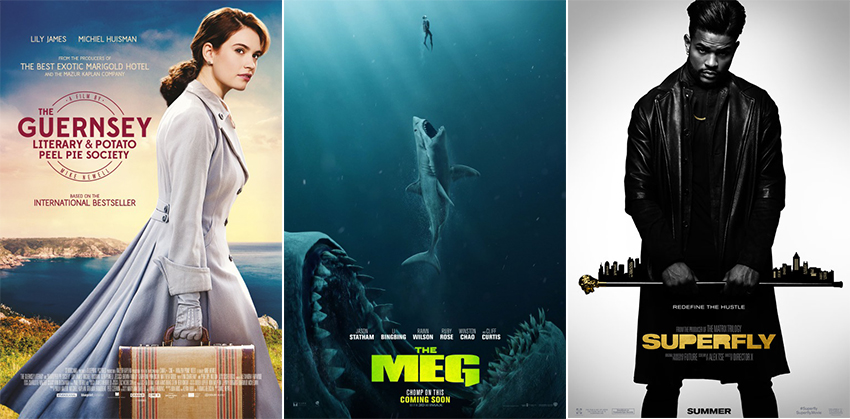 With half the population of South Africa taking today off work to get in that extra long weekend, I'm not sure if anyone is even going to be around to read this. For the seven of you that are stuck in the office because you didn't book your leave in time, sucks to be you!
The MEG
Age Restriction: 16 H L V
A deep-sea submersible—part of an international undersea observation program—has been attacked by a massive creature, previously thought to be extinct, and now lies disabled at the bottom of the deepest trench in the Pacific…with its crew trapped inside. With time running out, expert deep sea rescue diver Jonas Taylor (Jason Statham) is recruited by a visionary Chinese oceanographer (Winston Chao), against the wishes of his daughter Suyin (Li Bingbing), to save the crew—and the ocean itself—from this unstoppable threat: a pre-historic 75-foot-long shark known as the Megalodon. What no one could have imagined is that, years before, Taylor had encountered this same terrifying creature. Now, teamed with Suyin, he must confront his fears and risk his own life to save everyone trapped below.
The MEG had the perfect setup to be a good, old-fashioned B-grade action thriller. Unfortunately, it lacks the cheese and tries to take itself too seriously, which ruined the potential for cheesy thrills. It's not dumb enough to be fun, nor smart enough to elevate it above its setup.
Rotten Tomatoes: 50%  (Rotten)
Metacritic: 45 (Mixed or Average Reviews)
Charming
Age Restriction: PG
Cursed as a child under a magic spell, Prince Philip Charming (Wilmer Valderrama) compulsively proposes to every woman he encounters, leaving a trail of lovesick ladies and scorned lovers to wreak vengeful havoc on the kingdom. Prince Philip's exasperated father, King Charming, ultimately gives the young prince an ultimatum: find true love before his 21st birthday or lose claim to the throne.
From the producers of Shrek comes Charming, a look at the least interesting character from all fairy tales… the Prince. Personally, I think it would be a far more interesting angle if the three princesses ganged up for revenge after realising they got played, but instead we're stuck with an incompetent goofball of a prince going on an adventure with a woman who is obviously going to be the one he ends up with. Pass!
Rotten Tomatoes: Tomatometer Not Available
Metacritic: Not Found
Superfly
Age Restriction: 18 D L N S V
Superfly — the film that helped define a genre in its characters, look, sound, and feel — is reimagined with Director X, director of legendary music videos (Drake, Rihanna), introducing it to a new generation. The screenplay is by Alex Tse.
Updating the blaxploitation original from the 1970s, this remake may be stylish, but it falls far too short on social subtext. Still, if you can get past the well-intentioned but poorly-executed pulp genre tropes, Superfly should be visually captivating enough to keep you entertained.
Rotten Tomatoes: 51% (Rotten)
Metacritic: 52 (Mixed or Average Reviews)
Stroomop
Age Restriction: 10-12 PG L V
In Stroomop we meet five ladies who are all drowning in the rough waters of their own lives. For individual reasons, these ladies end up together on the Orange River for a river rafting adventure. During this adventure, their rowboat is swept away and their guide is lost in the terrifying water. They are left to their own devices to survive in the wilderness, unaware of the fact that their own realities and life abilities have already prepared them for the challenges ahead. Viewers journey with the women on this adventure and have to fight against tears, anger, fear and pain
I'm not even going to watch the trailer for Stroomop, I read the synopsis and that's enough for me. And I'm not being biased against Afrikaans films (this time at least), but I'm going on an Orange River kayaking trip at the end of the year and, honestly, I don't want to imagine what could go wrong. So I'll skip this, if only to stop my anxiety going into overdrive.
The Guernsey Literary and Potato Peel Pie Society
Age Restriction: 13 L V D
London, 1946. Juliet (Lily James), a charismatic and free-spirited writer receives a letter from a member of a mysterious literary club started in Nazi-occupied Guernsey. Her curiosity piqued, Juliet decides to visit the island. There she meets the delightfully eccentric members of the Guernsey Literary and Potato Peel Pie Society, including Dawsey (Michiel Huisman), the rugged and intriguing farmer who wrote her the letter. As the secrets from their wartime past unfold, Juliet's growing attachment to the island, the book club and her affection for Dawsey will change the course of her life forever.
Adapted from a popular novel by Mary Ann Schaffer and Annie Barrows, The Guernsey Literary and Potato Peel Pie Society starts out as an insubstantial piece of escapism. However, thanks to the unexpected depth and wonderful performance by Lilly James, it manages to to become solidly handsome, comfortable, and British.
Rotten Tomatoes: 80% (Fresh)
Metacritic: 65 (Generally Favourable Reviews)
For more information about the age restrictions, click here.
Last Updated: August 10, 2018