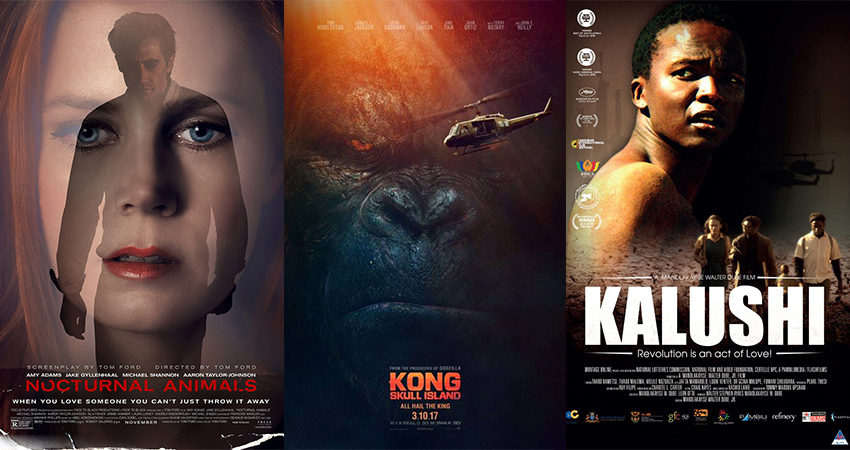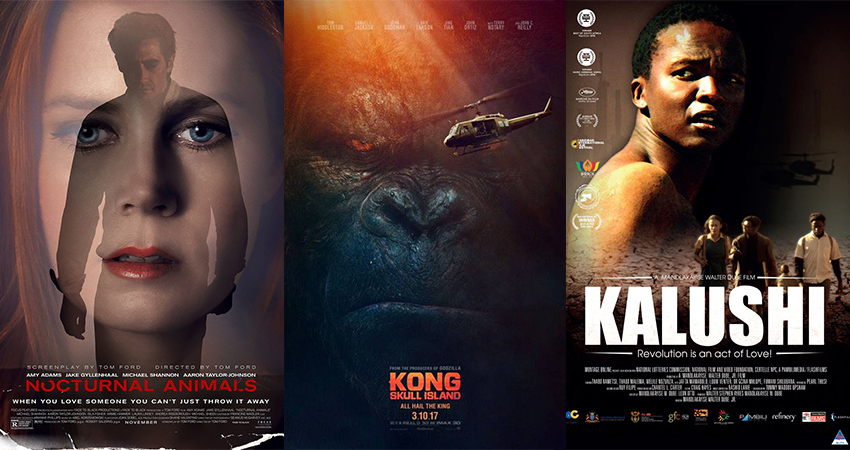 Having caught bronchitis and a fever, I'm afraid that this intro won't be as witty as it usually is. What do you mean fever causes delirium and my intros aren't usually witty? You wouldn't know anything about it, and besides, hallucinations shouldn't talk. So shush up and let me go into what movies are opening in cinemas today.
Kong: Skull Island
Age Restriction: 13 V
When a scientific expedition to an uncharted island awakens titanic forces of nature, a mission of discovery becomes an explosive war between monster and man
Kong: Skull Island might be amazing to watch, but if you put the epic visuals aside you aren't left with much. The human characters are completely superfluous for the most part, resigned to two-dimensional flotsam against the unrelenting tide of jaw-dropping CGI monsters – which also lack for personality. Basically, Kong: Skull Island is great to look at, but there's nothing going on beneath the surface.
Critical Hit: 6/10
Rotten Tomatoes: 80%
Metacritic: 62
Book at Nu Metro (2D)
Book at Nu Metro or Ster Kinekor (3D)
Book at Nu Metro (4DX)
Book at Ster Kinekor (IMAX)
Nocturnal Animals
Age Restriction: 16 L V
An art gallery owner is haunted by her ex-husband's novel, a violent thriller she interprets as a veiled threat and a symbolic revenge tale.
Nocturnal Animals is an intriguing film. Part satire, part noir, part B-Grade thriller and part A-Grade art house fair. But mostly it's just weird. Sometimes parts of the mash-up work well together while other parts clash. Defying labels and description, Nocturnal Animals is a strange, edge-of-your-seat journey.
Rotten Tomatoes: 73%
Metacritic: 67
Book at Ster Kinekor (Cinema Nouveau)
Billy Lynn's Long Halftime Walk
Age Restriction: 16 L V
Based on the widely-acclaimed, bestselling novel, the film is told from the point of view of 19-year-old private Billy Lynn (Joe Alwyn) who, along with his fellow soldiers in Bravo Squad, becomes a hero after a harrowing Iraq battle and is brought home temporarily for a victory tour. Through flashbacks, culminating at the spectacular halftime show of the Thanksgiving Day football game, the film reveals what really happened to the squad – contrasting the realities of the war with America's perceptions.
Despite high promises, Billy Lynn's Long Halftime Walk fails to deliver. It should have been a sharper, smarter story. Instead, Ang Lee has given us an uneven, stilted and implausible melodrama. It may deserve praise for relentless mocking of excessive American Patriotism, but it misses the mark too often to make that count.
Rotten Tomatoes: 45%
Metacritic: 53
Book at Nu Metro (2D)
Book at Ster Kinekor (Cinema Nouveau)
Kalushi: The Story of Solomon Mahlangu
Age Restriction: 16 L P V
It is the height of apartheid, and Solomon Kalushi Mahlangu is a 19-year-old hawker from the streets of Mamelodi. After a brutal beating at the hands of the police, he goes into exile to join the liberation movement. After undergoing military training in Angola, he is joined by friend and comrade Mondy who, in a heated incident, loses control and ends up shooting two innocent people in downtown Johannesburg. While Mondy is severely beaten and tortured, Kalushi faces a daunting trial in which the State seeks the highest punishment—death by hanging.
Kalushi is based on the real life story of Solomon Mahlangu, a young man from the Mamelodi Township who earned his stripes as a freedom fighter and has become a human rights legend. If you know your history, you'll know how Mahlangu's story ends, but the movie is a gripping insight into his life and the events that shaped him.
Book at Nu Metro or Ster Kinekor (2D)
For more information about the age restrictions, click here.
Last Updated: March 10, 2017