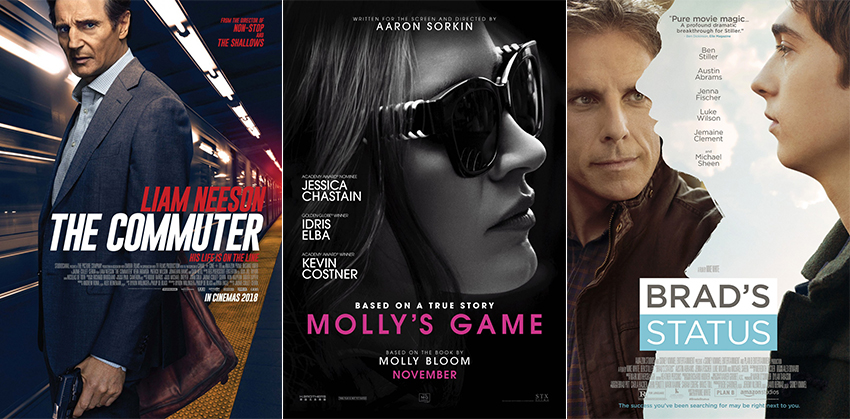 This week's new movies are of a much higher standard than last week's, thank goodness! Now the year of proper cinema can begin!
Molly's Game
Age Restriction: 16 L V D
Molly's Game is the true story of Molly Bloom a beautiful, young, Olympic-class skier who ran the world's most exclusive high-stakes poker game for a decade before being arrested in the middle of the night by 17 FBI agents wielding automatic weapons. Her players included Hollywood royalty, sports stars, business titans and finally, unbeknownst to her, the Russian mob. Her only ally was her criminal defense lawyer Charlie Jaffey, who learned that there was much more to Molly than the tabloids led us to believe
Thanks to its captivating story and the outstanding performances of leads Jessica Chastain and Idris Elba, Molly's Game is a stellar directorial debut for Aaron Sorkin.
Rotten Tomatoes: 81%
Metacritic: 71
Showing on Nu Metro and Ster Kinekor
The Commuter
Age Restriction: 16 L V
Michael is an insurance salesman is on his daily commute home, when it quickly becomes anything but routine. After being contacted by a mysterious stranger, Michael is forced to uncover the identity of a hidden passenger on his train before the last stop. As he works against the clock to solve the puzzle, he realizes a deadly plan is unfolding and is unwittingly caught up in a criminal conspiracy. One that carries life and death stakes for himself and his fellow passengers.
Looks like Liam Neeson isn't done with being a kick-ass everyman just yet. In The Commuter, Neeson gets to play "Taken" on a train, but luckily the energy and tension of the film will help you forget that the plot doesn't quite stand up to scrutiny.
Rotten Tomatoes: 53%
Metacritic: 56
Showing on Nu Metro and Ster Kinekor
Brad's Status
Age Restriction: 13 L
When Brad Sloan (Ben Stiller) accompanies his college bound son to the East Coast, the visit triggers a crisis of confidence in Brad's Status, writer and director Mike White's bittersweet comedy. Brad has a satisfying career and a comfortable life in suburban Sacramento where he lives with his sweet-natured wife, Melanie (Jenna Fischer), and their musical prodigy son, Troy (Austin Abrams), but it's not quite what he imagined during his college glory days. Showing Troy around Boston, where Brad went to university, he can't help comparing his life with those of his four best college friends: a Hollywood bigshot (White), a hedge fund founder (Luke Wilson), a tech entrepreneur (Jemaine Clement), and a political pundit and bestselling author (Michael Sheen). As he imagines their wealthy, glamorous lives, he wonders if this is all he will ever amount to. But when circumstances force him to reconnect with his former friends, Brad begins to question whether he has really failed or is, in some ways at least, the most successful of them all.
Ben Stiller puts in an outstanding performance in Brad's Status, one that is smart and self-pitying in in equal measures. While the pacing may be uneven, the insightful way the film addresses real life complexities gives it a satisfying conclusion.
Rotten Tomatoes: 81%
Metacritic: 71
Showing on Nu Metro and Ster Kinekor
For more information about the age restrictions, click here.
Last Updated: January 12, 2018