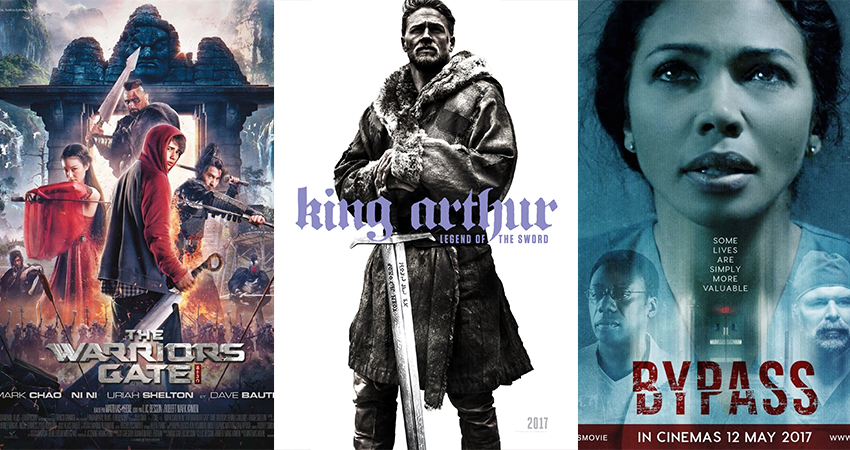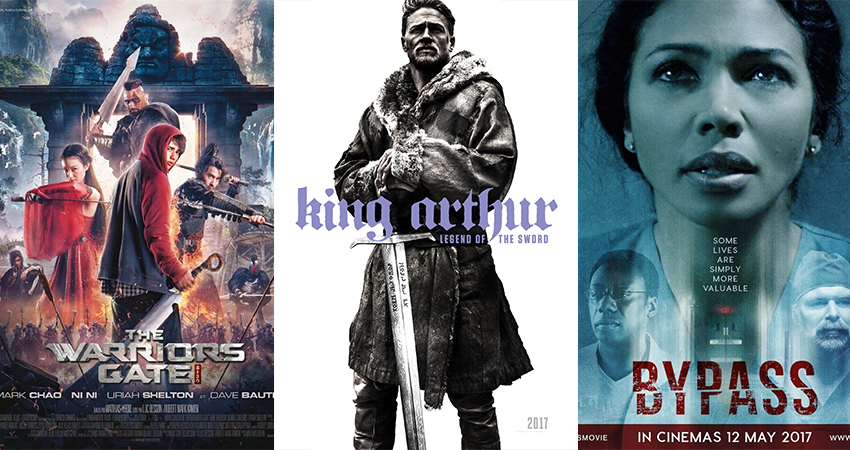 Two high fantasy movies dominate this week's new releases. And by high fantasy, I mean you'll need to get high in order to enjoy them. Granted King Arthur: Legend of the Sword isn't that bad, but The Warriors Gate is a whole different level of stupid.
King Arthur: Legend of the Sword
Age Restriction: 13 H V
When the child Arthur's father is murdered, Vortigern (Jude Law), Arthur's uncle, seizes the crown. Robbed of his birthright and with no idea who he truly is, Arthur (Charlie Hunnam) comes up the hard way in the back alleys of the city. But once he pulls the sword from the stone, his life is turned upside down and he is forced to acknowledge his true legacy…whether he likes it or not.
Guy Ritchie's stylish film-making and brash take on the legend of King Arthur isn't enough to save it from serious plot issues. Any joy to be had from the crackling, witty dialogue and fun characters is sucked away by the haphazard scripting and a frustratingly constructed narrative.
Critical Hit: 6/10
Rotten Tomatoes: 21%
Metacritic: 44
Book at Nu Metro (2D)
Book at Nu Metro or Ster Kinekor (3D)
The Warriors Gate
Age Restriction: 10-12 PG V
After a mysterious chest opens a gateway through time, teen gamer Jack is transported to an ancient empire terrorised by a cruel barbarian king. Jack will need all of his gaming prowess as he battles to defeat the barbarian, protect a beautiful princess, and, somehow, find his way back home.
I'm struggling to understand how The Warrior's Gate is a movie being released on circuit in 2017. Judging by the painfully clichéd plot, even more clichéd characters, and the awful combination of young-male-wish-fulfilment/white saviour fantasy, it really feels like a straight-to-TV movie from the 90s. But no, you're not dreaming, someone made this and had enough dirt on Dave Bautista to get him involved as well.
Rotten Tomatoes: 20%
Metacritic: TBD
Book at Nu Metro or Ster Kinekor (2D)
20th Century Women
Age Restriction: 13 D L S
Set in Santa Barbara, 20TH CENTURY WOMEN follows Dorothea Fields (Annette Bening), a determined single mother in her mid-50s who is raising her adolescent son, Jamie (Lucas Jade Zumann) at a moment brimming with cultural change and rebellion. Dorothea enlists the help of two younger women in Jamie's upbringing — via Abbie (Greta Gerwig), a free-spirited punk artist living as a boarder in the Fields' home, and Julie (Elle Fanning), a savvy and provocative teenage neighbor. 20th Century Women is a poignant love letter to the people who raise us – and the times that form us – as this makeshift family forges fragile connections that will mystify and inspire them through their lives.
Thanks to writer/director Mike Mills, we finally have a film that explores what it looks like to raise a male feminist. More importantly, we finally have a film that actually cares to do so. Lead by Annette Bening's masterful performance and buoyed by the fantastic supporting cast, 20th Century Women is a gem of a movie.
Rotten Tomatoes: 88%
Metacritic: 83
Book at Nu Metro or Ster Kinekor (2D)
Bypass
Age Restriction: 13 V
When the medical system that Dr. Lisa Cooper has worked in for so many years starts to fail her, she turns her back on what she has always believed in and gets lured into an organ smuggling syndicate in order to save her son's life. Starring Natalie Becker, Deon Lotz, Hakeem Kae-Kazim and Greg Kriek.
Part medical drama, part thriller, Bypass has definitely caught my attention. I don't know how accurate the "based on true events" is, but as far as local movies go, Bypass has an interesting premise and a great cast. I'm keen to see more of this.
Book at Ster Kinekor (2D)
For more information about the age restrictions, click here.
Last Updated: May 12, 2017