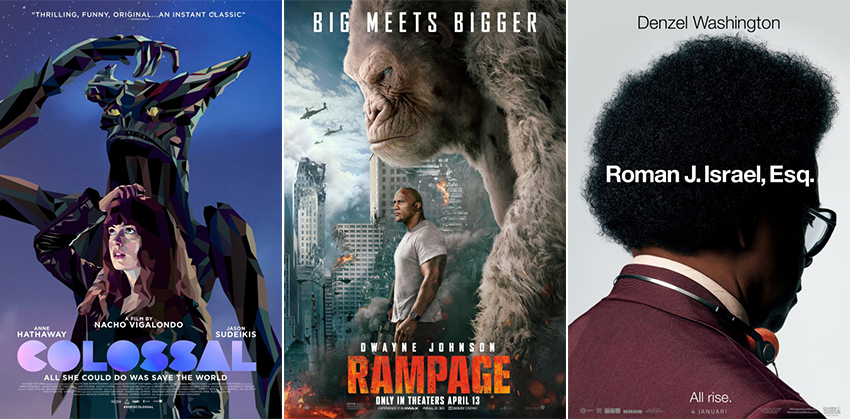 Bigger is obviously better because it's all about the giants this week. From colossal kaiju to enormous apes and Denzel Washington's staggeringly impressive afro, here are your new cinema releases for this weekend.
Rampage
Age Restriction: 13 L V
Primatologist Davis Okoye (Dwayne Johnson), a man who keeps people at a distance, shares an unshakable bond with George, the extraordinarily intelligent, silverback gorilla who has been in his care since birth. But a rogue genetic experiment gone awry mutates this gentle ape into a raging creature of enormous size. To make matters worse, it's soon discovered there are other similarly altered animals. As these newly created alpha predators tear across North America, destroying everything in their path, Okoye teams with a discredited genetic engineer to secure an antidote, fighting his way through an ever-changing battlefield, not only to halt a global catastrophe but to save the fearsome creature that was once his friend.
Give it up for Dwayne Johnson because, once again, he's turned an eye-rolling concept into a damn good movie. Rampage isn't flawless, but thanks to Johnson and director Brad Peyton, it's way more intense, and heartfelt, than you thought it could possibly be.
Critical Hit: 7/10
Rotten Tomatoes: 53% (Rotten)
Metacritic: 45 (Mixed or Average Reviews)
Colossal
Age Restriction: 16 L V D
Gloria (Anne Hathaway) is an ordinary woman who, after losing her job and being kicked out of her apartment by her boyfriend, is forced to leave her life in New York and move back to her hometown. When news reports surface that a giant creature is destroying Seoul, Korea, Gloria gradually comes to the realization that she is somehow connected to this far-off phenomenon. As events begin to spin out of control, Gloria must determine why her seemingly insignificant existence has such a colossal effect on the fate of the world.
Quirky and strange, Colossal is a movie that defies easy labelling thanks to its odd mix of themes and genres. It all pulls together with some fantastic performances and skilled directing to make one of the weirdest movies you'll watch this year. That is, if you haven't already seen it, because it's been out for a year already overseas.
Critical Hit: 7.5/10
Rotten Tomatoes: 80% (Certified Fresh)
Metacritic: 70 (Generally Favourable Reviews)
Roman J. Israel, Esq
Age Restriction: 13 L P
Roman J. Israel, Esq. (Denzel Washington) is a driven, idealistic defense attorney whose life is upended when a turbulent series of events challenge the activism that has defined his career.
Roman J. Israel, Esq. makes the most of Denzel Washington's hypnotic lead performance, and it's only thanks to that performance that you'll even care about the film. The rest of it is insufferably contrived and heavy-handed with only the smallest amounts of intrigue and thrills.
Rotten Tomatoes: 52% (Rotten)
Metacritic: 58 (Mixed or Average Reviews)
Here Comes The Grump
Age Restriction: 7-9 PG V
Balloon kingdoms, dopey police dragons and happy wizards are exactly how Terry remembered his Grandmother's whacky fairy tales. Except they are real and it's definitely not as 'cheerful'.
With a bare-bones Wikipedia entry and no reviews that I can find, Here Comes the Grump is a ghost of a movie. All I can tell you is that it's based on an animated show from the late 1960s and they somehow coerced Ian McShane into voicing the titular Grump.
For more information about the age restrictions, click here.
Last Updated: April 13, 2018