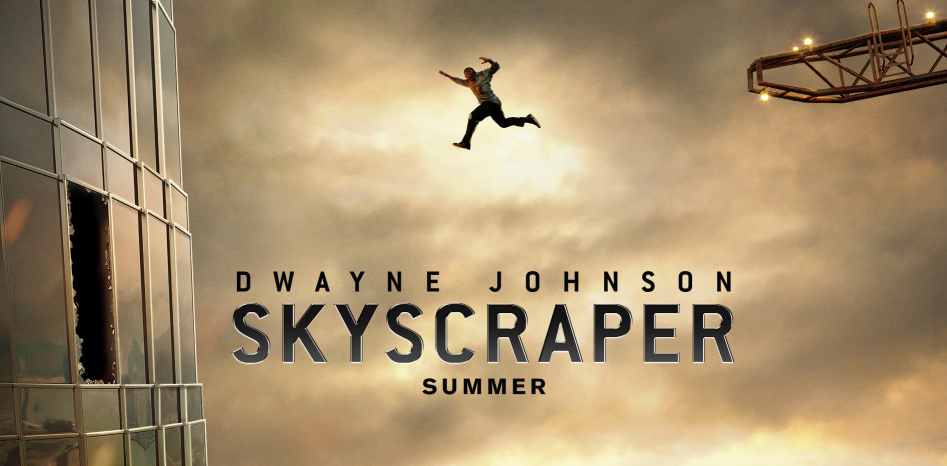 I don't think it's a secret that I am a huge Dwayne Johnson fan, so I'm obviously excited to have Skyscraper open in cinemas this week. It's also a good thing because the only other movie opening this week is, well, not good…
Skyscraper
Age Restriction: 16 L V
Former FBI Hostage Rescue Team leader and U.S. war veteran Will Ford (Dwayne Johnson) now assesses security for skyscrapers. On assignment in China he finds the tallest, safest building in the world suddenly ablaze, and he's been framed for it. A wanted man on the run, Will must find those responsible, clear his name and somehow rescue his family who is trapped inside the building…above the fire line.
Dwayne Johnson's homage to films like Die Hard, The Fugitive and A Towering Inferno, Skyscraper isn't going to completely change the action movie game, or even shake it up a little. Though lacking in originality, it is still a dumb, fun, action-filled blockbuster, bringing gusto and sincerity to a silly premise.
Critical Hit: 7/10
Rotten Tomatoes: 54% (Rotten)
Metacritic: 52 (Mixed or Average Reviews)
Kings
Age Restriction: 16 D L N S V
Halle Berry stars as MILLIE, a tough and protective single foster mother of eight who must ally herself with OBIE (Daniel Craig), her neighbor and a local loose cannon, when racial tensions start to run dangerously high. As the civil unrest in Los Angeles grows following the acquittal of four of the officers accused of beating Rodney King, Millie and Obie must navigate the chaos that surrounds them in order to ensure her children's safety. KINGS focuses on the fragility of family relationships and touches on turmoil and tensions of the past, which sadly prove to be more relevant than ever in today's social and political climate.
A mess of conflicting emotions, Kings takes a talented cast and throws them to the metaphorical wolves. Thanks to the jarring tonal shifts and absurd situations, all of Kings' good intentions go to waste, and amounts to nothing more than a bewildering, sabotaged pile of broken commentary.
Rotten Tomatoes: 11% (Rotten)
Metacritic: 34 (Generally Unfavourable Reviews)
For more information about the age restrictions, click here.
Last Updated: July 13, 2018