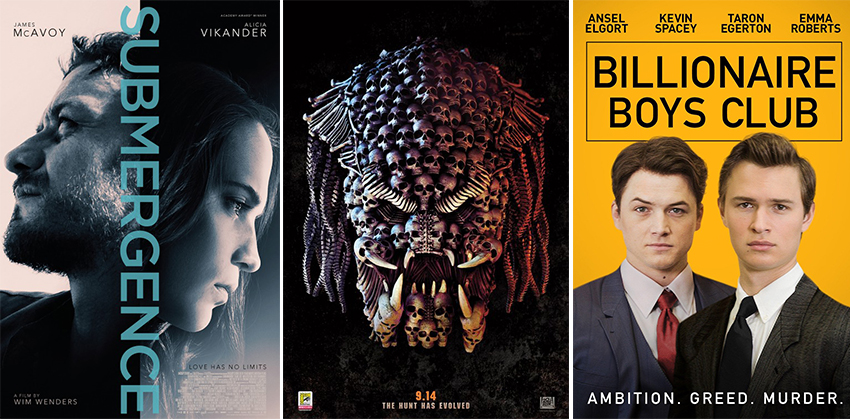 I'm not going to be seeing any of the new releases this weekend. Not because they're all terrible (only the vast majority of them are), but because it's Comic-Con Africa weekend!
The Predator
Age Restriction: 16 H L V
From the outer reaches of space to the backwoods of southern Georgia, the hunt comes home in Shane Black's explosive reinvention of the Predator series. Now, the universe's most lethal hunters are stronger, smarter and deadlier than ever before. And only a ragtag crew of ex-soldiers and an evolutionary biology professor can prevent the end of the human race.
You can expect a full review from Kervyn for this on Monday (blame Comic-Con again) but the short version is that The Predator often feels like a pure 80s action movie, which is bloody fantastic. Unfortunately, too many useless comic relief characters who give us mostly awkward and flat comedy beats drag things down. When it's good, it's really good, but when it's bad, it's bad.
Critical Hit: To be revealed later
Rotten Tomatoes: 40% (Rotten)
Metacritic: 50 (Mixed or Average Reviews)
Billionaire Boys Club
Age Restriction: 16 D L S V
A group of wealthy boys in Los Angeles during the early 1980s establish a 'get-rich-quick' scam that turns deadly.
Derivative and boring, Billionaire Boys Club would have been bad even if Kevin Spacey's career hadn't crashed and burned. You've seen better versions of this kind of story over and over before, so feel free to give this one a miss.
Rotten Tomatoes: 9% (Rotten)
Metacritic: 30 (Generally Unfavourable Reviews)
Submergence
Age Restriction: 16 V
James (James McAvoy) is a British agent under the cover of a water engineer, while Danny (Alicia Vikander) is a bio-mathematician working on a deep-sea diving project to explore the origin of life on our planet. On a chance encounter in a remote resort in Normandy where they both prepare for their respective missions, they fall rapidly, and unexpectedly, into each other's arms and a deliriously wild love affair develops, even though their jobs are destined to separate them. Danny sets off on a perilous quest to dive to the bottom of the ocean. James's assignment takes him to Somalia, where he is sucked into a geopolitical vortex that puts him in grave danger. Both characters are subject to different kinds of isolation as they pine for each other; their determination to reconnect becomes as much an existential journey as a love story.
While leads McAvoy and Vikander are undoubtedly capable and insufferably photogenic, their journey is hamstrung by an overwrought narrative that drowns the film in philosophical trappings and drains away all dramatic tension.
Rotten Tomatoes: 21% (Rotten)
Metacritic: 38 (Generally Unfavourable Reviews)
Sgt. Stubby: An American Hero
Age Restriction: 7-9 PG V
With the war to end all wars looming, a young army "doughboy" Robert Conroy has his life forever changed when a little dog with a stubby tail wanders into camp as the men of the 102nd Infantry Regiment train on the grounds of Yale University. Conroy gives his new friend a name, a family, and a chance to embark on the adventure that would define a century. Despite lacking formal military working dog training, Stubby the dog and his human companions find themselves in the trenches of France and on the path to history. French Infantryman Gaston Baptiste befriends the duo and accompanies them along their epic journey through harsh conditions and incredible acts of courage. For his valorous actions, Stubby is recognized as the first canine ever promoted to the rank of Sergeant in U.S. Army history.
"The War to End All Wars" seems like an odd setting for a cutesy animated movie about a dog, but here we are and, apparently, it's not all bad. Based on a bizarre, truth-is-stranger-than-fiction story, Sgt Stubby might be lacklustre in the animation department, but makes up for that with cleverness and a surprising level of historical accuracy.
Rotten Tomatoes: 84% (Fresh)
Metacritic: 57 (Mixed or Average Reviews)
For more information about the age restrictions, click here.
Last Updated: September 14, 2018