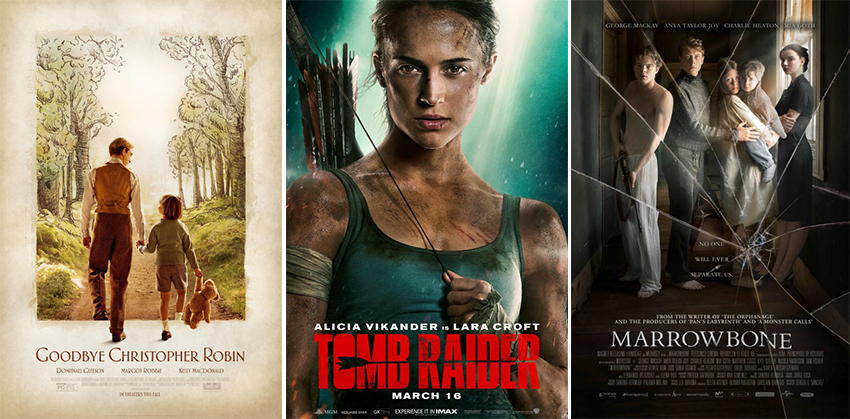 Some pundits have lofty ideas that Tomb Raider is going to dethrone Black Panther. The movie that's received almost no local support, events or advertising is going to knock down the movie that recently passed $1 Billion globally? Yeah, not likely. As I saw on someone mention on Twitter, they said Wakanda Forever, not Wakanda For Two Weeks.
Tomb Raider
Age Restriction: 13 V
Lara Croft (Alicia Vikander) is the fiercely independent daughter of an eccentric adventurer who vanished when she was scarcely a teen. Now a young woman of 21 without any real focus or purpose, Lara navigates the chaotic streets of trendy East London as a bike courier, barely making the rent, and takes college courses, rarely making it to class. Determined to forge her own path, she refuses to take the reins of her father's global empire just as staunchly as she rejects the idea that he's truly gone. Advised to face the facts and move forward after seven years without him, even Lara can't understand what drives her to finally solve the puzzle of his mysterious death. Going explicitly against his final wishes, she leaves everything she knows behind in search of her dad's last-known destination: a fabled tomb on a mythical island that might be somewhere off the coast of Japan. But her mission will not be an easy one; just reaching the island will be extremely treacherous. Suddenly, the stakes couldn't be higher for Lara, who—against the odds and armed with only her sharp mind, blind faith and inherently stubborn spirit—must learn to push herself beyond her limits as she journeys into the unknown. If she survives this perilous adventure, it could be the making of her, earning her the name tomb raider.
For better or worse, Tomb Raider has managed to capture the essence of its source material. The script and action beats have been cribbed from both 2013's game and the 2015 sequel, with a faithfulness to the source material that other video game movies sorely lack. Unfortunately, they also went heavy handed on the more irritating aspects of the story and, if you took umbrage with them in the games, you'll hate them just as much in the film. Thankfully, Alicia Vikander's commitment to the role, both physical and mental, rescues much of the movie from getting lost.
Critical Hit: 6.5/10
Rotten Tomatoes: 50% (Rotten)
Metacritic: 46 (Mixed or Average Reviews)
Goodbye Christopher Robin
Age Restriction: 10-12 PG V
Goodbye Christoper Robin gives a rare glimpse into the relationship between beloved children's author A. A. Milne (Domhnall Gleeson) and his son Christopher Robin (Will Tilston), whose toys inspired the magical world of Winnie the Pooh. Along with his mother Daphne (Margot Robbie), and his nanny Olive (Kelly Macdonald), Christopher Robin and his family are swept up in the international success of the books; the enchanting tales bringing hope and comfort to England after the First World War. But with the eyes of the world on Christopher Robin, what will the cost be to the family?
You never really think of the backstories of beloved authors from yesteryear, so you might be surprised at how emotionally brutal Goodbye Christopher Robin gets. It's a complex investigation of the challenges that come with balancing artistic creation and parenting, and in today's celebrity-led culture, resonates all the more with its heart-aching look at what happens when those two worlds collide.
Rotten Tomatoes: 64% (Fresh)
Metacritic: 54 (Mixed or Average Reviews)
Marrowbone
Age Restriction: 16 H L V
Four siblings seek refuge in an old home after the death of their mother, only to discover that the house has another, more sinister, inhabitant, in this haunting directorial debut from Sergio G. Sánchez, screenwriter of The Orphanage and The Impossible.
Despite the solid cast of relative newcomers and enough scares to please genre fans, Marrowbone suffers from the same thing that most horror films suffer from: tropes. It's a paint-by-numbers cliché of a story, with so many twists and turns that it forgets where it was going in the first place.
Rotten Tomatoes: 40% (Rotten)
Metacritic: No score yet
Meerkat Maantuig
Age Restriction: 10–12 PG H
Gideonette, a timid and visionary girl, lives with her parents in a small town. Her dad, Gideon, battles daily to allay her fears about the curse of the Gideon de La Reys. Throughout their family history, every Gideon de La Rey died in a freak accident at a young age. In order to prove everyone wrong, Gideon named his daughter Gideonette. Although Gideonette has endured endless teasing about the curse, her dad has tried to convince her that they'll both grow old. When he suddenly dies, her worst fears are realised, and she retreats into a dark world where her imagination runs wild.
Alongside positive buzz from local reviewers, Meerkat Maantuig has received high praise from international critics as well, topping favourite lists and making waves at film festivals. This fairy-tale like coming-of-age story is an instant classic with great performances from its child stars.
For more information about the age restrictions, click here.
Last Updated: March 16, 2018