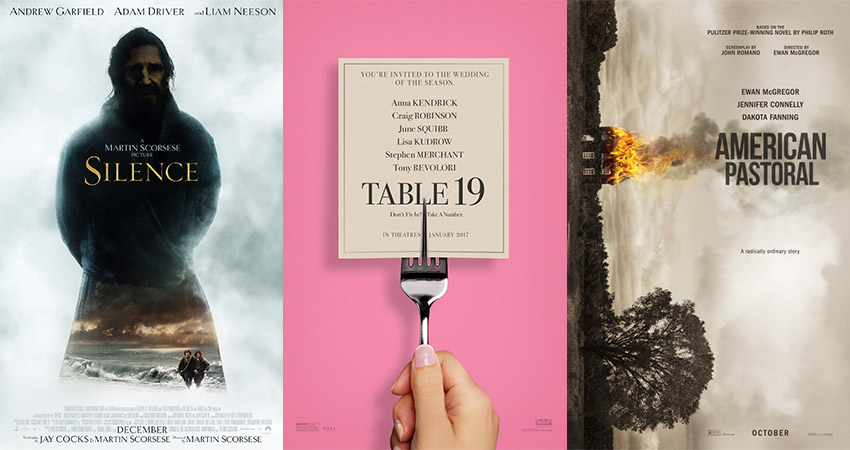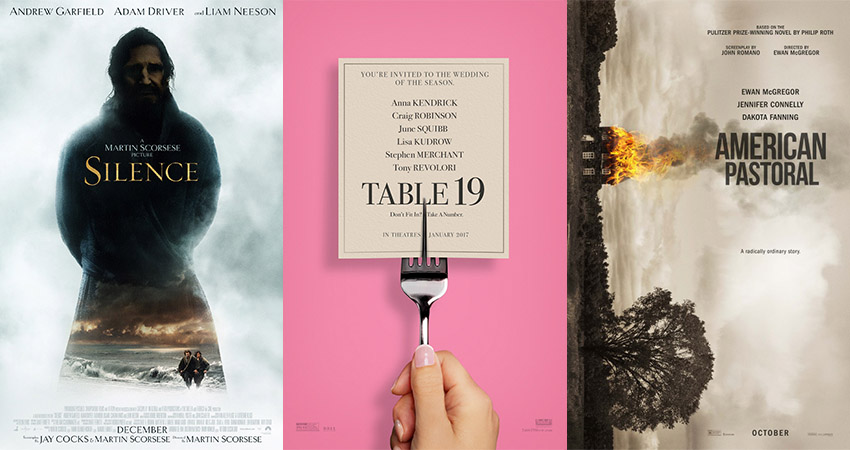 Both my sister and cousin are getting married in the next year (not to each other, obviously) so my life has been all about weddings lately. Iit feels serendipitous that Table 19 is opening this week, as I've previously been stuck at the real life equivalent of a Table 19, or as we fondly called it, the reject table. If weddings and the related drama aren't your thing though, this week's new releases also include a Scorsese epic, two films from actors-turned-directors, one local release and one Asterix and Obelix movie. Wait, they're still making those?
Table 19
Age Restriction: 10-12 PG L
Ex-maid of honor Eloise (Anna Kendrick) – having been relieved of her duties after being unceremoniously dumped by the best man via text – decides to hold her head up high and attend her oldest friend's wedding anyway. She finds herself seated at the 'random' table in the back of the ballroom with a disparate group of strangers, most of whom should have known to just send regrets (but not before sending something nice off the registry). As everyone's secrets are revealed, Eloise learns a thing or two from the denizens of Table 19. Friendships – and even a little romance – can happen under the most unlikely circumstances.
Have you ever been to a wedding where you've sat at the "reject table"? You know the one, the furthest from the top table where all the waifs, wastrels and generally unattached end up. This is a movie about what happens at that kind of table. Unfortunately, it's about as much fun as sitting at a table full of strangers at a wedding you didn't really want to go to in the first place, without the added benefit of an open bar.
Rotten Tomatoes: 20%
Metacritic: 40
Book at Nu Metro or Ster Kinekor (2D)
Silence
Age Restriction: 16 V
Two Jesuit priests, Sebastião Rodrigues and Francis Garrpe, travel to seventeenth century Japan which has, under the Tokugawa shogunate, banned Catholicism and almost all foreign contact. There they witness the persecution of Japanese Christians at the hands of their own government which wishes to purge Japan of all western influence. Eventually the priests separate and Rodrigues travels the countryside, wondering why God remains silent while His children suffer.
Critics are saying that Silence is Martin Scorcese's finest work. It's not without problems though. Undoubtedly powerful and excellently crafted, Silence is still heavy-handed and at times very slow, though still artful and impassioned.
Rotten Tomatoes: 85%
Metacritic: 79
Book at Nu Metro or Ster Kinekor (2D)
American Pastoral
Age Restriction: 13 L S
Seymour "Swede" Levov (Ewan McGregor), a once legendary high school athlete, is now a successful businessman married to Dawn (Jennifer Connelly), a former beauty queen. But turmoil brews beneath the polished veneer of Swede's life. When his beloved teenage daughter, Merry (Dakota Fanning), disappears after being accused of committing a violent act, Swede dedicates himself to finding her and reuniting his family. What he discovers shakes him to the core, forcing him to look beneath the surface and confront the chaos that is shaping the world around him.
American Pastoral is Ewan McGregor's directorial debut, and it's not a bad effort. That said, he completely misses the depth of the original Philip Roth novel, plumping for style over substance. Despite the best dramatic efforts of the cast, American Pastoral has an artificial feel throughout.
Rotten Tomatoes: 23%
Metacritic: 43
Book at Nu Metro or Ster Kinekor (2D)
In Dubious Battle
Age Restriction: 16 L
In the California apple country, nine hundred migratory workers rise up "in dubious battle" against the landowners. The group takes on a life of its own—stronger than its individual members and more frightening. Led by the doomed Jim Nolan (Nat Wolff), the strike is founded on his tragic idealism, on the "courage never to submit or yield."
James Franco has come a long way as a director, and an actor. Unfortunately, In Dubious Battle is uninspired and mostly dull. The moral and dramatic complexity of the original novel by John Steinbeck is lost beneath a monotone message and unrelenting grandstanding.
Rotten Tomatoes: 29%
Metacritic: 43
Book at Ster Kinekor (2D)
All About Love
Age Restriction: TBC
ALL ABOUT LOVE is an amazing love story shot in the vibrant city of Johannesburg, South Africa. The movie explores the interesting, bitter-sweet, sometimes difficult –but always instructive-journeys of the heart.
As much as I support local films and want nothing more for them to succeed, I'm tired of seeing the same stories played out over and over again. All About Love looks exactly the same as last year's Happiness is a Four Letter Word. Even the title All About Love is unoriginal, as I found out when trying to get more information on the movie. Obviously, there aren't any reviews out yet, so all I can offer is that you watch the trailer (such as it is) and decide if you want to spend your time in the cinemas this weekend with a major sense of déjà vu.
Book at Ster Kinekor (2D)
Asterix and Obelix: Mansions of the Gods
Age Restriction: PG
In order to wipe out the Gaulish village by any means necessary, Caesar plans to absorb the villagers into Roman culture by having an estate built next to the village to start a new Roman colony.
I would not have expected this week's second highest rated release, next to a Scorsese epic, is an Asterix and Obelix movie. Even though there are very few reviews out for Mansions of the Gods, they're mostly positive. It's well animated and acted, with sharp humour for the adults and enough silliness to keep the kids giggling.
Rotten Tomatoes: 70%
Book at Ster Kinekor (2D)
For more information about the age restrictions, click here.
Last Updated: April 21, 2017