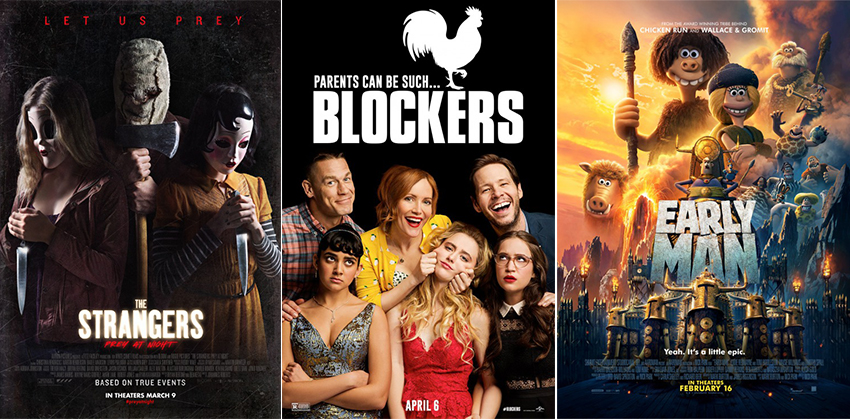 Unexpectedly good raunchy comedy and expectedly bad horror sequels headline this week's new releases, with an added bonus of the latest from Aardman Animation.
Blockers
Age Restriction: 16 D L N S
When three parents stumble upon their daughters' pact to lose their virginity at prom, they launch a covert one-night operation to stop the teens from sealing the deal.
Having grown up with high school comedies about things like losing your virginity on prom night, I've now reached the age where they're telling the parents' side of the story and oh god I am so old now. Anyway, Blockers is surprisingly good for a gender and generational swopped spin on a teen sex comedy. If you ignore the weakness of the gross-out humour, the smart script and commendable performances make Blockers fun.
Rotten Tomatoes: 82% (Certified Fresh)
Metacritic: 69 (Generally Favourable Reviews)
The Strangers: Prey at Night
Age Restriction: 18 H L V
A family's road trip takes a dangerous turn when they arrive at a secluded mobile home park to stay with some relatives and find it mysteriously deserted. Under the cover of darkness, three masked psychopaths pay them a visit to test the family's every limit as they struggle to survive.
The sequel to 2008's horror movie The Strangers (which I didn't even know was a thing), The Strangers: Prey at Night uses the same modus operandi in a different setting. Fans of the original will no doubt be pleased, but as with most sequels, and most horror movies, it's just not that good.
Rotten Tomatoes: 38% (Rotten)
Metacritic: 49 (Mixed or Average Reviews)
Early Man
Age Restriction: PG V
Set at the dawn of time, when prehistoric creatures roamed the earth, Early Man tells the story of courageous caveman Dug (Eddie Redmayne) and his best friend Hognob as they unite his tribe against a mighty enemy Lord Nooth (Tom Hiddleston) and his Bronze Age City to save their home.
I can't say the trailer for Early Man interested me in the least, but according to critics, it's pretty good. Not really up to the same standard as predecessors like Wallace and Gromit, but with the same sweet humour and animation style, fans of Aardman Animation will be mostly satisfied.
Rotten Tomatoes: 82% (Certified Fresh)
Metacritic: 68 (Generally Favourable Reviews)
Mark Felt: The Man Who Brought Down the White House
Age Restriction: 10-12 PG L
Mark Felt – The Man Who Brought Down the White House centers on "Deep Throat", the pseudonym given to the notorious whistleblower for one of the greatest scandals of all time, Watergate. The true identity of the secret informant remained a mystery and source of much public curiosity and speculation for more than 30 years. That is until, in 2005, special agent Mark Felt shockingly revealed himself as the tipster. This unbelievable true story chronicles the personal and professional life of the brilliant and uncompromising Felt, who risked and ultimately sacrificed everything – his family, his career, his freedom – in the name of justice.
At first glance, it seems like Liam Neeson is the perfect choice to play the titular Mark Felt. But having played the aging action hero for so long, Neeson struggles with the subtlety required for a political scandal thriller. If there had been anything about literally bringing down the White House, then maybe…
Rotten Tomatoes: 35% (Rotten)
Metacritic: 49 (Mixed or Average Reviews)
For more information about the age restrictions, click here.
Last Updated: April 20, 2018