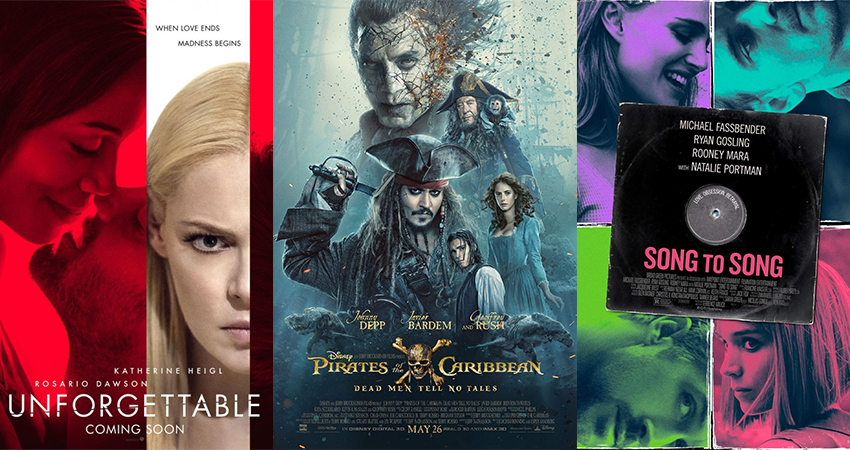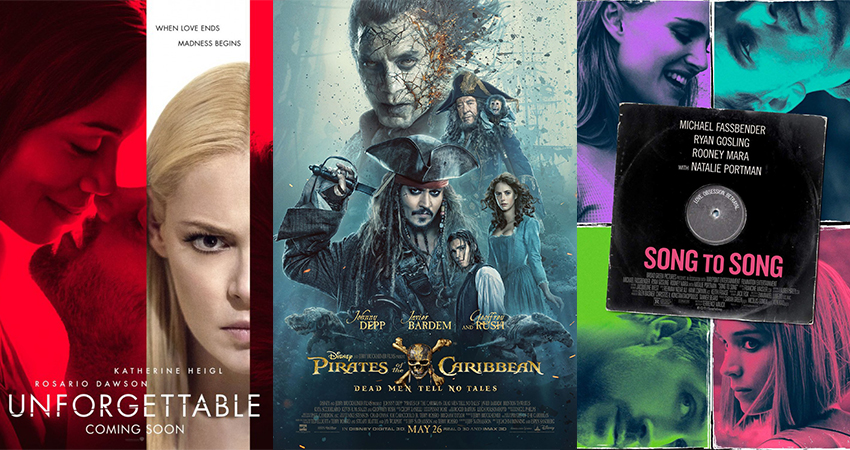 This week's blockbuster release isn't quite the blockbuster we were hoping for, and the rest of the new movies aren't much better. All of our movies have low aggregate scores, so proceed with caution to the cinemas this weekend.
Pirates of the Caribbean: Salazar's Revenge
Age Restriction: 13 H V
Thrust into an all-new adventure, a down-on-his-luck Captain Jack Sparrow finds the winds of ill-fortune blowing strongly his way when deadly ghost sailors, led by the terrifying Captain Salazar (Javier Bardem), escape from the Devil's Triangle bent on killing every pirate at sea—notably Jack. Jack's only hope of survival lies in the legendary Trident of Poseidon, but to find it he must forge an uneasy alliance with Carina Smyth (Kaya Scodelario), a brilliant and beautiful astronomer, and Henry (Brenton Thwaites), a headstrong young sailor in the Royal Navy. At the helm of the Dying Gull, his pitifully small and shabby ship, Captain Jack seeks not only to reverse his recent spate of ill fortune, but to save his very life from the most formidable and malicious foe he has ever faced.
Known to some part of the world as Dead Men Tell No tales, the latest instalment of the Pirates of the Caribbean franchise should be Dead Men Tell the Same Bloody Story Over and Over Again. Seriously, it's the exact same story. Tired and constraining narrative aside, there are some good moments to be found. There's great humour and witty banter, and Javier Bardem's Salazar is particularly memorable as a villain. The latest and final Pirates film isn't the worst in the franchise, but they certainly could have done better in terms of going out with a bang.
Critical Hit: 6/10
Rotten Tomatoes: 30%
Metacritic: 38
Book at Nu Metro (2D)
Book at Nu Metro or Ster Kinekor (3D)
Book at Nu Metro (4DX)
Unforgettable
Age Restriction: 16 S V
Tessa Connover (Katherine Heigl) is barely coping with the end of her marriage when her ex-husband, David (Geoff Stults), becomes happily engaged to Julia Banks (Rosario Dawson)—not only bringing Julia into the home they once shared but also into the life of their daughter, Lilly (Isabella Rice). Trying to settle into her new role as a wife and a stepmother, Julia believes she has finally met the man of her dreams, the man who can help her put her own troubled past behind her. But Tessa's jealousy soon takes a pathological turn until she will stop at nothing to turn Julia's dream into her ultimate nightmare.
I think that they jinxed Unforgettable when they gave it the title, as the movie itself turned out to be the complete opposite. The talented cast will keep you from falling asleep through the decidedly tedious and transparent story but it will evaporate from your mind as soon as you leave the cinema.
Rotten Tomatoes: 27%
Metacritic: 45
Book at Nu Metro or Ster Kinekor (2D)
Song to Song
Age Restriction: 16 L S
In this modern love story set against the Austin, Texas music scene, two entangled couples — struggling songwriters Faye (Rooney Mara) and BV (Ryan Gosling), and music mogul Cook (Michael Fassbender) and the waitress whom he ensnares (Natalie Portman) — chase success through a rock 'n' roll landscape of seduction and betrayal.
Seeing as I'm unfamiliar with Terrence Malick's work, Song to Song is a hard movie for me to pin down. The trailer is a gauzy, Instagram-filtered dreamscape with a highly talented cast flitting from moment to indie-music-video-perfect moment. Some critics say that he's at the top of his game, stylistically. Others have called it his first truly awful film, shallow and lacking narrative purpose.
Rotten Tomatoes: 45%
Metacritic: 53
Book at Ster Kinekor (Cinema Nouveau)
For more information about the age restrictions, click here.
Last Updated: May 26, 2017