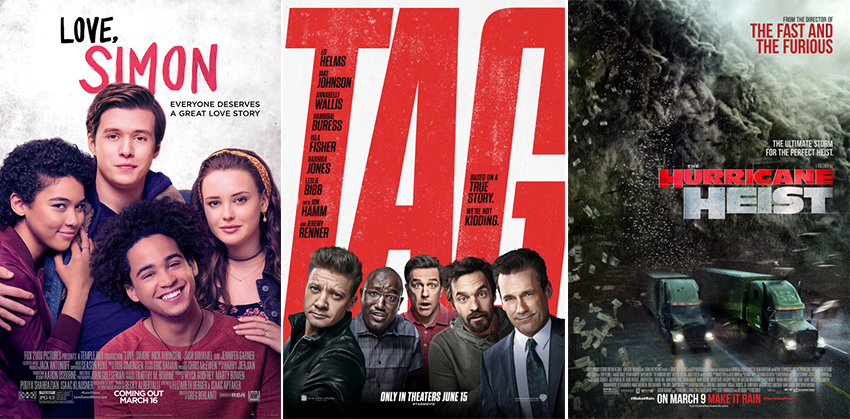 It's a very random mix of arbitrary movies opening in cinemas today. There's a comedy with a fair amount of action, an action movie that's inadvertantly a comedy, and a teen rom-com about getting some action.
Tag
Age Restriction: 16 L V D
For one month every year, five highly competitive friends hit the ground running in a no-holds-barred game of tag they've been playing since the first grade—risking their necks, their jobs and their relationships to take each other down with the battle cry "You're It!" This year, the game coincides with the wedding of their only undefeated player, which should finally make him an easy target. But he knows they're coming…and he's ready. Based on a true story, Tag shows how far some guys will go to be the last man standing.
This has got to be one of the only "based on a true story" movies to pique my interest, because honestly, the idea is freaking nuts. It sounds hilariously juvenile and kind of stupid. Which is what most reviewers are saying as well. But that's half the fun, right?
Rotten Tomatoes: 56% (Rotten)
Metacritic: 57 (Mixed or Average Reviews)
The Hurricane Heist
Age Restriction: 16 L V
Under the threat of a hurricane, opportunistic criminals infiltrate a US Mint facility to steal $600 million for the ultimate heist. When the hurricane blows up into a lethal CATEGORY 5 storm and their well-made plans go awry, they find themselves needing a vault code known only by one Treasury Agent (Maggie Grace), a need that turns murderous. But the Treasury agent has picked up an unlikely ally, a meteorologist (Toby Kebbell) terrified of hurricanes but determined to save his estranged brother kidnapped by the thieves. He uses his knowledge of the storm as a weapon to win in this non-stop action thriller ride charged with adrenaline throughout.
I'm genuinely surprised that Hurricane Heist doesn't have Nicolas Cage in a starring role. For real, if you read that synopsis, it totally sounds like something good ol' crazy Cage would be involved in. Instead, we have a textbook example of the oddly specific weather-based action thriller subgenre, and a textbook example of why no one bothers to make these kinds of movies anymore.
Rotten Tomatoes: 44% (Rotten)
Metacritic: 35 (Generally Unfavourable Reviews)
Love, Simon
Age Restriction: 13 L
Everyone deserves a great love story. But for seventeen-year old Simon Spier it's a little more complicated: he's yet to tell his family or friends he's gay and he doesn't actually know the identity of the anonymous classmate he's fallen for online. Resolving both issues proves hilarious, terrifying and life-changing. Directed by Greg Berlanti (Riverdale, The Flash, Supergirl), written by Isaac Aptaker & Elizabeth Berger (This is Us), and based on Becky Albertalli's acclaimed novel, LOVE, SIMON is a funny and heartfelt coming-of-age story about the thrilling ride of finding yourself and falling in love.
Sugary and sweet, Love, Simon might be "yet another coming-of-age teen rom-com" but the welcome inclusion of a gay character as the main character makes all the difference. The story might be too light-hearted for some, but it's still charming, witty and fresh.
Rotten Tomatoes: 91% (Certified Fresh)
Metacritic: 72 (Generally Favourable Reviews)
Book Club
Age Restriction: 13 D L S
Diane (Diane Keaton) is recently widowed after 40 years of marriage, Vivian (Jane Fonda) enjoys her men with no strings attached, Sharon (Candice Bergen) is still working through her decades-old divorce, and Carol's (Mary Steenburgen) marriage is in a slump after 35 years. The lives of these four lifelong friends are turned upside down after reading the infamous "50 Shades of Grey," catapulting them into a series of outrageous life choices
Women older than 40 barely exist in Hollywood, so having a film centred on women, who are all over 65, seems impossible. Nevertheless, this pocket miracle exists in the form of Book Club, a breezy, inconsequential comedy with a powerhouse cast and a charming, if not slightly superficial, script.
Rotten Tomatoes: 53% (Rotten)
Metacritic: 53 (Mixed or Average Reviews)
Duck Duck Goose
Age Restriction: PG V
Peng is a freewheeling bachelor goose who'd rather do anything than practice for the upcoming migration. He thinks he's better than everyone else and spends his time attempting crazy stunts at even crazier speeds. In one such stunt, Peng flies too near the ground, hits a flock of ducklings and separates brother and sister, Chao and Chi, from the rest. In this unlikely meeting, Peng will begin a journey that will break his wing and nearly break his heart as he grows to understand the power of unconditional love in the form of two ducklings, who likewise grow to see him as the best father they could ever have
The lone entry for children's' entertainment during the school holidays is Duck Duck Goose, a movie I can find nothing about online so I'm just going to judge it by the trailer… Hmmm. After careful consideration, I would recommend you take your kids to watch Incredibles 2 again.
Rotten Tomatoes: Tomatometer Not Available
Metacritic: No score yet
For more information about the age restrictions, click here.
Last Updated: June 29, 2018