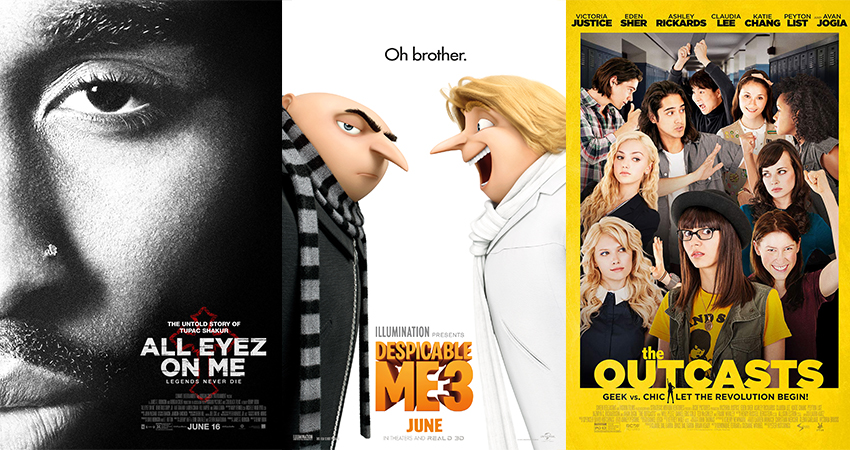 If there's one thing I hate about the school holidays, it's that there are so many more new movies in cinemas. And, generally, a lot more excrement that I have to wade through to bring you this article. Which is all that's opening this weekend… a load of crap.
Despicable Me 3
Age Restriction: 7-9 PG
The continued adventures of Gru, Lucy, their adorable daughters—Margo, Edith and Agnes—and the Minions.
Oh, yay, more yellow jellybeans. The Despicable Me franchise has seen a sharp decline in quality since it began and, unfortunately, the latest instalment doesn't raise the bar. In fact, it lowers it several notches. Now on its fourth film, the Despicable Me franchise is tired, with too many ideas bandied about and too few that stick. I feel sorry for all you parents, as no matter how lowly this movie scores, you're going to have to watch it anyway. Have fun with that!
Critical Hit: 5/10
Rotten Tomatoes: 66%
Metacritic: 47
Book at Nu Metro or Ster Kinekor (2D)
Book at Nu Metro or Ster Kinekor (3D)
The Outcasts
Age Restriction: 12-10 PG V
After falling victim to a humiliating prank by the high school queen bee, Jodi (Victoria Justice) and her best friend Mindy (Eden Sher) plot their revenge by uniting all of the school's outcasts to overthrow the cruel reign of the popular clique once and for all. But in a tale of "be careful what you wish for," a taste of power gets the best of all of them, nearly ruining Jodi and Mindy's friendship and threatening to sabotage Jodi's budding romance with Dave (Avan Jogia).
If you're looking for depth and longevity, look elsewhere. The Outcasts is the movie equivalent of candy floss. Sweet, agreeable and entertaining, but insubstantial and forgettable. Still, it makes for harmless tween entertainment, and it has a smart message for those that can retain it.
Rotten Tomatoes: 50%
Metacritic: TBD
Book at Nu Metro or Ster Kinekor (2D)
All Eyez on Me
Age Restriction: 16 D L P V
A chronicle of the life of rapper Tupac Shakur, from his humble beginnings through his turbulent rise to fame and subsequent violent demise.
Lightly skimming through the history of the legendary rapper Tupac Shakur, All Eyez on Me packs too much detail and not enough depth into its 140-minute runtime, leaving no room to explore the man himself. All Eyez on Me is basically the film version of Tupac's Wikipedia page. Unerringly factual, but devoid of soul.
Rotten Tomatoes: 18%
Metacritic: 38
Book at Nu Metro or Ster Kinekor (2D)
Paris Can Wait
Age Restriction: 7-9 PG
Anne (Diane Lane) is at a crossroads in her life. Long married to a successfully driven but inattentive movie producer (Alec Baldwin), she finds herself taking a car trip from Cannes to Paris with a business associate of her husband (Arnaud Viard). What should be a seven-hour drive turns into a journey of discovery involving fine food and wine, humor, wisdom, and picturesque sights.
Paris Can Wait isn't your typical road-trip movie. Instead of a motivational journey of self-discovery, our protagonist is passive, driven from scene to scene and told what to do, eat and think for the duration. Unfortunately, the hapless audience is stuck in the back seat of this incredibly boring car trip, with nothing but the beautiful French countryside to keep them entertained.
Rotten Tomatoes: 49%
Metacritic: 48
Book at Nu Metro or Ster Kinekor (2D)
Heartbeats
Age Restriction: 7-9 PG L
When a high-spirited American hip-hop dancer goes to India with her family for a wedding, she is blown away by a new dance style and falls in love with the man who introduced her to it.
What happens if you took Step Up or Save the Last Dance and relocated them to India? You get Heartbeats, a mishmash of Bollywood dance and hip-hop, with a lacklustre romance and a painfully trite story thrown in for good measure.
Book at Nu Metro or Ster Kinekor (2D)
Once Upon a Time in Venice
Age Restriction: 16 L N S
Steve Ford (Bruce Willis) is a down but not out L.A based Private Investigator whose professional and personal worlds collide after his loving pet Buddy is stolen by a notorious gang. A series of crazy circumstances find him doing the gang's bidding, while being chased by two vengeful Samoan brothers, a loan shark's goons, and a few other shady characters. They say a dog is a man's best friend, and Steve shows how far a man will go to be reunited with him.
Obviously, someone watched John Wick and thought to themselves: get an action star, throw him into a movie about drug dealers and dogs, and it's a sure-fire hit! But this time… make it a comedy? And add Jason Momoa, because he's the "in thing" right now! I would have loved to have been a fly on the wall during that film pitch.
Rotten Tomatoes: 19%
Metacritic: 28
Book at Ster Kinekor (2D)
For more information about the age restrictions, click here.
Last Updated: June 30, 2017