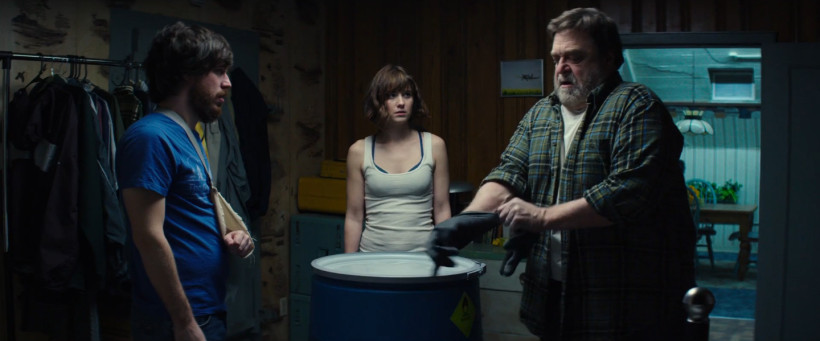 The end of the world theme features strongly this week, with two post-apocalyptic themed movies in 10 Cloverfield Lane and Z for Zachariah, and one world-endingly terrible movie in Robo-Dog.
A young woman wakes up after a terrible accident to find that she's locked in a cellar with a doomsday prepper, who insists that he saved her life and that the world outside is uninhabitable following an apocalyptic catastrophe. Uncertain what to believe, the woman soon determines that she must escape at any cost.
Much like the completely under-the-radar marketing campaign, critics are giving away no details about 10 Cloverfield Lane. What little they have said is that it's good, really good. It's a tight and claustrophobic thriller that will keep you on the edge of your seat without needing any frills or fuss, and anything more than that would just be giving it away. For now, you can go with the Certified Fresh 89% on Rotten Tomatoes, alongside the average audience rating of 83%.
Book now at Nu Metro or Ster Kinekor
Inspired by true events, Eddie the Eagle is a feel-good story about Michael "Eddie" Edwards (Taron Egerton), an unlikely but courageous British ski-jumper who never stopped believing in himself – even as an entire nation was counting him out. With the help of a rebellious and charismatic coach (played by Hugh Jackman), Eddie takes on the establishment and wins the hearts of sports fans around the world by making an improbable and historic showing at the 1988 Calgary Winter Olympics. From producers of Kingsman: The Secret Service, Eddie the Eagle stars Taron Egerton as Eddie, the loveable underdog with a never say die attitude.
It's quite strange that this kind of movie comes from the same producers and has the same star as a movie like Kingsman: The Secret Service, but I guess no one does a feel-good underdog story like the Brits, and Eddie the Eagle certainly soars in that regard. It's as loveable and affable as its protagonist, not overly subtle but so good-natured you won't be able to stop smiling the whole way through. If you're in need of some warm fuzzy feelings this week, Eddie the Eagle's 79% on Rotten Tomatoes will keep you nice and toasty.
Book now at Nu Metro or Ster Kinekor
In the wake of a nuclear war, a young woman survives on her own, fearing she may actually be the proverbial last woman on earth, until she discovers the most astonishing sight of her life: another human being. A distraught scientist, he's nearly been driven mad by radiation exposure and his desperate search for others. A fragile, imperative strand of trust connects them. But when a stranger enters the valley, their precarious bond begins to unravel.
Making use of a post-apocalyptic wasteland as a compelling backdrop for a moody thriller / character study, Z for Zachariah sends viewers on a thoughtful and intriguing journey that has a lot less to do with the end of the world, and all about what happens to the people that survive it. The only detraction is that it might be a little bit too Nicholas Sparks, and not enough Stephen King. Still, it earns a solid 78% on Rotten Tomatoes, just don't go in expecting anything but a drama.
Book now at Nu Metro or Ster Kinekor
Macbeth is the story of a fearless warrior and inspiring leader brought low by ambition and desire. A thrilling interpretation of the dramatic realities of the times and a reimagining of what wartime must have been like for one of literature's most famous and compelling characters, a story of all-consuming passion and ambition set in war torn Scotland.
Beautifully filmed and completely faithful to the source material, Macbeth is a movie driven by striking visuals and strong performances. Michael Fassbender's magnificent turn as the ambitious general is only outmatched by Marion Cotillard's simmering Lady Macbeth. Earning 79% on Rotten Tomatoes, this latest version of Macbeth is a must for fans of big screen Shakespeare adaptations
Book now for Cinema Nouveau, only at Ster Kinekor
When Tyler's furry best friend dies tragically, his inventor Dad creates a new dog to take his place – complete with mechanical powers and robotic abilities to keep everyone on their toes.
I'm legitimately struggling to believe this is a real, actual movie that is opening on cinema in 2016 and not some terribly timed April Fool's joke. With every movie that is opening this week of being such high calibre, to see something like Robo-Dog is… jarring, to say the least. Honestly, I'm struggling not to swear a lot right now. I couldn't even sit through the full trailer, and I managed to sit through not one, but TWO trailers for Norm of the North. How this was not a direct-to-VHS release, we will never know.
I'm only giving you the booking link so you know I'm not joking and that this is a very real thing that is happening. I'd seriously advise against actually watching the movie, so don't book now. Please.
Last Updated: April 8, 2016