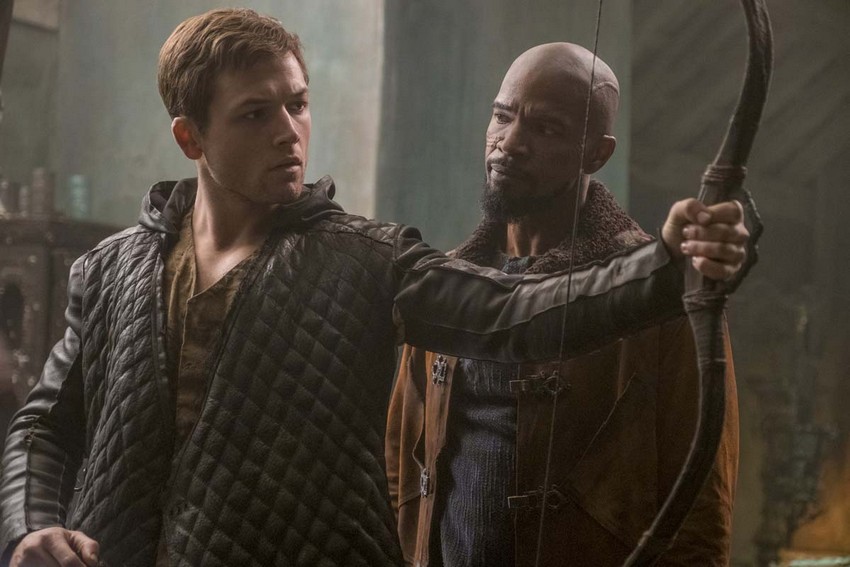 I would definitely consider myself a fan of Taron Egerton. From the moment he showed up in Kingsman: The Secret Service, showing off a winning combination of physical skills and leading man charms, it was clear that he would go far in Hollywood. Outside of the Kingsman films though, he hasn't really done anything on a big enough scale to showcase those talents again, but it looked like the upcoming Robin Hood reboot (yes, it's another one) could just be the ticket. And then we saw the first trailer.
This reboot had been sold as being some kind of gritty reimagining of the famed archer, instead it appeared we were getting a slightly bigger budgeted episode of Arrow complete with cheesy slow-mo archery shots. Kevin Costner had been more gritty than this.
There was still hope though, seeing as trailers can often be misleading. It also helped that joining Egerton's eponymous brigand was a cast that included Jamie Foxx as Little John, Jamie Dornan as Will Scarlett, Tim Minchin as Friar Tuck, and Ben Mendelsohn as the villainous Sheriff of Nottingham, with The Knick's Eve Hewson playing Maid Marian. And now Lionsgate has released the film's second trailer, which still seems to be light on the grit to me, but it does look way better than that first preview, as we given the first look at the odd couple relationship between Egerton's "war-hardened Crusader", Robin of Loxley, and Foxx's "Moorish commander", Little John, as they "mount an audacious revolt against the corrupt English crown". Check it out for yourself below.
Robin Hood was helmed by Otto Bathurst, who makes his feature film directing debut here after being nominated for and winning several BAFTA Awards for his work on British TV standouts Black Mirror and Peaky Blinders. Bathurst is working off a script from Joby Harold who is not new to the concept of rebooting classic British mythological/historical figures for modern blockbuster movies as he also scripted Guy Ritchie's King Arthur reboot. Hopefully Robin Hood turns out a bit more coherent and unrushed than that effort which felt like a trilogy squashed into a single movie's running time.
We'll be able to judge for ourselves when the film is pulled from the quiver and shot into cinemas on 21 November 2018. In the meantime, you can check out a gallery of new character posters that were also released recently.
Last Updated: July 18, 2018