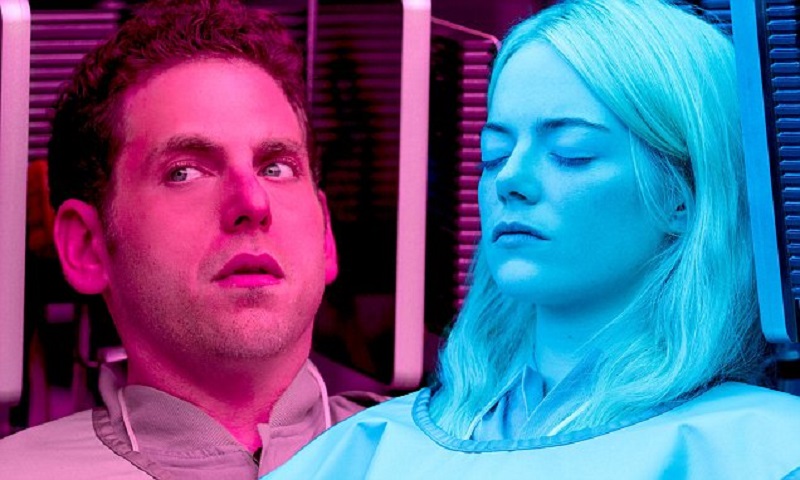 I won't ever claim that I understand the different complexities of the human mind. In fact I can't even claim to understand that I know what I am thinking at any given moment, so to believe that people think they can figure out the secrets of the brain sounds nigh impossible. Though perhaps, even that is easier than making sense of this new trailer from Netflix series Maniac:
Indeed, as series go, this one is about as cryptic as it gets. Maniac is created, written and executive produced by Patrick Somerville (The Bridge, The Leftovers), and concerns two strangers played by Emma Stone and Jonah Hill, as they enter into the final stages of a pharmaceutical drug trial being conducted by Justin Theroux's Dr. James K. Mantleray. The idea is that Mantleray can correct, or solve, anything wrong with the brain, presumably through whatever drug treatment he has cooked up. The results which are likely to be weird, funny and probably a little dark.
The trailer doesn't do much to get you excited about the show, but with a sort of exceptional cast (despite two Oscar nominations, Jonah Hill is yet to really convince me) and the direction of Cary Fukunaga on all 10 episodes of this dark comedy, it is certainly one to keep a look-out for. There is no doubt a lot more to this new show than what we see here and hopefully its September 21 premiere date will drop some more footage about what this show actually entails.
You can read the official synopsis for Maniac is below:
Set in a world somewhat like our world, in a time quite similar to our time, Maniac tells the stories of Annie Landsberg (Emma Stone) and Owen Milgrim (Jonah Hill), two strangers drawn to the late stages of a mysterious pharmaceutical trial, each for their own reasons.  Annie's disaffected and aimless, fixated on broken relationships with her mother and her sister; Owen, the fifth son of wealthy New York industrialists, has struggled his whole life with a disputed diagnosis of schizophrenia. Neither of their lives have turned out quite right, and the promise of a new, radical kind of pharmaceutical treatment—a sequence of pills its inventor, Dr. James K. Mantleray (Justin Theroux), claims can repair anything about the mind, be it mental illness or heartbreak—draws them and ten other strangers to the facilities of Neberdine Pharmaceutical and Biotech for a three-day drug trial that will, they're assured, with no complications or side-effects whatsoever, solve all of their problems, permanently. Things do not go as planned  
Last Updated: July 30, 2018