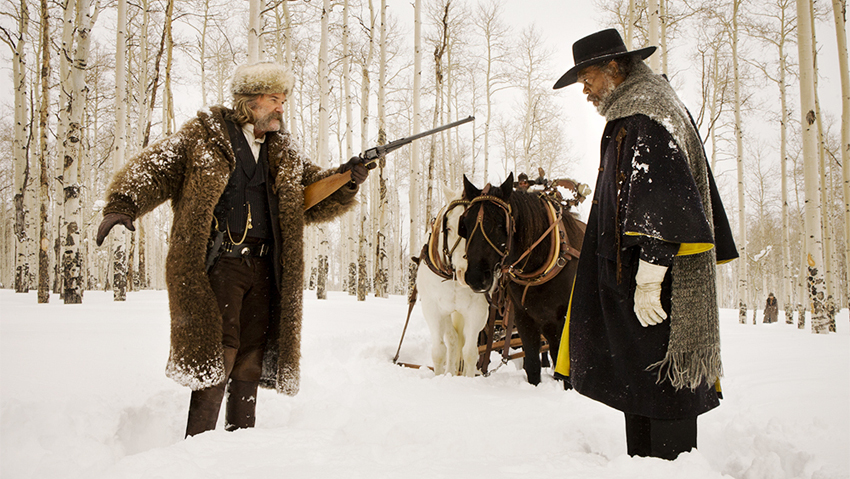 Quentin Tarantino's The Hateful Eight was a brilliant potboiler of cowboys, guns, racism and moustaches. If you haven't seen it yet, catching the 2015 western became easier when it was added to Netflix last week. What's more, this was an extended cut of the film which many assumed to be the 70mm Roadshow Cut that Tarantino himself screened in limited locations. Many were wrong.
As fans soon discovered, this was a really extended version of the film as Netflix had actually debuted a brand new four-part miniseries version of Tarantino's film. Speaking to /Film, the acclaimed filmmaker explained where this version came from.
Netflix came to us and said, "Hey, look, if you'd be interested–if there's even more footage, [and] if you'd be interested in putting it together in a way that we could show it as three or four episodes, depending on how much extra footage you have, we'd be willing to do that."

And I thought, wow, that's really intriguing. I mean, the movie exists as a movie, but if I were to use all the footage we shot, and see if I could put it together in episode form, I was game to give that a shot.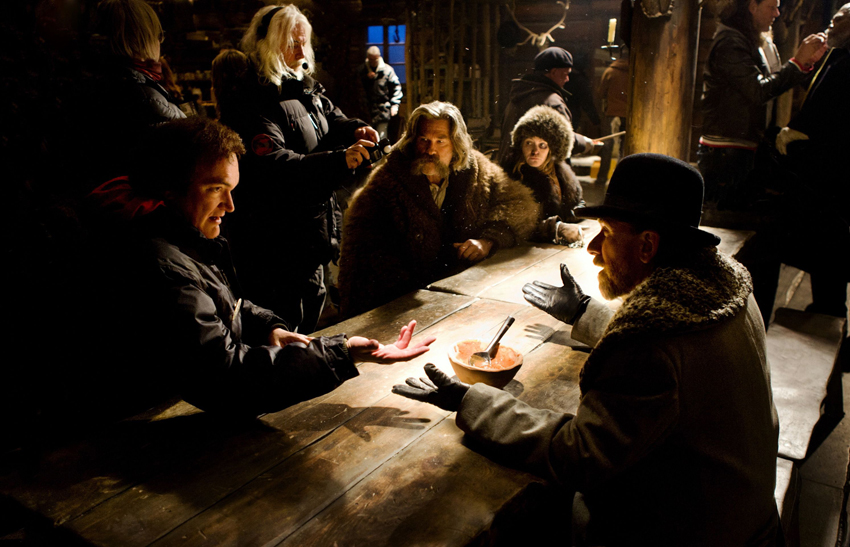 According to Tarantino, there was in excess of 25 mins of extra footage. However, these additional segments weren't just spliced back into the original film, but rather Tarantino and his editor, Fred Raskin, edited everything all over again to create something totally new.
We edited the film down into 50 minute bits, and we very easily got four episodes out of it. We didn't re-edit the whole thing from scratch, but we did a whole lot of re-editing, and it plays differently. Some sequences are more similar than others compared to the film, but it has a different feeling. It has a different feeling that I actually really like a lot. And there was [already] a literary aspect to the film anyway, so it definitely has this "chapters unfolding" quality.
Tarantino continued, explaining that the new miniseries version doesn't replace the original movie.
Well if you like the movie, the movie is a movie, and I worked really hard [on it]. So even if I come out with a version that has more stuff in it, that doesn't invalidate the first version.

The first version is what we chose to be the movie. But now if you've seen that, and you like that, and you want more, this version gives you more…and it gives you more in a slightly different format. The movie doesn't necessarily need to be like one longer movie. It was a pretty long movie [to begin with]. But this gave me an opportunity to, rather than just make a super duper epic, I could actually use all of my ideas…my scripts are always told with really complex narrative ideas…

Now, in the course of editing a movie, a lot of those ideas go by the wayside, because ultimately it's not serving your purpose for making a linear movie. But in this case, I was able to put it all back in. And if you're just watching it like a chapter at a [time], which is basically 50 minutes at a time, then you're able to absorb it. And in a fun way, you're able to look at it slightly differently. Do you want to keep watching it? You can, but you don't have to. Each episode ends it an emotional place and you're also able to see the whole original narrative complexity of the whole piece.
If the above is getting you excited about the potential for the same treatment given to Kill Bill, you may not want to get your hopes up as Tarantino confirmed that it "is the one movie I've made where everything I shot is in the movie, because we had two movies." Unfortunately, it's bad news for Django Unchained fans as well, who may be hoping for a miniseries. However, Tarantino revealed that he's actually got something in the pipeline.
But for instance, take Django [Unchained], I've actually cut a director's cut of Django. That's about like three hours and 15 minutes, or three hours and 20 minutes, something like that. That's one I wouldn't do as a miniseries, because it would just be better [as a movie]. I thought about that idea, but that would just work better as one movie. Just a longer one as far as I was concerned. So I've actually done that.
Tarantino is currently putting the finishing touches on his latest epic, Once Upon a Time in Hollywood, and revealed that as soon as he's done, he'll get to that Django Unchained director's cut. In the meantime, you can go watch that The Hateful Eight miniseries on Netflix right now.
Last Updated: May 2, 2019