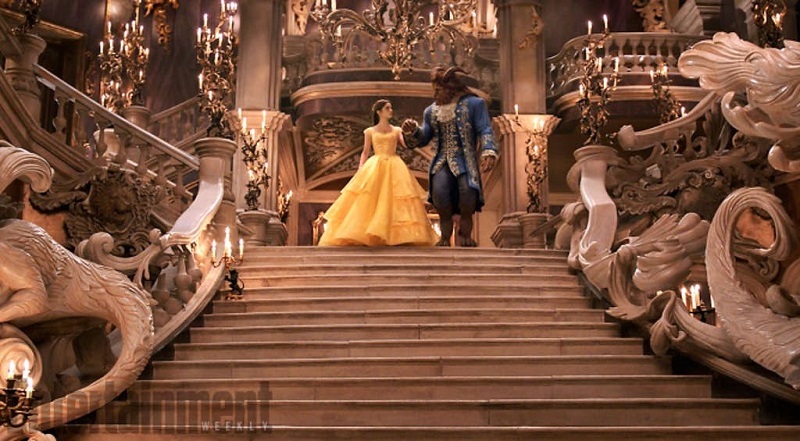 We've seen many small snippets from the different trailers and images for Disney's live-action adaptation of The Beauty and the Beast, but haven't been able to see enough to form a complete impression of yet. Especially with regards to the musical numbers, which while probably the least favourite parts of any movie for me, make up a large portion of the film. All that is about to change as Disney has dropped two musical clips from the film, as well as another extended scene.
The musical clips are both songs that appeared in the original animated film, so will give us a good taste of how they compare to the original:
Can't say I like the end result. The musical numbers in the animated film certainly had a lot more exuberance and flamboyance, especially in the choreography, whereas these scenes come across as slightly more dull and subdued. Part of that is to be expected with animation able to stretch the human physics of the world, but it does appear slightly less fun – at least from the short bits shown here. Who knows, both songs could open up more as they go further into them.
In terms of the quality of the actual musical performances though, they all seem pretty good and I am actually impressed with Emma Watson's singing voice – provided that is her singing. The songs themselves have been altered slightly, but still remain faithful to the originals.
The third 40 second long clip titled "Dinner Invitation" that was dropped takes place just after Belle (Emma Watson) has taken her father's place as the Beast's (Dan Stevens) prisoner. The clip gives us an opportunity to seer the majority of the main cast, including Lumiere (Ewan McGregor), Cogsworth (Ian McKellen), Mrs Potts (Emma Thompson) and Plumette (Gugu Mbatha Raw) in action.
While this is also a scene from the original film, its substantially different from the original in that Belle is actually trying to escape at this point rather than stay hidden in the room. It at least gives us a clue that parts of the story are different and that even people that have memorized every scene of the original should be able to expect something different. Let's hope so. The animation of the house servants still doesn't convince me, but the rest of the production design looks incredible.
I'm looking forward to seeing what magic Disney has in store for us when The Beauty and the Beast releases on April 14th
Last Updated: March 3, 2017