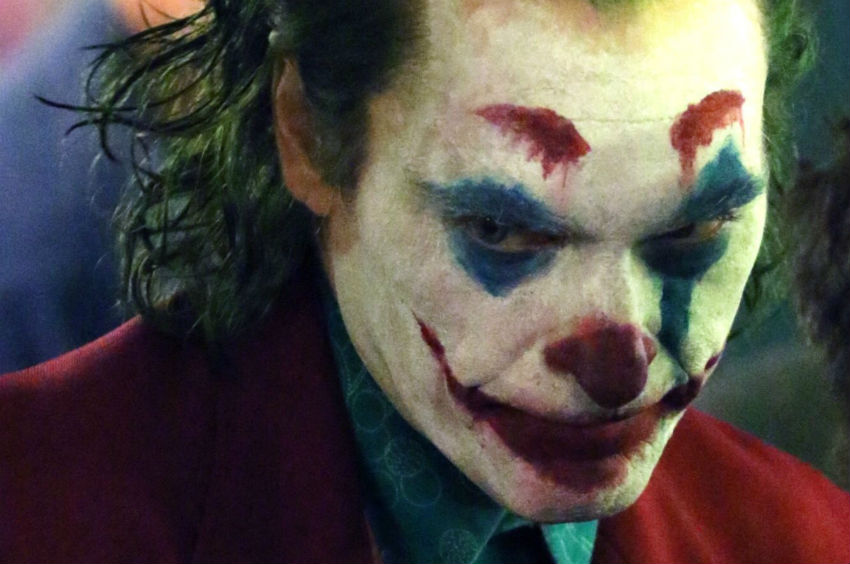 Director Todd Phillips' upcoming standalone Joker movie is a bit of a mystery. But also totally not. Just why we need an origin story for Batman's arch-nemesis and one that's completely separate from the cinematic Dark Knight and the rest of the DCEU is anybody's guess. We've heard rumblings that the film will be taking cues from Alan Moore's The Killing Joke with Joaquin Phoenix playing a failed stand-up comedian allegedly named Arthur Fleck (A. Fleck? As in Ben Affleck?! Get it?!) who has one bad day and snaps, transforming him into the sadistic comic book Clown Prince of Crime.
All of this is just hearsay and unconfirmed reports though, as we haven't seen any official confirmations. But that doesn't mean we're being kept in the dark either as the Phillips has been sharing a bunch of set pics (Ha! Take that, paparazzi scoopers!) showing off Phoenix's Joker. Last week we got our first look at Phoenix in character with creepy clown makeup for a screen test. But it appears that the three-time Oscar-nominated actor will be clowning around way more than we thought as new pics show him dressed up in a full suit, complete with red nose, green wig, and big silly shoes.
Some further candid set pics show more of Phoenix in this get-up seemingly breaking down after a call in a telephone booth, and it's being speculated that this is actually the breaking point moment we're seeing. Theoretically, he would then use this traditional clown outfit as inspiration to create his iconic villainous look. And it appears that he will inspire others in return as well.
#Clown4Mayor #Wayne4Mayor
Wayne is to Blame! pic.twitter.com/wVQK5kk3Zw

— DC Films United (@DCFUnited) September 23, 2018
I'm immensely intrigued by this film, because what does a Joker story without Batman actually look like? It appears that this story is set while Bruce Wayne is still a kid (based on the fact that his father, Thomas Wayne, is still alive). Now obviously this doesn't tie into the continuity of the rest of the DCEU (though, through some narrative gymnastics it probably could if it borrowed the recent "Three Jokers" storyline from the comic books), which makes it even more of an enticing oddity.
Either way, Phoenix appears to be really getting into this role, and his design should go a long way to help fans get over Jared Leto's divisive version of the Joker in Suicide Squad. Joker (or whatever it's going to be called) also stars Zazie Beetz, Robert de Niro, Brett Cullen, and Marc Maron. It is scheduled for release on 4 October 2019.
Last Updated: September 25, 2018