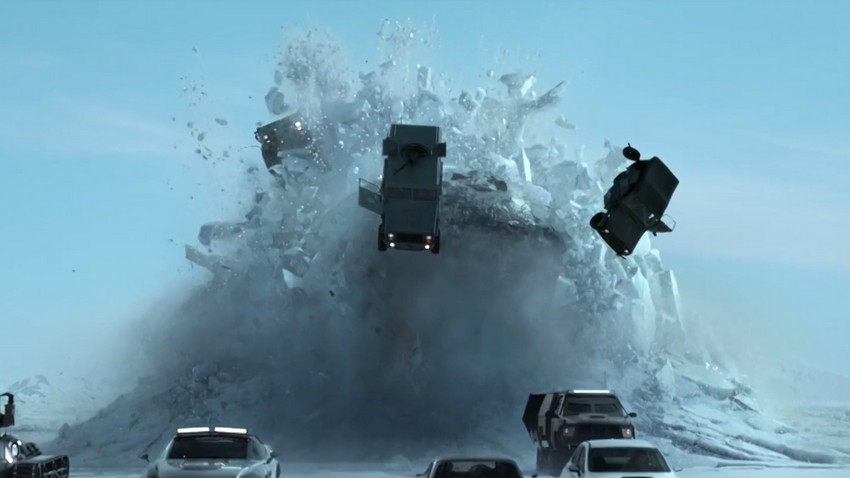 Look, the Fast and Furious franchise has reached eight movies now already – if you could go back in time and tell 2001 Kervyn that, he would mock you to no end – and if you're still holding out hope that after all that time they would suddenly find any semblance of respect for logic and the laws of physics, then we've clearly been watching different movies. With each subsequent film being an escalation in absurdity, Vin Diesel and his "familia" expect you to just buy into this madness and enjoy it for the live-action cartoon that it is. And I definitely have!
That appears to be advice that even director F. Gary Gray, fresh off the real life biopic Straight Outta Compton, is taking to heart as a new trailer for the upcoming The Fate of the Furious that the film's action is even more bonkers than we expected. This now a movie where not only does somebody bring a submarine to a car chase, but characters now also get chased down by a tsunami of cars remotely controlled by Charlize Theron. Now there's a sentence I didn't expect I would be typing out when I woke up this morning.
Either way – barring some very iffy looking visual effects at around the 0:52 second mark – it looks utterly ludicrous in the best way, which is exactly what we expect from this series. Check it out below!
Now that Dom and Letty are on their honeymoon and Brian and Mia have retired from the game—and the rest of the crew has been exonerated—the globetrotting team has found a semblance of a normal life. But when a mysterious woman (Charlize Theron) seduces Dom into the world of crime he can't seem to escape and a betrayal of those closest to him, they will face trials that will test them as never before.

From the shores of Cuba and the streets of New York City to the icy plains off the arctic Barents Sea, our elite force will crisscross the globe to stop an anarchist from unleashing chaos on the world's stage…and to bring home the man who made them a family.
The Fate of the Furious also stars Dwayne Johnson, Michelle Rodriguez, Tyrese Gibson, Chris Bridges, Jason Statham, Nathalie Emmanuel, Kurt Russell and Helen Mirren. It is scheduled for release on 14 April
Last Updated: April 11, 2017