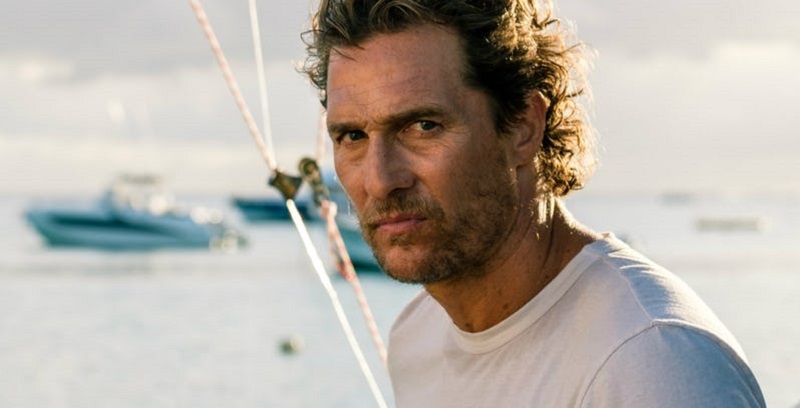 Quite often, movie trailers can be far too revealing and practically give away the entire plot and all the best bits of a film, which makes watching the final movie irrelevant. Other times trailers can come around and can get you immediately hooked without revealing anything at all. And now you have Serenity, whose first trailer made the movie out to be like a fairly standard thriller but its newly released second trailer reveals that there could be something incredibly more existential and thought-provoking going on. It could easily end up being a film that offers a lot more than meets the eye. Which makes me definitely want to watch it.
Serenity stars Matthew McConaughey as Baker Dill, a fishing boat captain who earns a living by leading tours of the "tranquil, tropical enclave" known as Plymouth Island. However, everything changes when Baker's ex-wife Karen (Anne Hathaway) shows up and asks him to help save her and their young son from her violent new husband (Jason Clarke)… by taking the latter out to sea, throwing him to the sharks, and leaving him for dead. However, this new trailer shows that there are even deeper questions to be explored as Baker begins to question the nature of his reality and wonder if Plymouth Island is really the paradise that it appears to be.
I love the fact that you can get a glimpse of the intensity that the movie could bring, but still haven't got a clue what is going on. Serenity is one of those films though that could either play out like a clever Christopher Nolan thriller or be a confusing mess with a convoluted plot and threads that make no sense. These sort of twisted storylines are always tough to get right and hopefully director Steven Knight is able to pull it off here. He definitely has an exceptional cast (which includes Diane Lane and Djimon Hounsou) to work with, so Serenity is definitely setting itself up to be one of 2019's moves to watch. It's either going to blow us away, or make us want to be blown away.
Serenity is releasing in the US on January 25 2019, with no set release date locally yet. Hopefully that's not a sign that this movie is going to be a disappointment.
Last Updated: November 22, 2018