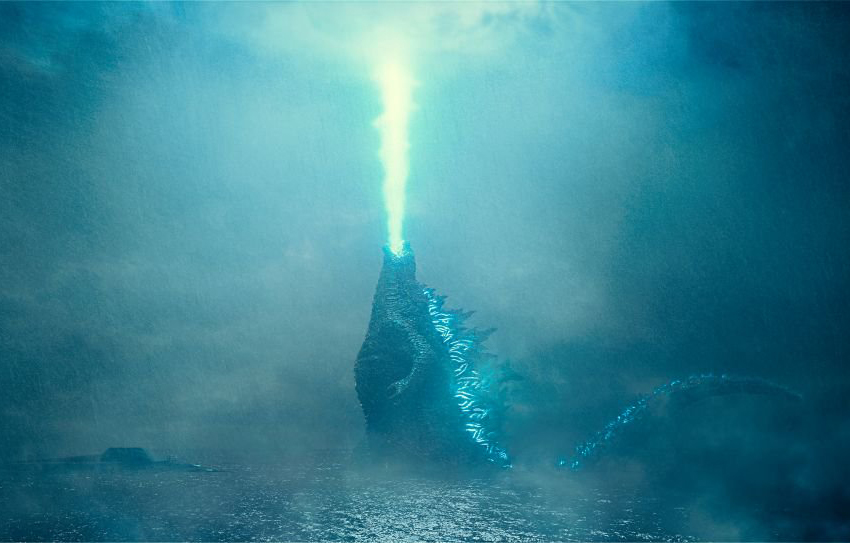 A brand new trailer for Godzilla: King of the Monsters has come stomping in. Well, they call it an "extended TV spot" instead of a trailer, but radioactive to-may-to to-mah-to. Either way, it's a pretty badass little preview which introduces us to the various nasties Big G will have to contend with in this sequel to Gareth Edwards' 2014 Hollywood blockbuster reboot for the classic Japanese movie monster. Check it out below.
Along with the trailer… Oops, sorry. Along with the extended TV spot, director Mike Dougherty (Trick 'r Treat, Krampus) has been talking about the film with ComingSoon.net. With the original, Gareth Edwards took a slow-burn approach to introducing the titular monster into the action but now that the radioactive reptile is already on the scene, there's no need to hold back.
I hesitate to say it, but I would call (my movie) the Aliens to Gareth's Alien. If you compare Alien, which is a very straight science fiction film with not a lot of yucks, compared to Aliens which sort of had a bit more fun, tongue-in-cheek moments, we're somewhere in the middle there.
Those tongue-in-cheek moments won't come from the monsters of course, as usually the only thing in their cheeks is either radioactive fire or human-shaped snacks. It's the latter group who will be delivering the fun as well as the exposition. Specifically, in this case, it's those scientist folks from Monarch, the mysterious monster-watching organization we saw in Godzilla as well as Jordan Vogt-Roberts Kong: Skull Island in 2017.
[This is] more of an ensemble film. Whereas the first movie was really about Ford Brody's character kind of weaving his way through that adventure and Monarch kind of was the backdrop for that. Here Monarch is the focus, because I find that concept really fascinating. The idea that there is a secret agency that tracks giant monsters – that is a dream come true for me too… I felt there was an opportunity to sort of craft Monarch as a group of heroes…and the idea of a team of heroes who are scientists really appealed to me.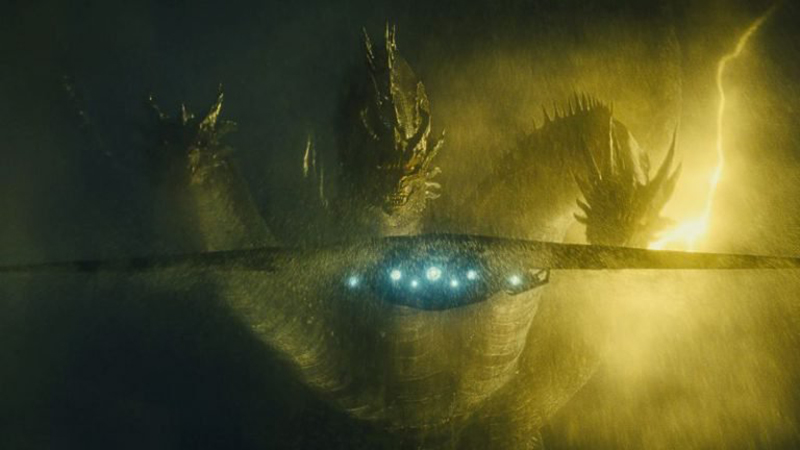 Forget the heroic scientists though, Stranger Things' Millie Bobby Brown is also here and nothing better happen to her or there will be hell to pay!
As for the actual monsters themselves, alongside Godzilla himself this film will also be giving us new version of classics Mothra, Rhodan and Ghidora. As this film is going to be follow-up by the Godzilla vs King Kong crossover, some fans have wondered if Dougherty will be throwing in teases for even more monsters from the classic Toho franchise.
It really doesn't get much better than these four. There's definitely a few others that I was hoping to sort of tip the hat to them, but these are the crown jewels of Toho as far as I'm concerned. Mothra, Rodan, Ghidorah and Godzilla, those are the ones that come to mind when you think of the Godzilla universe… .Outside of the Universal classic monster movies, Toho is one of the first companies to pioneer the idea of a shared universe. They were doing it long before Marvel was and they did it via those creatures. Mothra was a completely separate film from Godzilla when it started. Same thing with Rodan. So it kind of feels like things are coming full circle.
You can check out the full interview with Dougherty over HERE, where he also talks about his life-long love of the franchise ("I've been a fan of Godzilla since I was old enough to walk."), making the monster sounds as authentic as possible, and tweaking the monster visual designs by studying moths.
Godzilla: King of the Monsters also stars Bradley Whitford, Vera Farmiga, Sally Hawkins, O'Shea Jackson Jr., Kyle Chandler, Thomas Middleditch, Zhang Ziyi, Charles Dance, with Ken Watanabe. It is scheduled for release on 31 May 2019.

Last Updated: March 29, 2019