I'm, shall we say, matured enough to vividly remember the original Doctor Dolittle movie. No, not the 1998 Eddie Murphy and its sequel, nobody remembers those. And definitely not the *checks notes to make sure this isn't a mistake* three other made-for-TV sequels that followed Murphy's films. I'm talking about the 1967 version starring Rex Harrison as Hugh Lofting's classic literary hero who shuns people in favour of animals who he can talk to. I used to watch this movie while I was a kid in the 1980s and loved how kooky it was, right down to Harrison's Doctor going on a voyage in search of and eventually travelling inside of the shell of a giant snail. That image has stayed with me for over thirty years.
Now we're getting a brand new Doctor Dolittle movie, and I'm sorry to say that I've got a sneaking suspicion it won't be as memorable. This is despite the fact that the latest film stars the Marvel-ous Robert Downey Jr. in his first major role post his decade-long tenure as Iron Man and still sees him running around with a lot of CGI characters and a big name cast
The first trailer for the newly retitled Dolittle – previously titled The Voyage of Doctor Dolittle – dropped this weekend past and it's a little messy. Check it out below.
Besides for just a flood of brightly, overly-apparent CG scenes, there's zero hint of the story involved here and the trailer seems to barely recognize all the top-shelf talent that shares the credits with RDJ. You can get a glimpse of Antonio Banderas and Michael Sheen in this preview, but unless anybody told you as much, you wouldn't know that the string of big actors mentioned at the end of the trailer – John Cena, Marion Cotillard, Ralph Fiennes, Selena Gomez, Tom Holland, Kumail Nanjiani, Craig Robinson, Octavia Spencer, Emma Thompson, and Frances de la Tour – are actually voicing the animals of Dolittle's menagerie.
Add to this massive oversight the fact that Dolittle underwent a bunch of reshoots after poor test screenings, with Jonathan Liebesman stepping in to help out director Steven Gaghan, and things look rather bleak. I don't know what to make of that Liebesman/Gaghan pairing as the former gave us Battle: Los Angeles and Teenage Mutant Ninja Turtles while the latter gave us Traffic and Syriana, so your guess is good as mine as to what type of movie Dolittle is going to be.
Even its release date is another warning sign as the film was originally supposed to release in May this year, before a couple of calendar shuffles found it on 17 January 2020. What makes this peculiar is that Dolittle had originally been moved forward a week to April 2019 to avoid Star Wars: The Rise of Skywalker which had originally been slated to release in May. And yet, now Dolittle is hitting theatres just a couple weeks after Star Wars new date in December and nobody seems to care anymore.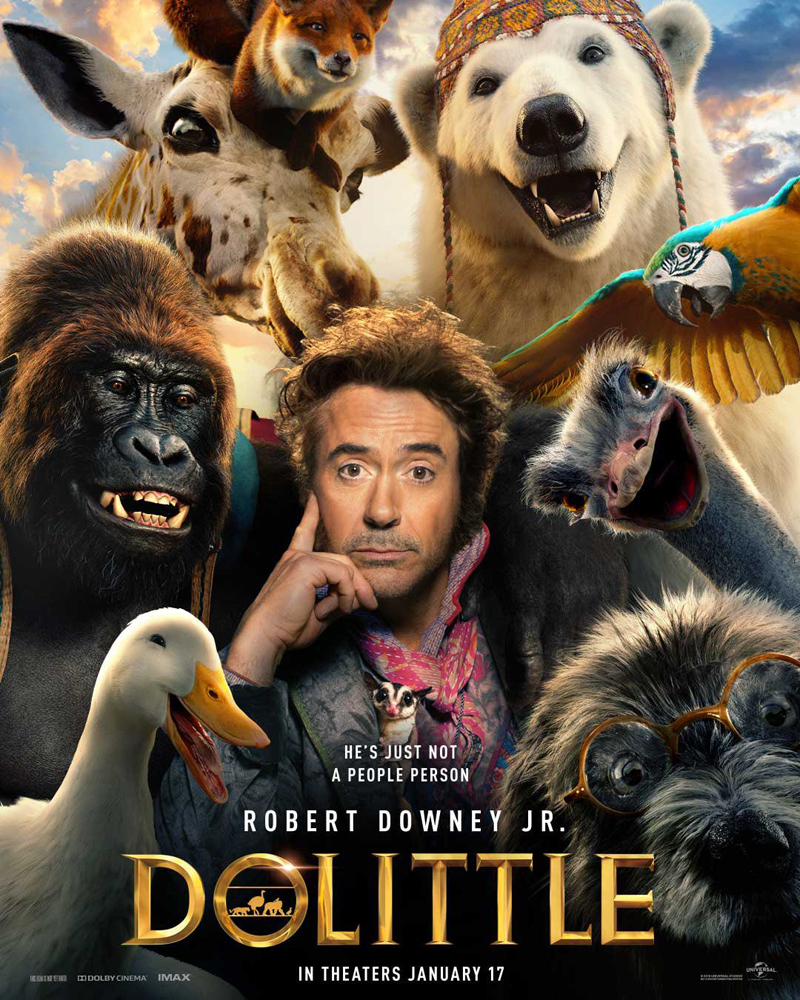 Last Updated: October 14, 2019