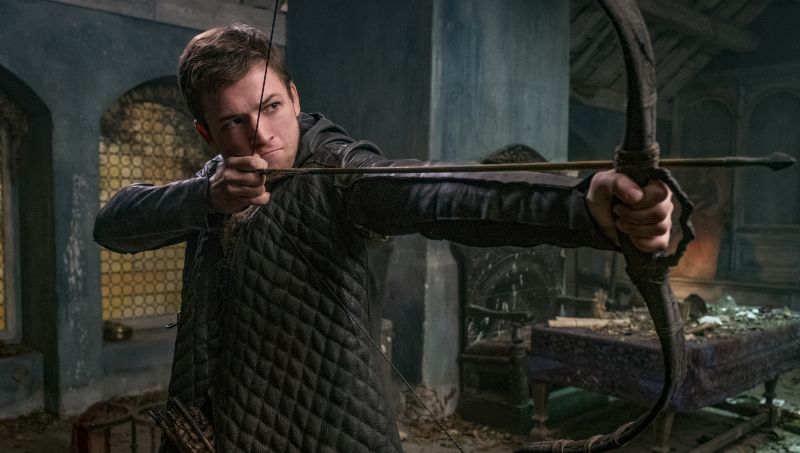 I think there's some kind of unspoken agreement in Hollywood that every generation needs to have its own Robin Hood movie. The British folk hero has enjoyed a list of cinematic adaptations longer than a longbow and it appears there's always room for more. Now in 2018, we get a brand new edition of this tale of the arrow-slinging renegade thief that has been suitably beefed up to modern action movie standards as Kingsman star Taron Egerton takes on the role of Robin of Loxley.
Not content with the stately bow and arrow action of past efforts, this new Robin Hood from director Otto Bathurst (Peaky Blinders, Black Mirror) will be donning tight man-tights. No, wait. Wrong Robin Hood movie. It's tough to keep track of them all. Almost as tough as it is to actually shoot arrows rapid-fire style like Bathurst required of Egerton in this role. Luckily, as we can see in a "sizzle" featurette released recently, the young English actor was completely up to the challenge, impressively doing all the work himself. That's when he could keep a straight face around co-star Jamie Foxx, who plays Little John, Robin's cohort who helps him to stage a revolution against Ben Mendelsohn's tyrannical Sheriff of Nottingham.
Check it out below.
Along with that featurette, we've also got these stunning new posters courtesy of the nice folks at Empire Entertainment to share with you guys today. Click below to enlarge and gawk at the awesome artistry.
Robin Hood also stars Eve Hewson as Maid Marian, Tim Minchin as Friar Tuck, and Jamie Dornan as Will Scarlet. It is scheduled for release in the US next week, but we'll have to wait until 28 December to see it. Well, maybe a little earlier for some of you as we'll be hosting some early screenings in Cape Town and Johannesburg ahead of that date, but more about that later.
Robin of Loxley (Taron Egerton) a war-hardened Crusader and his Moorish commander (Jamie Foxx) mount an audacious revolt against the corrupt English crown in a thrilling action-adventure packed with gritty battlefield exploits, mind-blowing fight choreography, and a timeless romance
Last Updated: November 9, 2018