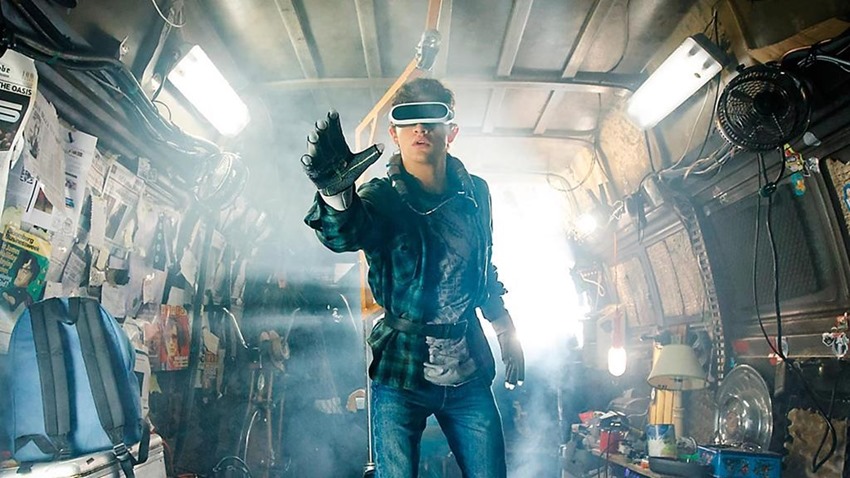 You compare the video games of today with what was available twenty years ago, and you'd realise that the technology used to power digital fantasies hasn't just evolved in leaps and bounds. Video game hardware bounded forward in a way that would make Superman sweat bullets about his current high-jump records in Metropolis. So imagine what the future holds.
Imagine the advances made in virtual reality, haptic feedback and portability somersaulting headfirst to help deliver an experience where it becomes harder than ever to tell the difference between truth and digital fantasy. That's the world of Stephen Spielberg's Ready Player One,as the legendary director is back in the main event chair to craft a tale that features pop culture references to…well, just about everything really.
Check out the San Diego Comic Con trailer, scored to the ever-addictive tune of Tom Sawyer by Rush:
The film is set in 2045, with the world on the brink of chaos and collapse. But the people have found salvation in the OASIS, an expansive virtual reality universe created by the brilliant and eccentric James Halliday (Mark Rylance). When Halliday dies, he leaves his immense fortune to the first person to find a digital Easter egg he has hidden somewhere in the OASIS, sparking a contest that grips the entire world.

When an unlikely young hero named Wade Watts (Tye Sheridan) decides to join the contest, he is hurled into a breakneck, reality-bending treasure hunt through a fantastical universe of mystery, discovery and danger.
That bugger killed Freddy Krueger, I swear he did. What a monster. Ready Player One also stars Olivia Cooke, Ben Mendelsohn, T.J. Miller, Simon Pegg, and Mark Rylance. It'll be jacking in to the widest worldwide web next year March.
Last Updated: July 22, 2017