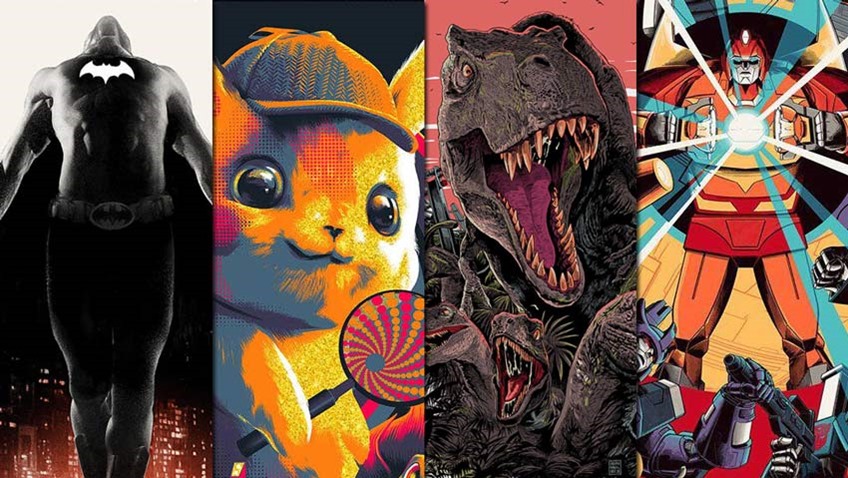 Are you the type of chap who laments the fact that they'll never have an original Vincent Van GoBots or a Georgia O'lank kief bru work of art on your wall? Testicles to that my friends, because some of the best art you've ever seen is busy rolling out from a wide variety of shops today and they won't cost you an arm and a leg either.
Provided that you can hop a plane flight to San Diego right now and find a ticket scalper for Comic-Con but that's beside the point. Every day, Mondo pops into the news with a stunning custom poster dedicated to the fine art of cinema, but this weekend's San Diego Comic-Con has seen them debut a ton of new posters that look utterly incredible.
They're exclusive to the show (and eBay next week for increased prices SUPPLY AND DEMAND YO), but that doesn't mean that you can't take a few minutes to appreciate some real art. Unlike modern movie posters which feature actors battling for printed real estate and all feature the exact same split between teal and orange colour schemes, these posters are wild, imaginative and celebrate the entirety of cinematic history. Here's a look at them and the fine hands responsible for their creation:
APOLLO ERA SAFETY POSTER B (VARIANT) featuring Peanuts artwork by Charles M. Schulz
BATMAN: HUSH by Jim Lee
BATMAN (VARIANT) by Greg Ruth
IT by Daniel Danger
GOLDEN AGE OF MARVEL COMICS by Rich Kelly
DETECTIVE PIKACHU (VARIANT) by Matt Taylor
BLADE RUNNER 2049 (VARIANT) by Pascal Blanche
THE WORLD'S END by Jock
THANOS by Greg Ruth
METAL GEAR SOLID by Sachin Teng
BILL AND TED'S BOGUS JOURNEY by Matt Ryan Tobin
ANT-MAN AND THE WASP by Phantom City Creative
THE BABADOOK by Greg Ruth
ALIEN by 100% Soft
TRANSFORMERS: THE MOVIE by Cesar Moreno
THE SANDLOT by Paul Mann
JURASSIC PARK (VARIANT) by Francesco Francavilla
Some of these posters will be available online from Mondo in the near future, and in variant colours as well! Although honestly, I want them ALL dammit. Especially that Ant-Man and the Wasp poster. Which one do you like the most and whose organs from the comments section shall we sell so that we can get our hands on them? Vote now with your hearts, seedy Mexican motel bathtubs filled with ice and rusty surgical tools.
Last Updated: July 19, 2019