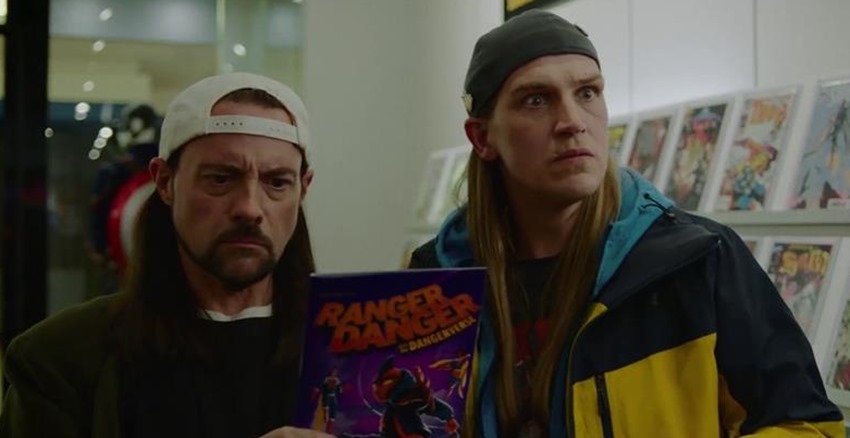 Forget about Cheech and Chong when it comes to the best stoner duo of all time, because Kevin Smith's View Askewniverse creation of Jay and Silent Bob has those overrated chuckleheads beat when it comes to comedy that reeks of the ol' Mary-Jane odour. In 2001, the troublemakers set out to Hollywood in their own solo movie that went by the title of Jay and Silent Bob Strike Back.
Almost two decades later, and what's changed? Pretty much nothing at all, as the duo are still looking to stop Hollywood from cashing in on their likeness. Only this time, the road trip ahead has new cameos and a few familiar faces. And on that note, we cue the very NSFW trailer. This is pretty much me right now:
Alright, trailer time:
The stoner icons who first hit the screen 25 years ago in CLERKS are back! When Jay and Silent Bob discover that Hollywood is rebooting an old movie based on them, the clueless duo embark on another cross-country mission to stop it all over again!
I dig it! Look, Kevin Smith's movies have been divisive to say the least ever since he stopped giving a damn and started making flicks purely for himself, but it's hard to not love the attitude that the trailer above brings to the table. It's wonderfully self-indulgent, seeing Val Kilmer as Bluntman (With Supergirl's Melissa Benoist as Chronic) is near-perfect casting, there's a ton of in-jokes for longtime fans and Smith never fails to take potshots at his own career.
All that, naughty language and Comic Con being ripped to shreds in the process. Throw in a monkey, and the package is complete. Jay and Silent Bob Reboot arrives on the big screen on October 15.
Last Updated: July 19, 2019