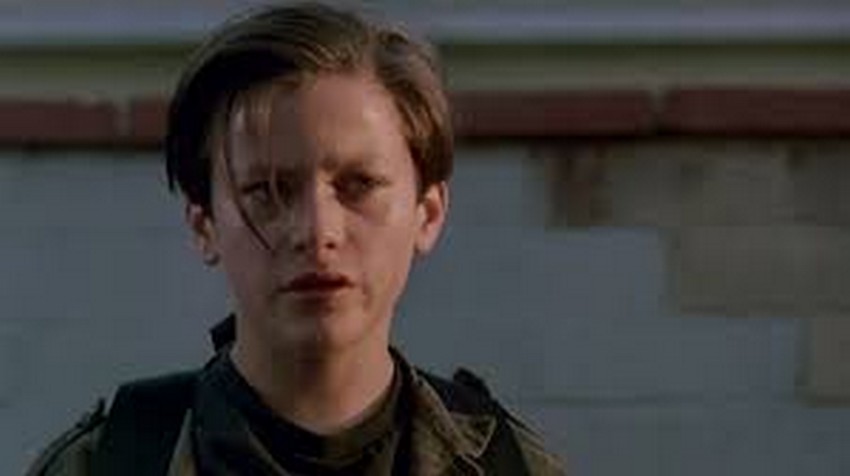 If you've been following all the pre-release promo work for Terminator: Dark Fate, you've probably been wondering where John Connor is. Thus far the big focus has been on the return of Linda Hamilton to the franchise for the first time since 1991's Terminator 2: Judgement Day, but with this being a direct sequel to James Cameron's classic film it was weird that Hamilton's Sarah Connor was back but not her future human resistance leader son.
Well, the Terminator: Dark Fate panel has just wrapped at Comic-Con and not only have we learned that John Connor will indeed be in the film, but he's actually being played by original actor Edward Furlong. Cameron – who is only producing, as Deadpool's Tim Miller takes the director's chair – made the surprise announcement himself via satellite from New Zealand where he's currently in production on the Avatar sequels.
You've got Tim Miller fresh off of Deadpool. Me coming back to the franchise almost three decades later…[we're] coming up with crazy new stuff you've never seen before… One thing we kept circling around, 'Do we want to bring Sarah back? And there is no Sarah but Linda, so how to do we talk Linda into being in this movie? We asked Linda to come back and thankfully she agred and we built the story about that. Eddie Furlong is back as John.
Furlong wasn't in attendance himself though. The 41 year-old hasn't really done much acting work since his career was derailed by multiple arrests and stints in rehab for drugs and substance abuse in the early 2000s so it's unclear just what kind of John Connor we're going to be seeing here. Either way, this is a very unexpected development.
Not as unexpected but definitely appreciated is also the confirmation from Miller that Dark Fate will be returning to the franchise's R-rated roots.
It's because it wasn't always that way, and the fans kind of demanded it. The DNA of 'Terminator' is an R-rated fucking movie. To not do it R feels disingenuous to the source material.
Hilariously, Miller added that he bet titular star Arnold Schwarzenegger $20 that would not drop the F-bomb more than five times during the panel. Barely 15 mins into the panel and Arnie got to claim his $20.
Along with the cast and crew Q&A (including Diego Luna reportedly going off-script and sharing some very spoilerific details about his new Terminator character), fans in attendance were also treated to some brand new footage from Dark Fate. At the moment, this footage hasn't been released online yet and I don't know if it will. However, the folks who have seen it were seemingly very impressed, which is very good news considering how underwhelmed the first trailer was. We'll keep updating this article as the panel continues and hopefully get a video to embed. If not, you can read ComicBook.com's detailed recap of the footage shown if you're not willing to wait for a video.
Terminator: Dark Fate is scheduled for release on 1 August.
Last Updated: July 19, 2019