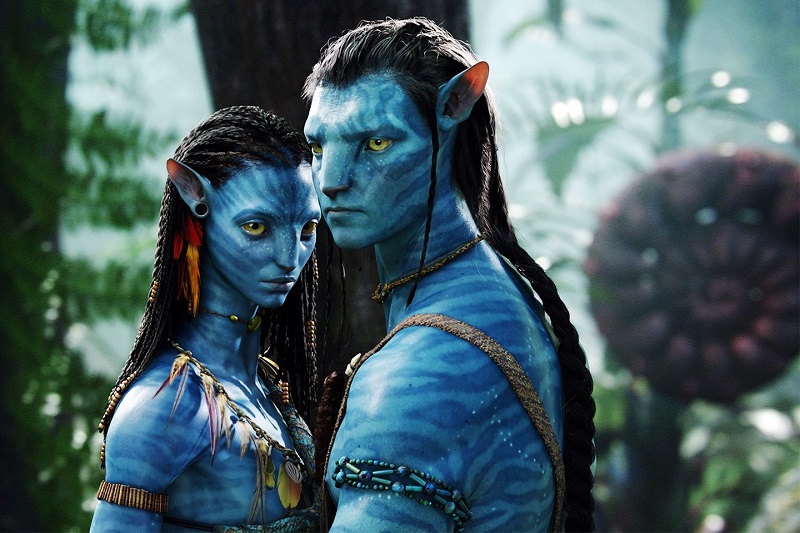 As The Who once sung, "Meet the new boss, same as the old boss". And yes, we mean that literally this time as James Cameron's Avatar managed to reclaim the crown it wore for a decade after its 2009 release as the highest-earning film of all time. In 2019, Marvel's Avengers: Endgame had managed to pull off what many had thought impossible by earning a staggering $2.797 billion worldwide to just about squeeze past Avatar's already mammoth $2.789 billion global to take over the no.1 spot. At the time, Cameron took the news very unselfishly, saying that "It gives me a lot of hope" that the film industry overall was still such a success.
Well, it would appear that the filmmaker may have been smarting just a little bit at being knocked off the top spot, as Cameron re-released Avatar into cinemas in China this weekend past. While the COVID-19 pandemic has kept cinemas closed around the world, China has been seeing a strong return as they get the virus under control. Lately, we've even seen some local productions like Detective Chinatown 3 break some big box office records. While Avatar's re-release definitely didn't earn anything like those numbers, it did enough.
With a reported $21 million earned, it has pushed the sci-fi epic's worldwide box office total to $2.810 billion, surpassing Avengers: Endgame to once again become the highest-earning film of all time. Joe and Anthony Russo, the brotherly directors behind Endgame were pretty cordial in relinquishing the throne as they posted this awesome art piece (courtesy of the amazing Bosslogic) in honour of the event.
Prior to this weekend's re-release, Cameron issued a statement about why it's a good time to have Avatar playing in cinemas again now.
We've got climate change, we've got deforestation, our relationship with nature is more at risk than it's ever been, and Avatar is about those things, but it also is a timeless film. Some people criticize the stories for being too simple. It wasn't that simple — it was universal. It was something that everybody everywhere could understand and emotionally related to.
Avatar producer Jon Landau released this statement about the film reclaiming its top spot, especially during these tumultuous times:
We are proud to reach this great milestone, but Jim and I are most thrilled that the film is back in theaters during these unprecedented times, and we want to thank our Chinese fans for their support. We are hard at work on the next Avatar films and look forward to sharing the continuation of this epic story for years to come.
Of course, it has to be pointed out that when Avatar first achieved this milestone, it was released by 21st Century Fox. Since then, Fox has been taken over by Disney, who also own Marvel. So basically what I'm trying to say is that the House of Mouse has all the box office money. In fact, out of the top 10 highest-grossing films of all time, it's only Paramount's Titanic (which was also directed by Cameron), and Universal Pictures' Jurassic World and Furious 7 that are not Disney releases. Here's how the full top ten off all-time highest-earning movies stand at the moment (via BoxOfficeMojo).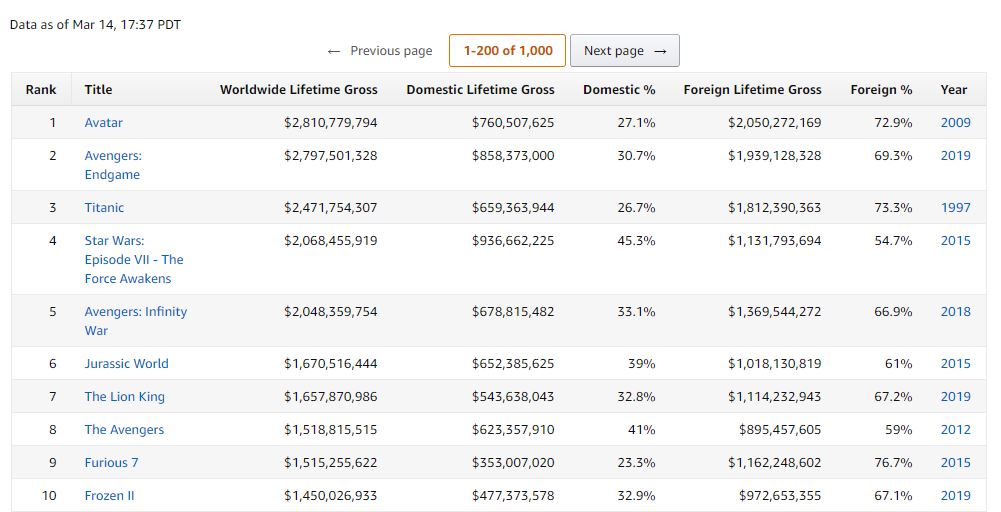 Last Updated: March 15, 2021